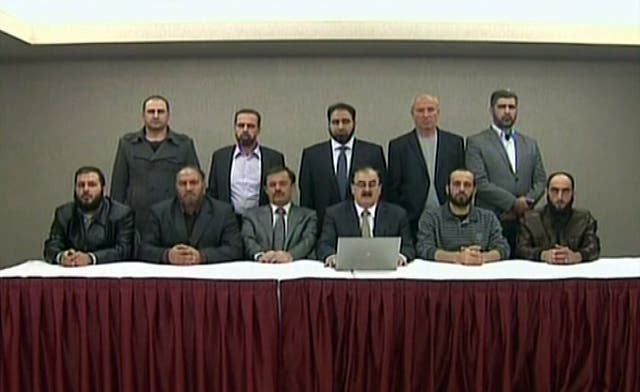 Syrian Free Army names Salim Idris new chief of staff
The opposition Free Syrian Army elected a new military command, replacing Colonel Riad al-Asaad with Brigadier General Salim Idris, Al Arabiya television reported early on Monday

Idris told Al Arabiya in a telephone interview that the new command was elected by hundreds of rebels. Because they "are the real fighters on the ground, they decided to choose who leads them in the battle against Bashar al-Assad."
The unified command includes many with ties to the Muslim Brotherhood and to Salafists, who follow a puritanical interpretation of Islam. It excludes the most senior officers who have defected from Assad's military, according to Reuters.

On the Damascus battlefront, Assad's forces used multiple rocket launchers on Saturday against several suburbs that have fallen to rebels who have fought their way to the edge of the city's international airport, where foreign carriers have suspended all flights.

Opposition fighters, who have overrun several army bases near Damascus over the last month, appeared to be holding their ground, encircling a main military base in the northeastern suburb of Harasta, known as "idarat al markabat," near the main highway to Aleppo, according to opposition campaigners.

On Sunday seized control of a sector of Sheikh Suleiman base west of Aleppo, bringing them closer to holding a large swathe of territory extending to the Turkish border in the north.

The fighters took control of Regiment 111 and three other company posts located inside the base after fierce fighting overnight, the Syrian Observatory for Human Rights said.

"Two rebels and one soldier were killed, while five soldiers were captured. The prisoners said that 140 of their men had fled to the scientific research center on the base," Observatory director Rami Abdel Rahman told AFP.

Sheikh Suleiman sprawls over nearly 200 hectares (500 acres) of rocky hills about 25 kilometres (15 miles) from Aleppo city, an area now almost completely under rebel control.

Elsewhere in northern Syria, 10 were reported killed in regime shelling of the town of Maraayan, while five civilians, including a child, were killed as Ahsam village in Idlib province was shelled, the Observatory said.