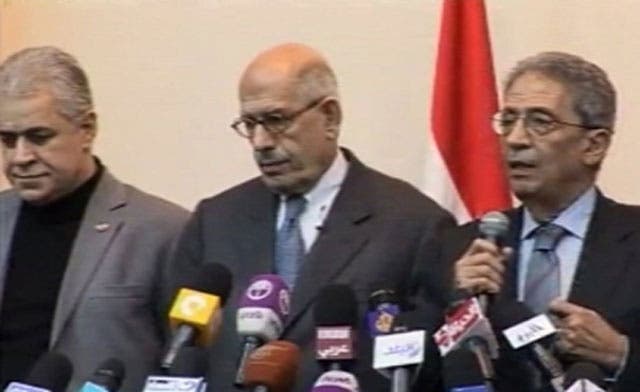 Egypt's top prosecutor orders probe against ElBaradei, Moussa and Sabahi
Egypt's top prosecutor ordered on Thursday an investigation into several opposition officials over allegations that they planned to overthrow the regime of newly elected Islamist President Mohammed Mursi.

The decree comes after a lawyer filed a complaint against Mohamed ElBaradei, Amr Moussa and Hamdeen Sabahi, the main opposition members of the National Salvation Front.
The order, issued by an appointee of Mursi, is likely to aggravate political tensions that have erupted into street violence, most recently surrounding the newly passed but divisive constitution.

The probe does not necessarily mean charges will be leveled but it is unusual for state prosecutors to investigate such broad claims against high profile figure said one official speaking on the condition of anonymity.

Yara Khallaf, a spokeswoman for Moussa, said there were no official charges or summoning for an investigation. She declined to comment on the accusation.

Emad Abu Ghazi, the secretary general of the opposition party that ElBaradei heads, said he had no details about the investigation but that the accusations and probe were "an indication of a tendency towards a police state and an attempt to eliminate political opponents".

Abu Ghazi said the former regime of Mubarak dealt with the opposition in the same manner. There was no immediate comment from ElBaradei or Sabahi.

The accusation came during a political crisis over a series of presidential decrees that granted Mursi, Egypt's first elected president, and the committee drafting the disputed constitution immunity from judicial oversight.

The opposition called on Mursi to rescind his decrees and accused him of amassing too much power in his hands. It also asked for the draft constitution to be withdrawn.

The opposition organized a number of massive rallies in protest, including one outside Mursi's palace in which protesters chanted "leave". It was a common protest slogan used against former President Hosni Mubarak, who was ousted in a popular uprising last year.

Recent rallies turned violent when supporters of Mursi, who perceived the protest as a threat to his legitimacy, attacked their opponents.