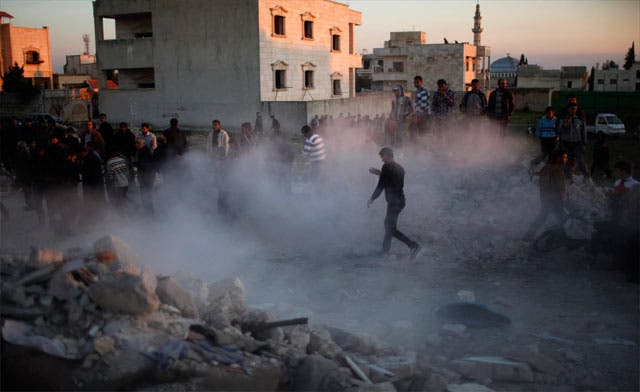 Old Aleppo, frontline ghost town of ruined treasures
A 13th century mosque is shuttered, its tottering minaret struck at the base by a shell. Snipers fire from nests atop the immense stone walls of the citadel, where ancient Greek, Roman, Byzantine, Arab and Turkish warriors once perched.

Until a few months ago, Old Aleppo was both a living museum and a breathing city, where souk shoppers haggled over spices, books and olive-oil soap beneath wrought-iron filigree balconies and wooden lattice screens.
Aleppo is Syria's largest city and economic hub. Its old district, with towering fortifications built by the medieval dynasty of Saladin after his 12th century victory over the crusaders, is also a UNESCO heritage site, its architecture declared a marvel of human achievement by the United Nations cultural body.

Today it is a war zone and a ruin. Corrugated iron sheets pocked with bullet holes cover alleyways housing shuttered, burnt or demolished market stalls. Rebel fighters zigzag around in cars blasting revolutionary music.

"Old Aleppo was the foundation of this world," said Haj Amer, who owns a printing press in the old bazaar. "What really upset us are the mosques that were destroyed."

"This area is my roots, my life since 1975," he added. "I'll always stay."

Syria's civil war has killed an estimated 44,000 people and driven half a million from their homes. It reached Aleppo with full wrath six months ago, and though rebels now control much of the city, parts of it remain a battleground.

U.N. officials who declared Old Aleppo a heritage site have catalogued some of the wonders to be found here.

"The 13th century royal palace, with its fine stalactite and honeycomb entrance porch, is inlaid with white marble," they wrote. "The throne room, dating from the Mameluke period (15th-16th centuries) has been tastefully restored: Syrian artists and craftsmen have recreated the luxurious setting of the court - the ceiling with its decorated beams and caissons, lighting, windows, polychrome columns - all are a tribute to their skill. There are around 200 minarets, some squat like defensive towers, others slender as needles."
"Assad's revenge"
During a walk through the old town, residents show the damage and describe their own heartbreak.

At the al-Uthmaniya mosque, a gaping hole has been blown through a dome dating to 1728. Concrete floors bear the marks of a shell, and the glass that decorated the tall arches at the entrance to the prayer hall has gone, shattered.

"There were no gunmen in this mosque," said 70-year-old Abu Mohammed, a local man dressed in traditional robes, who often prays here.

"Two weeks ago, we were leaving afternoon prayers, and sitting in the shade when a shell blasted into the courtyard."

Further on, at an Ottoman-era bathhouse that bustled before the war, the dank stench of an abandoned swimming pool fills the domed stone underground rooms.

A shell has blasted through the atrium dome, and bits of broken coloured glass lie scattered around a fountain. Iron-lattice lanterns lie on the floor. An empty vending machine stands near white marble basins and coloured ceramic mosaics.

People have slowly begun to return to the ruins of the old city.

"We came back because there was nowhere else for us to go," said 12-year-old Riham, accompanying her grandmother down a cobbled alley to a clinic. "We don't even recognise the alleyways any more."

In the bazaar, a few surviving stalls are open selling sweets and sodas. Men drink tea outside workshops.

"Bashar al-Assad destroyed the mosques and old souks, one of the oldest souks in the world," said Abu Othman, a fighter in the rebel Free Syria Army's al-Tawheed Brigade, wearing the group's green fatigues.

"We haven't seen water and electricity in two months," he said. "It's as if this man has enmity between himself and the ruins: the souks and the mosques. And even with the sellers. Because they did not hail his oppressiveness, he got his revenge by burning all their property."