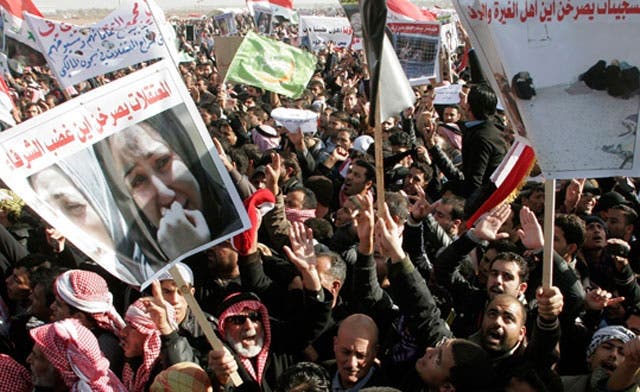 Iraqi PM orders release of female prisoners to appease protesters
Iraqi Prime Minister Nuri al-Maliki ordered on Sunday the release of female prisoners, who were arrested for terrorism charges without judicial warrants or because of terror crimes committed by their relatives, to appease to protesters who want to see the scrapping of anti-terrorism measures in the country, a local website reported.

Recent protests flared mainly in the Sunni stronghold of Anbar province demanding the release of political prisoners including females and for Nuri's government to end marginalization of Sunnis.

On Friday, tens of thousands of demonstrators in Anbar's city, Ramadi, 100 km (62 miles) west of Baghdad, want Maliki to abolish anti-terrorism laws they say are used to persecute them. Part of the anti-terrorism measure, Maliki's government arrested some females following the detention of their male relatives under terrorism charges.

Maliki also said that he was ready to issue a special amnesty that includes women arrested in criminal cases but women who carried bombs to support terrorist acts against Iraqi civilians deserve punishment, Al-Sumaria News reported.
Protesters attack Iraq official's convoy
Meanwhile, bodyguards for Iraq's deputy prime minister wounded two people when they fired warning shots at protesters who pelted his convoy in Ramadi with bottles and stones on Sunday, Reuters reported witnesses as saying.

Deputy Prime Minister Saleh al-Mutlaq had travelled to Ramadi to address people in an attempt to defuse sectarian tensions.

Thousands of Iraqi Sunnis have taken to the streets and blocked a main highway over the past week in protest against Maliki, whom they accuse of discriminating against them and being under the sway of non-Arab neighbor Iran.

"Leave! Leave!" the protesters shouted at Mutlaq, himself a Sunni, who has been a frequent critic of Maliki.

"It's only now Mutlaq comes to attend the protest and after seven days. He came to undermine the protest," Saeed al-Lafi, a spokesman for the protesters, told Reuters.

Mutlaq's guards opened fire to disperse the crowd after they threw objects at his convoy. Two people were wounded, the witness said.

In a statement following the incident, Mutlaq said some "rogue elements" at the protest had tried to kill him.

"Upon the deputy prime minister's arrival, the protesters greeted him with great warmth ... but some rogue elements which seek to divert the protesters from their legitimate demands carried out a cowardly assassination attempt against Doctor Mutlaq," it read.

Echoing slogans used in popular revolts that brought down leaders in Egypt, Yemen, Tunisia and Yemen, protesters have also called on Maliki to step down.

"Is this the way to deal with peaceful protesters? To shoot them? This is really outrageous," said protester Ghazwan al-Fahdawi, displaying empty bullet casings from shots he said had been fired by Mutlaq's guards.

In the northern city of Mosul, the provincial council called a three-day strike to press Baghdad to release women prisoners and stop targeting Sunni politicians.

Protests erupted last week in Anbar province after troops loyal to Maliki detained bodyguards of his finance minister, a Sunni.

That happened just hours after President Jalal Talabani, a Kurd seen as a steadying influence on Iraq's tumultuous politics, was flown abroad for medical care.

In a televised interview late on Sunday, Maliki said there were foreign agendas behind the protests and urged protesters to go home.

"You wanted to convey your message, it has been received, and that is enough because if this goes on it will complicate matters."

The Arab League described recent developments as "worrying" and called for dialogue in a statement released on Friday.