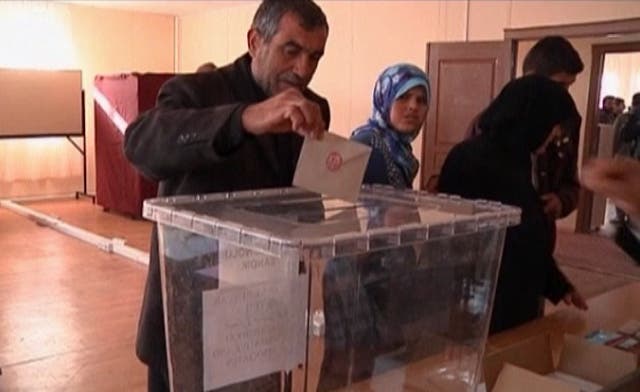 In first touch with democracy, Syrian refugees vote in Turkey
Syrian refugees lined up outside a voting center in Kilis camp in Turkey on Thursday to vote for camp leaders and administrative representatives.

Turkey said the vote is aimed at introducing democracy to Syrian citizens.

The camp is home to thousands of Syrians who have fled the violence in their homeland.

Syria last held parliamentary elections in May of last year, but they were boycotted by the opposition, denouncing the exercise as a sham.

Those in the camp said they were grateful to Turkey for giving them this opportunity, "Thanks to the Turkish government for enabling us to have this experience in this camp. When we were living in Syria before we had no such thing. The government would have already chosen those who were elected even before the election," said Syrian refugee Ahmad Saar.

Several women turned out to cast their ballots in an election in which each of the six sections of the camp must have at least one female candidate.

Turkey has tried to showcase the Kilis camp, where refugees live in heated and air-conditioned containers with refrigeration facilities, as opposed to tents at other camps.

Governor of the container city Suleyman Tapsiz, spoke of the relevance of the vote.

"Around 14-thousand Syrians are sheltering in this Kilis container city. These elections are carried out so our Syrian friends can take part in an administrative process at camp," said Tapsiz.

Only those refugees who are 18 and over can take part in the vote.

Those elected will be responsible for administering services relating to security, health, education and religion in co-ordination with the local governor's office.