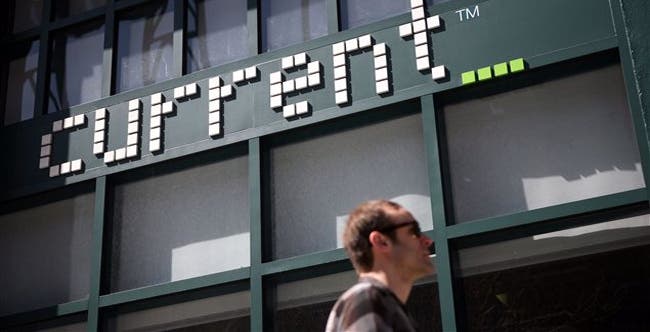 Al Jazeera's $500m 'American Dream' … a risky gamble?
Al Jazeera's hefty investment in a flagging U.S. television network has left many stuck for the answer to a simple question: Why?

The immediate reaction of many observers who have written about this was that it goes in line with general Qatari preoccupation with "buying influence" and exposure.

As such, if a non-profit state-backed organization such as Qatar Foundation was happy to throw away 150 million Euros to sponsor a Spanish soccer team (Barcelona FC) back in 2010 (with no real benefit from the exposure for the non-profit organization); it was certainly not a surprise to many when the Qatari state-funded broadcaster said earlier this month that it would buy Current TV, which was cofounded by former American vice-president Al Gore in 2005, for a whopping $500 million.

That price tag left many commentators aghast, not least because the left-leaning U.S. network had for some time struggled with low ratings, boasting a prime-time audience of just 42,000 in the fourth quarter of 2012.

Content was not exactly king for Current TV, which had been in search of a buyer for some time. When it first launched, the network made a name for itself by airing a disparate array of clips submitted by independent producers, and then voted on by viewers.

In an apparent change of strategy, Current TV later made a big-money gamble in hiring U.S. anchor Keith Olbermann. That deal came to an abrupt and messy end when Current TV sacked the firebrand host, resulting in a wave of negative publicity for the network.

None of this seems to justify Al Jazeera's massive investment, which reportedly saw Al Gore and his co-founders walk away with an estimated profit of $440 million.

"42,000 prime-time viewers is nothing in a country which has a population that has more than 300 million and where you are competing with the likes of Fox News which has a daily average prime-time viewership of 2 million," said one veteran television journalist who is an expert on the history of Al Jazeera.

Yet Al Jazeera's interest in Current TV is said to have nothing to do with the station itself. For the Qatari broadcaster plans to scrap the U.S. station and replace it with a channel called Al Jazeera America, which will be based in New Year and begin broadcasting in April.

What was of real interest to Al Jazeera was Current TV's distribution network. This will allow Al Jazeera to boost its potential reach in the U.S. to about 40 million homes, a vast increase on the 4.7 million it had access to previously.

The Qatari broadcaster has never made a secret of its ambitions to expand in North America, having for years campaigned for wider distribution of its Al Jazeera English news station. However, the question remains if this is actually attainable.

"Since they let go of the old guard, Al Jazeera network has been run by a group of amateurs who are only good at throwing money away into ventures that are unlikely to have any real potential return on investment," elaborated the analyst Al Arabiya English spoke to.

"Even with the potential reach that Current TV has, who in their right mind would expect the average American to stop watching Fox News or CNN and start watching a channel with a brand that has for long been associated as being the Osama Bin Laden official platform?" added the analyst who suggests that Al Jazeera America can't compete with an already defined and congested cable news local market.

As such, it is no secret that the take ever has faced much political obstructions, mainly – however - due to perceptions that its Arabic news service is a vent for anti-Israel propaganda, or – as the right-wing station Fox News puts it – is an "anti-American terror mouthpiece". In 2010, the English station's then managing director Tony Burman blamed "very aggressive hostility" from the Bush administration for the reluctance of cable and satellite companies to carry the channel.

But the network seems to be coming in from the cold, with prominent members of the U.S. establishment – including Hillary Clinton – publicly praising Al Jazeera English's coverage of the Arab Spring (though she and many others have not pointed out to the massive difference Al Jazeera Arabic and English have in their news agenda, focus and presentation).

Distribution deals soon followed. In August 2011, Al Jazeera English claimed a triumph when it became available to cable-TV viewers in New York for the first time. The signing of two deals with existing media firms allowed the channel access to two million homes in New York, expanding its sparse existing distribution in the United States.

Al Jazeera said at the time it was talking to "all the key cable and satellite operators" in the U.S. about further distribution deals – and the Current TV deal appears to be the culmination of that.

Yet many commentators have cast doubt over the commercial logic of the acquisition – with one saying it marks a "risky" move.

For while Current TV's distribution network is the key attraction for Al Jazeera, that is by no means set in stone. Within hours of Al Jazeera's acquisition being announced, Time Warner Cable announced it had dropped Current TV from its platform. While Time Warner has since said it will keep an open mind on whether to carry Al Jazeera America, the episode suggests Al Jazeera's future in the US is by no means guaranteed.

Matthew Reed, a principal analyst at Informa Telecoms & Media in Dubai, said that Al Jazeera faces several challenges in its US push.

"It is quite a risky move," Reed said of Al Jazeera's acquisition of Current TV. "There are some negative perceptions about Al Jazeera in some quarters of the US. It's hard to predict how distributors will react."

How Al Jazeera fares politically and commercially are two separate issues, Reed said.

The U.S. television market is notoriously tough, and the business of making TV news is incredibly expensive. And so it remains to be seen whether Al Jazeera can sell enough adverts to justify even a fraction of its initial investment.

"[Television news] is a costly business, and competitive. And the media landscape is also changing… The way that people consume media is changing, and broadcasters are having to adapt," Reed told Al Arabiya in an interview.

Yet the Qatari state-financed Al Jazeera is more concerned with politics than profits, said Mr. Reed.

"There's no guarantee they will be commercially successful. But Al Jazeera is freer of those constraints than many other companies, because it's basically financed by the state of Qatar," he said.

"Al Jazeera is not a regular commercial broadcaster… In a way it's a foreign-policy tool of Qatar," he added. "Qatar wants to increase its own regional and international influence, and I think that is part of the explanation behind this move."

And so the Current TV acquisition is a viable – albeit expensive – route for Al Jazeera to broaden its viewership in the U.S., Reed said.

"Al Jazeera aims to be global, and to do that it needs to have distribution beyond this region," he added. "Current TV seems to offer quite an attractive route into the U.S. market. I don't think it has been doing very well commercially, but it does have reasonable distribution."

"I think Al Jazeera could find a market [in the U.S.], but it will be relatively modest. They're probably going to be a small to medium-sized player. Nevertheless, they could still be successful and even influential."

Yet other commentators expressed surprise that Al Jazeera chose to invest so much in a TV network with so few viewers, when it could instead have chosen to build up its already popular Web-streaming service in the United States.

"Congratulations, cable guys! You're in a business that's so valuable that even a failed network with partial distribution and no audience is worth some $500 million," wrote media commentator Peter Kafka on the AllThingsD website. "Al Jazeera would have been a perfect candidate to bypass cable and go digital-only."

And so the issue of why Al Jazeera spent $500 million on Current TV is not the only question. For its fate also rests on whether the U.S. public will watch Al Jazeera America on their TV screens, or whether they already get their fix of the broadcaster's shows via the Web.