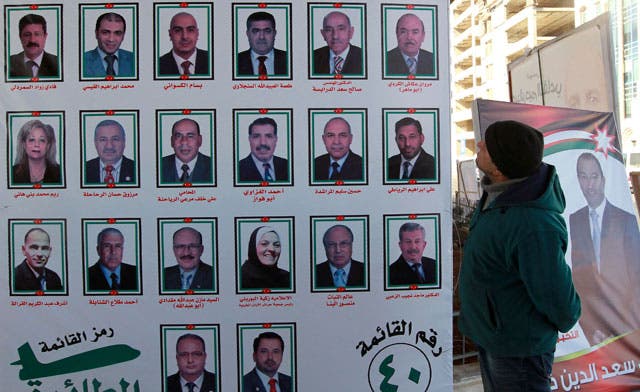 Jordan PM says election heralds wider reforms
King Abdullah will for the first time consult parliament when he picks a government after this week's election in Jordan, Prime Minister Abdullah Ensour said on Monday, calling this "dramatic progress" toward democracy.

Ensour said Wednesday's vote, boycotted by the main Muslim Brotherhood-linked opposition party, would reflect "major changes that the political system in Jordan has undergone towards greater openness and democratization" since pro-democracy protests began sweeping the Arab world two years ago.

The king last year endorsed constitutional changes devolving some of his prerogatives to parliament, which critics said had become sidelined and restoring to the government some executive powers which had shifted to the palace and security forces.

"This is dramatic progress and what the king has done voluntarily is what the opposition had demanded. Any government will now be formed by the joint will of His Majesty and parliament," Ensour told Reuters in an interview in his office.

Islamists and some tribal opposition figures have staged protests in recent months, calling for the king to give up his power to name governments and criticizing last year's constitutional changes as falling short of their demands.

Unlike some Arab nations, Jordan, a U.S.-backed monarchy with a long border with Israel, has not seen mass protests calling for the overthrow of the ruling system, but emboldened Jordanian demonstrators have complained openly about corruption.

Under pressure to accelerate political reform, the king appointed Ensour, a veteran lawmaker and politician, in October to oversee an election after dissolving the tribally dominated parliament halfway through its four-year term.

But the outgoing 150-strong assembly resisted changes in the electoral law that would have reduced tribal influence, prompting the boycott by Islamists who say the old law favors rural regions which depend on state patronage and which form the backbone of support for the Hashemite monarchy.

The boycott has reduced the vote to a contest between tribal leaders, establishment figures and independent businessmen, with just a few of the 1,450 candidates running for recognized parties. The electoral system encourages voting on tribal lines.

Ensour said the next parliament and government would face an uphill task to revive the ailing economy and restore faith in the rule of law.

His action in November to cut costly fuel subsidies as part of austerity moves ignited some of the worst civil unrest in more than two decades, with some demonstrators making unprecedented demands for King Abdullah's departure. Protests sometimes turned violent in impoverished rural and tribal areas.

Ensour, a Sorbonne-trained economist, defended the fuel price increases as necessary moves that successive governments had long delayed for fear of a popular backlash.

He said Jordan still faced tough measures under an International Monetary Fund-guided program to reduce spending on a bloated bureaucracy, the military and security services.

"There will be more corrective measures that should be taken to continue our path of recovery, but this is left to the new parliament and government," Ensour said.
He is expected to stay on as caretaker premier until a new government is chosen after the new assembly convenes in mid-February.

Islamist "mistake"
The prime minister said the Muslim Brotherhood, which has coexisted with the ruling establishment for decades, had now lost a chance to lobby for wider political changes.

"No doubt their boycott sours the mood, as they are part of the political system..., but they brought this upon themselves. I tell them: 'you opted to stay on the pavement and to chain yourselves, this is a mistake'," Ensour said.

He said the Brotherhood could have formed a ruling coalition with other partners and pushed through electoral reform. "How can they now change the law when they are outside?" he asked.

Ensour who appealed for a high turnout among the 2.4 million eligible voters, predicting that Jordanians would disregard the Islamist call for a boycott. He cited an Islamist rally in Amman on Friday that drew fewer than 2,000 people.

The prime minister also said a government crackdown on vote-buying, which independent observers say has tarnished the campaign, would improve the credibility of the polls.

"There is a major difference between a parliament that comes through rigging and one that enjoys the trust of people. This is the first time in Jordan's history we have this number of arrests of important candidates," Ensour said.

Previous elections have been marred by interference from the security forces, but last year's creation of an independent electoral commission could produce a fairer vote.