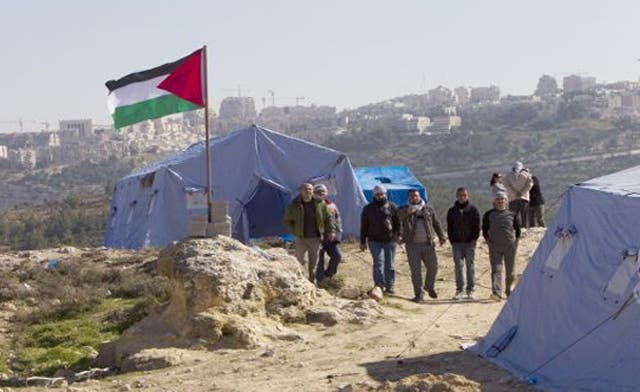 Palestinian village Bab Al Karama demolished
In the early hours of the morning, the Israeli army raided and demolished the modest infrastructure of the new Palestinian village of Bab al-Karama. In an attempt to deter the Israeli army from confiscating more of their land, residents from Beit Iksa village and several activists had flocked to the area due for confiscation and set up a village on Friday and named it Bab al-Karama (Gate of Dignity).

About 100 activists and organizers of the Bab al-Karama initiative staged a protest. Dozens more who flocked to the area to join in were blocked by the Israeli army.
The small village of Beit Iksa along with several neighboring villages located on the outskirts of Jerusalem were previously subjected to large scale land confiscations by the Israeli military during the construction of the segregation wall. When the wall is complete, it will strip the village from 60 percent of its agricultural land.

For years, Beit Iksa residents accessed their village through only one gate, and that is an Israeli army checkpoint. The residents have recently received notifications from the Israeli army announcing its intent on confiscating more of their land.

Since this initiative started the Israeli military has already closed all access to the area and declared it a closed military zone.

"The military has already approached us a few times but every time they come, we make a human chain and chanting national songs and they've left us alone so far, but we don't know when they will forcibly kick us out.' Osama had said.

Earlier this week, activists had set up another tent village on the outskirts of Jerusalem, an area the Israeli army had dubbed 'E1' zone and was set to build yet another illegal settlement on Palestinian land in an effort to virtually cut off the West Bank cities from Jerusalem.

The activists had named their new village Bab al-Shams – which translates to Gate of the Sun, but soon after the Israeli army attacked them in the early hours of the morning with around 500 of soldiers and dragged them out of the area injuring a few and declaring the area a military zone.