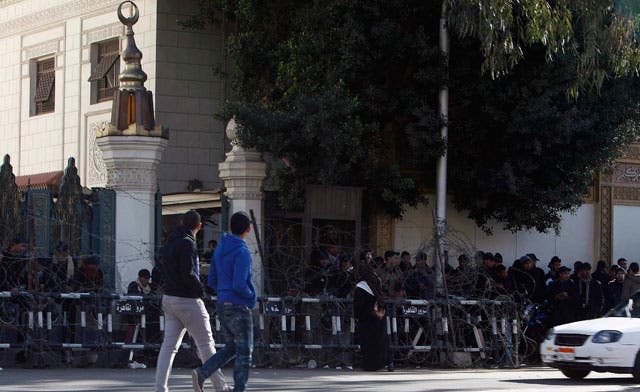 Egypt opposition hardens stand on Mursi, interior minister
Egypt's main opposition group on Saturday backed calls to oust the ruling Islamists after deadly clashes and as President Mohammed Mursi scrambled to contain fallout from footage of apparent police brutality.

The National Salvation Front said it "completely sides with the people and its active forces' calls to topple the authoritarian regime and the Muslim Brotherhood's control."

The NSF also demanded that Mursi be prosecuted for "killings and torture," while urging Egyptians to stage peaceful protests.

It said Mursi should be put on trial after an "impartial investigation" and ruled out dialogue with the presidency until "the bloodletting stops and those responsible for it are held accountable."

But, in a possible sign of differences in a troubled coalition that comprises liberals and leftists, NSF members disagreed on the statement's intent.

"We are calling for the downfall of the regime of tyranny, not the regime," said Khaled Dawoud, the NSF's spokesman, explaining it meant "the abuse of citizens and torture and ignoring the demands of the opposition."

But another NSF member, Hussein Abdel Ghani, said: "I think this statement can be read to mean only one thing, which is to topple Mursi's government."

Meanwhile, Hamdeen Sabahi, head of the Dignity Party and a co-leader of the NSF, called for the interior minister to resign.

Clashes on Friday night between protesters and police outside the presidential palace left one dead, and police were filmed beating and dragging off a naked man.

The beating was "an inhumane spectacle ... no less ugly than the killings of martyrs, which is considered a continuation of the security force's program of excessive force," the NSF said.

Interior Minister Mohammed Ibrahim's office said he had ordered a probe to "hold accountable" those responsible and that he would resign if "that's what the people want."

The presidency said it was "pained by the shocking footage of some policemen treating a protester in a manner that does not accord with human dignity and human rights" and would follow the ministry's investigation of an "isolated act."

Prosecutors say the man, a 50-year-old construction painter sent to a police hospital, was found carrying petrol bombs.

But Hamada Saber later said on television that he had been set upon and stripped by protesters and that the police had saved him, an account disputed by relatives, who said he was lying under pressure.

"They gathered around me and roughed me up," he said from his hospital bed. "They took my clothes, then they said 'hey, this guy isn't a policeman, he's an old man.'"

Afterwards, he said, "I tried to resist the police because I didn't want to get into their armored vehicle, but then I realized that they were trying to save me."

But Saber's daughter Randa said on television: "He's lying; he's scared." And a nephew said "he is lying because there is a lot of pressure on him."

In Friday's clashes, a 23-year-old was shot dead and 91 people were injured, a medic said, and the interior ministry said 15 of its men were wounded by birdshot.

In central Cairo's iconic Tahrir Square, protesters threw stones and bottles at Prime Minister Hisham Qandil's motorcade on Saturday morning, the Egyptian Dream Live television reported.

The presidency said security forces would deal with violent protests with "utmost decisiveness" and that it would hold opposition groups found to have incited deadly clashes as "politically accountable."

Mursi's Facebook page said the protesters had initiated Friday's violence by trying to break into the palace.

On Saturday night, several hundred mostly young protesters again gathered outside the palace and were throwing rocks and Molotov cocktails at the compound's walls, an AFP correspondent said.

One of them said they were there to pay homage to the young man killed on Friday, and they were shouting "leave" and "the people want the regime to fall."

The only security forces present were inside the compound and fired into the air.

The presidential guard said it was protecting the palace and police was being kept away to avoid clashes.

The opposition, which accuses Mursi of betraying the revolution that toppled Mubarak two years ago, has distanced itself from the violence and urged demonstrators to exercise "utmost restraint."

The NSF had joined rival Islamists on Thursday in condemning violence and supporting efforts for a national dialogue, but insisted on a unity government and amendment of an Islamist-drafted constitution that has polarized the nation.

People took to the streets in several cities on Friday in a show of opposition to Mursi and his Muslim Brotherhood after last week's deadly unrest across Egypt, the worst since Mursi was elected in June.

Port Said accounted for most of the almost 60 people killed. Violence erupted there after 21 local supporters of a football club were sentenced to death on January 26 over the killings of 74 people in post-match violence.