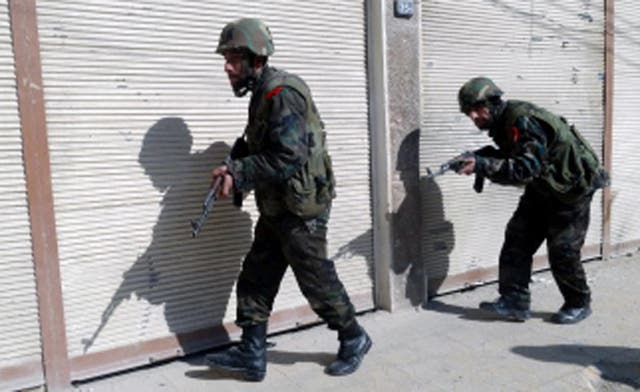 Syrian army launches 'all out offensive' on Damascus, all roads sealed
The Syrian army launched an "all-out offensive" on Damascus province on Wednesday, a security official said, as a watchdog reported the fiercest bombardments and fighting in the region for months.

"The province was bombed very badly, in attacks that have not been seen in months. There was also very heavy fighting," said Rami Abdel Rahman, the director of the Syrian Observatory for Human Rights.

A Syrian security official in Damascus who declined to be named said that "the army has launched a coordinated all-out offensive on all of the areas surrounding the capital.

"All entries to Damascus have been sealed," he added.

Local residents said that "unusually intense bombing" was heard throughout the capital all day on Wednesday.

The offensive came as fierce clashes erupted between rebels and soldiers in the northeast and southwest of Damascus, as well as in the southern district of Qadam and eastern Jobar and Qaboon districts in the capital.

These areas of Damascus are among the strongest bastions of the rebellion against the regime of President Bashar al-Assad.
Suicide bombing
A suicide bomber meanwhile attacked a military intelligence headquarters in the south-central Syria city of Palmyra, killing and wounding an unknown number of people, the Syrian Observatory for Human Rights said.

"A powerful explosion rocked Palmyra this morning and according to initial reports it was a suicide attack targeting the building housing the military intelligence and state security" offices, said the Observatory, which gathers reports from activists, medics and lawyers across Syria.

The watchdog could not immediately give a more detailed breakdown of the toll of dead and wounded.

It said rebel fighters attacked the building soon after the blast, while the army deployed security forces in the city renowned for its Roman ruins and which has been designated as a world heritage site by UNESCO.

Fighting then erupted between rebels and troops in a section of Palmyra, which is located in Homs province.

Suicide bombings have increased in Syria and are usually claimed by jihadists, the most prominent of them being the Al-Nusra Front, a group designated as a "terrorist organization" by Washington.

The U.N. says more than 60,000 people have been killed in violence across Syria since the outbreak of a revolt in March 2011 that morphed into an insurgency after the army launched a brutal crackdown on dissent.