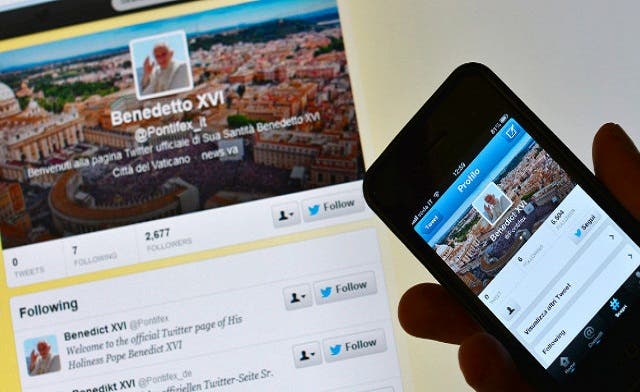 Twitter Quitter: Pope's account to shut down after formal resignation
The pope's official Twitter account, which has more than two million followers in nine languages, will close next week when Benedict XVI leaves office, Vatican Radio said Friday.

After a high-profile launch on December 12 under the name @pontifex, the pontiff's online musings quickly attracted over 1.5 million followers in English. Around a million other users of the site subscribe to his feeds in Italian, Spanish, German, French, Portuguese, Polish, Arab and even Latin and a Chinese account had been planned.

"It seemed unimaginable one could continue to use a communication tool that is so popular and powerful during the Sede Vacante (Vacant Seat) period," Vatican Radio said.

The leader of the world's 1.2 billion Catholics is expected to post his final tweet on February 27, when he will bid a farewell to ordinary Catholics at a general audience in St Peter's Square.

The account will then be closed on February 28 when Benedict formally steps down as pope, according to Vatican Radio.

No clear favorite has emerged yet to succeed Benedict but several cardinals tipped as possible candidates, including American Timothy Dolan, Odilo Scherer from Brazil and Gianfranco Ravasi and Angelo Scola from Italy, are active Twitter users within the Church.

Benedict's bold move to become the first pope to join the Twittersphere sparked heated debate at the Vatican and within the Church. Supporters said it was a useful way to reach a younger generation, but some observers were dismayed to see that his pious posts invited a stream of mockery.

The pontiff resigned amid a sense of crisis within the Vatican. The institution's most recent scandals involve several documents leaked by the pope's butler, Paolo Gabriele, alleging corruption, internal disputes within the Vatican and other gossip.

Benedict XVI, Pope since 2005, has become the first to resign since Gregory XII in 1415, and the first to have done so willingly since Celestine V in 1294.

Having no one to present his "resignation" to, Benedict's resolution to retire instigated a debate within the Church itself.

Legally, the Pope can retire if he so chooses; the Code of Canon Law, the law that rules the Catholic Church, states: "If it should happen that the Roman Pontiff resigns his office, it is required for validity that he makes the resignation freely and that it be duly manifested, but not that it be accepted by anyone."

However, the Successor of St. Peter is expected to remain in office until his death. Benedict's predecessor, Pope John Paul II has consistently said that he will serve "as long as the Lord desires," and he remained in position despite his deteriorating health, until he deceased in 2005.