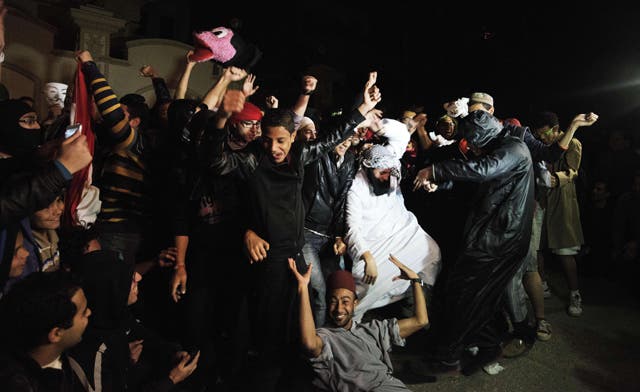 'Harlem Shake' shakes Muslim Brotherhood headquarters in Cairo
A dance craze that began in an Australian teenager's bedroom landed on the doorstep of Egypt's Muslim Brotherhood Thursday, with dozens of protesters doing the "Harlem Shake" outside the ruling Islamists' Cairo headquarters.

Around 70 protesters, mostly men, performed the dance after chanting slogans against the Islamists, who had propelled President Mohamed Mursi to his election victory last June.
The chaotic pelvis-thrusting dance has been mimicked across the world after a group of Australian teenagers uploaded a video of themselves dancing the "Harlem Shake" in early February.

Youths in Egypt and Tunisia have taken up the dance as a form of protest against Islamists, two years after uprisings in both countries toppled veteran dictators but brought in divisive Islamist-led governments.

"Down with the supreme guide's rule," the protesters chanted after finishing the dance, referring to the Muslim Brotherhood's religious leader Mohammed Badie.

"The message is clear," said Farid Sayyed, one of the organizers.

"We are against the policies of the Brotherhood. Their guidance bureau (or ruling council) dictates government policy, not the presidency. The revolution continues."

Several riot police trucks and a fire engine were deployed at the Islamists' headquarters, which protesters had stormed and attempted to torch in December after Mursi adopted extensive powers he has since repealed.

But Thursday's protest remained peaceful, with some dancers arriving dressed as Islamists and another wearing a Mickey Mouse mask.

Although it was the first such performance outside the Brotherhood's headquarters, the dance craze had already arrived in Egypt.

A group of Egyptians posted videos of themselves on YouTube doing the "Harlem Shake" in front of the Giza pyramids, with one of them, wearing white underwear and a bow tie, dancing while riding a camel.

Last week, police said they arrested four students who stripped to their underwear and performed the dance in a quiet middle class Cairo neighborhood, after shocked residents tried to assault the students.

In Tunisia, students and radical Islamists scuffled on Thursday after the students tried to film themselves dancing in the city of Sidi Bouzid, the cradle of the Arab Spring revolts, with similar scuffles taking place in the capital.

A number of social media sites run by Salafists and other Islamist groups have denounced the "Harlem Shake" as indecent, with participants smoking, dancing wildly and simulating sexual acts.

Defiant youth activists have put out a call for a mega "Harlem Shake" to be staged on Friday in front of the education ministry in Tunis.