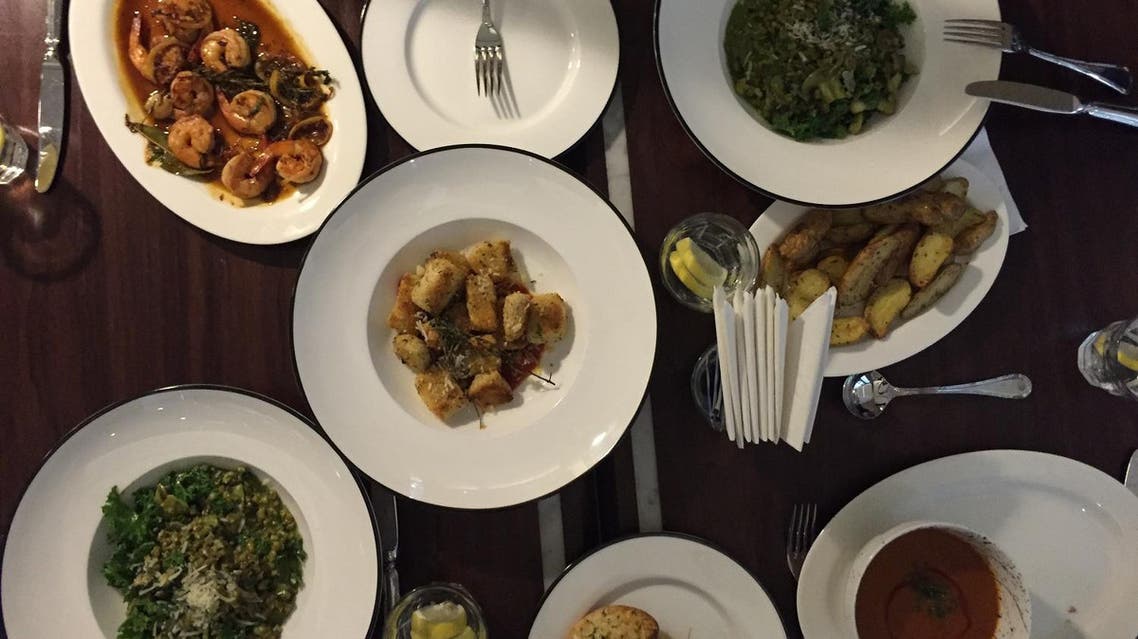 An ode to PI, the new kid on Dubai's Italian eateries street
PI has minimally retro interiors, a theme many Dubai restaurants try to achieve but fail
Every once in a while an Italian eatery comes along and undoes all the overcooked pasta, burnt eggplant, and over-seasoned sauces you've ever tasted.
A lot of people, including myself, really do eat with their eyes first. I was drawn to PI, nestled between the Noodle House and Yo Sushi in the Dubai Mall, because of its minimally retro interiors, a theme many Dubai restaurants try to achieve, but more often than not end up overdoing.
PI occupies a comfortable space inside the mall, but my favorite table is in the corridor that leads to their outdoor area. Once you've passed the massive oven to your left, there is another seating area that is completely different from the rest of the restaurant. Light floral pastels and greenery dominate this space, reminding me of a greenhouse in the spring. One caveat: I've only been there after sunset so I'm not sure if it gets a lot of natural light (although it looks like it does).
On top of the beautiful interiors – and an outdoor seating area close enough to see the fountain yet far enough from the crowd and noise – PI has given me what I constantly seek, and fail to find in Dubai: a simple yet versatile menu.
A wide selection of pizzas, a less wide selection of pastas, and a fun list of entrees are on this two-paged (yes two) menu.
The Kale Farrotto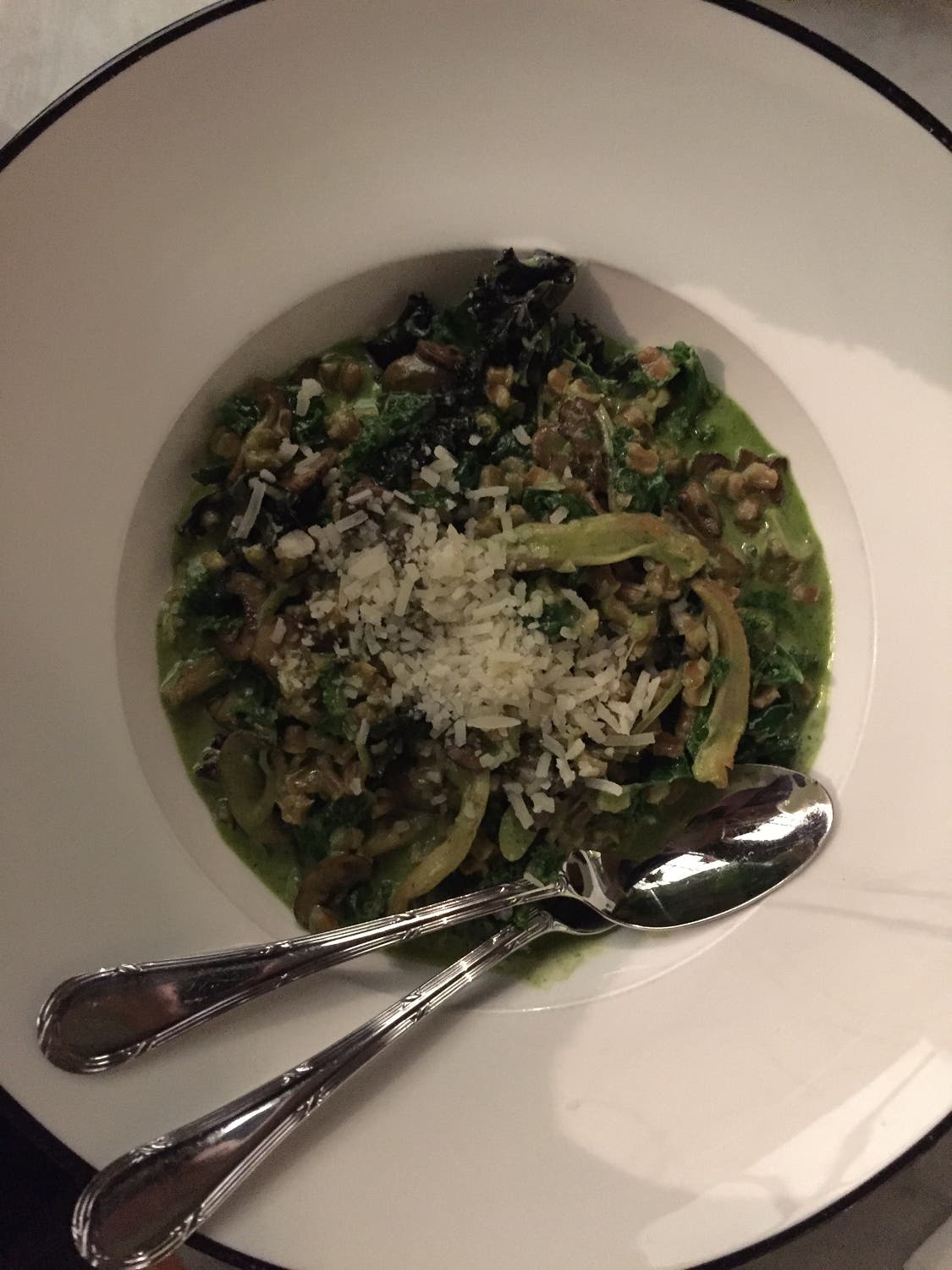 Yes, this dish deserves its own paragraph and subheading. Adventurous and hungry, I ordered the Kale Farrotto, PI spin on the risotto. Instead of rice, the chef at PI uses farro grains, a god-sent decision for those, such as myself, who have a deep appreciation for that al dente texture. Other members of our dining party ordered the Pesto PI and the Margarita PI.
The deep green color of the kale, with the brown mushrooms in between the farro grains, juxtaposed next to the clean, white edge of my plate, reminded me of two of my favorite adjectives: comforting and earthy.
This dish is also fresh - the dish's uniting component is a parmesan sauce with kale, giving it a fresh, light, green color.
Despite the lack of a bread basket upon seating, a decision I understand and support, I managed to salvage almost every drop of that sauce with my pizza crust.
To my knowledge, two kinds of mushroom are used in this dish and offer an excellent meaty texture.
Also, a small mound of parmesan is grated on top.
The Kale Farrotto is my new favorite comfort food.
The tomato soup
PI's tomato soup is a tomato soup to be reckoned with. It is deep, it is slightly sweet, and a tad spicy. I am not a fan of cream-based soup or broth-based soups. I am more of 'roast the veggies and process them' kind of person, and that's what this soup tastes like. Good, ripe, tomatoes offering their goodness in liquid form – without being too thin.
The pizza dough gnocchi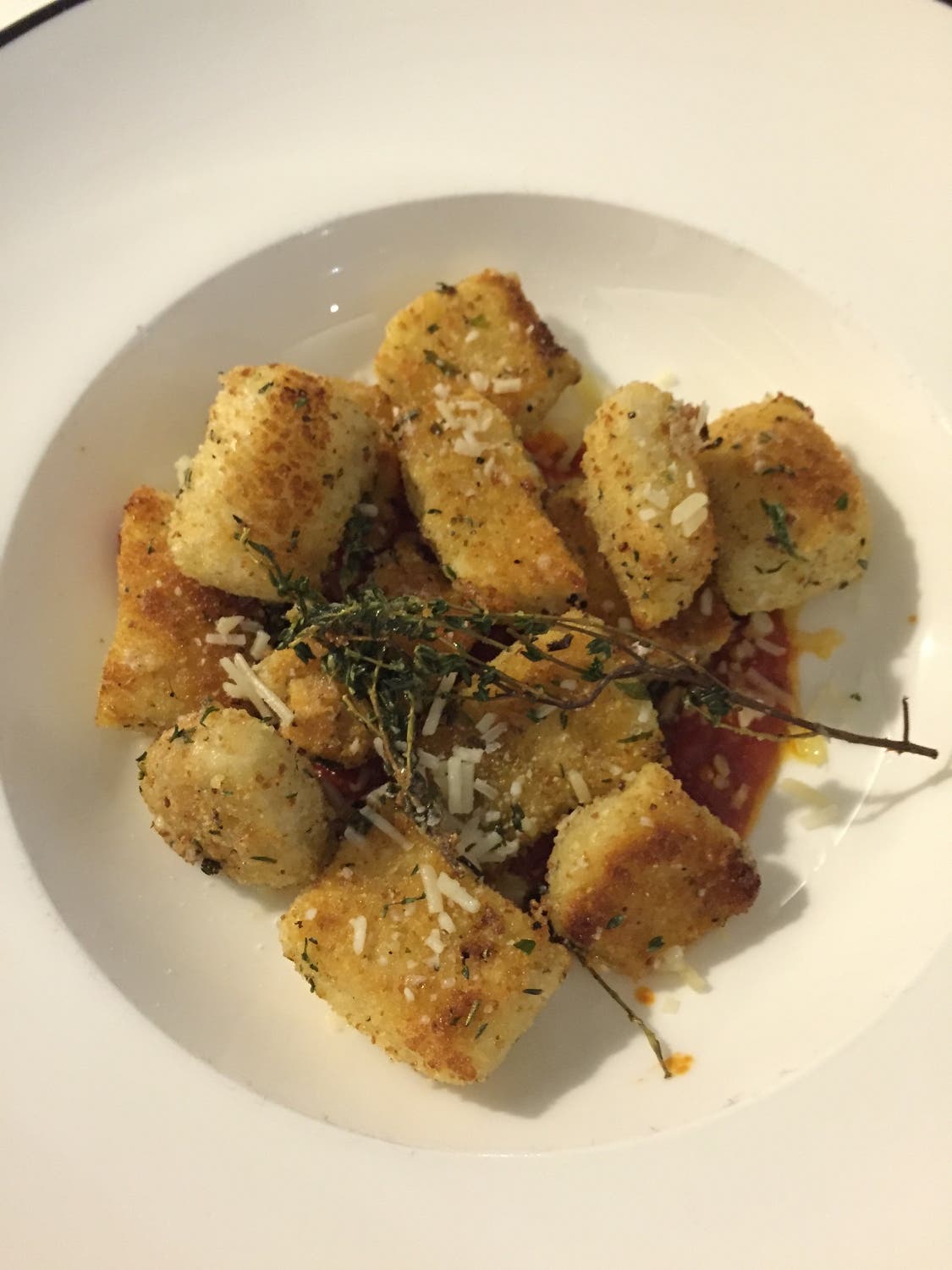 Not a fan of potatoes, ergo, not a fan of gnocchi. So what my brain labelled as bread-based gnocchi sounded like a great idea! Perhaps the only disappointment on the table. I expected pillow-y on the inside with a subtle crunch on the outside but it didn't deliver. Instead, the pieces of dough were dry and there was not enough of the lovely tomato sauce on top of which it was served.
The pizzas
I'd rather eat pasta over pizza. I crave the pie only two or three times a year. Which is why I am writing about this last and least.
I love pesto. I make it and usually slather it on anything whenever I can. PI substitutes pine nuts for pistachios in this pizza – not a big difference, but a pleasant difference nonetheless.
It wasn't dry, the dough was nice and airy, and the size was generous. But it's worth adding that I think their pizzas are over-priced.