Knafeh: The Arab dessert that binds
Knafeh is a dessert that holds the power to excite its consumers, irrespective of social status, age, or religion
A specialty of the Levant region, knafeh is a syrup-soaked cheese pastry dessert made of vermicelli or semolina dough. Traditionally, the shredded vermicelli is stuffed with white cheese, a thick syrup of sugar and a few drops of rose water is poured all over the pastry after it is cooked.
Pistachios and pine nuts are then sprinkled on top (a must!).
It is baked for about forty minutes until the crust turns golden brown color and then the surface is enhanced with orange food coloring, which ensures that knafeh is always the most noticeable dessert on a dining table.
Typically, large, stainless steel trays used to hold the Arab world's golden dessert, which is then served in square-shaped (and chunky!) pieces.
This sweet pastry is popularly known to have originated from the Palestinian city of Nablus, in the northern part of the West Bank.
Many people commonly refer to the dessert as "knafeh Nabalsiyeh," in acknowledgment of the dessert's birthplace, renowned for its premium quality white cheese.
In 2009, a Palestinian pastry baker from Nablus set a Guinness World Record for baking the world's largest knafeh. The dessert reportedly 74 meters long, 1.05 meters wide, and weighed 1,756 kilograms. Around 600 kilograms of cheese, 300 kilograms of sugar, and 40 kilograms of pistachios were used in the making of the Arabic pastry. 170 bakers from different knafeh shops assisted in cooking the record-breaking dessert, which cost around $15,000 to make.
Although there lots more that can be said about knafeh itself, but what's more interesting is how it holds a special place in people's hearts.
It takes on various salient roles in society, from a signal of goodwill after a resolution, to consoler in times of sadness following the death of a loved one, and an admirer after a friend or family member achieves an important milestone, especially at weddings and graduation ceremonies.
In many households, eating knafeh is also a weekly tradition, accompanied by playing cards, smoking hookah, exchanging jokes, and enjoying the company of loved ones over a delicious dessert.
"Whenever I hear my mom say we are having knafeh tonight, I know that means the entire family, including extended relatives and friends are coming over for an eventful night filled with food, laughter, and great conversation," said 29-year-old Palestinian-Jordanian Hanna Heliwa.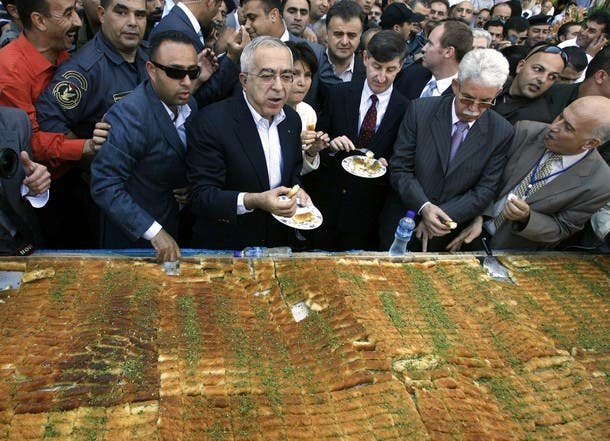 In 1948, Palestinian Al-Haj Mahmoud Habibah immigrated from his hometown of Nablus to Amman, Jordan, where he quickly established "Habibah," one of the first knafeh and sweets joints in the country. Today, it has become one of the main stops for knafeh lovers.
A frequent Habibah customer, 45-year-old Daoud Al Taly said: "Going to Habibah is not only about buying the knafeh, but it is also a bonding activity for my children and I where I get to spend quality time with them, catch up on their current events, and discuss the latest football matches over a delicious dessert."
Knafeh is a dessert that holds the power to excite its consumers, irrespective of social status, age, or religion. It is about shared experiences and every serving is a celebration of love, unity, and life.
Main photo courtesy of @hjl via Flickr, creative commons.