How to eat healthy in the streets of London 101
Street food is not just about cinnamon buns, savory crepes and cheeky burgers anymore; the healthy food scene is growing stronger
Street food is not just about cinnamon buns, savory crepes and cheeky burgers anymore; the healthy food scene grows stronger and stronger among London's most famous markets. I visited a bunch of them and along with the help of personal trainer and nutritionist, Melinda Theore, discovered the healthy alternatives of London's huge street-food palette.
You either visit them during the weekend for a chill catch up among friends, or maybe your colleagues drag you there for lunch break, food markets, have to have a special place in your heart, if you want to call yourself a "Londoner".
With more than 20 markets operating all yearlong at the British capital, it's almost impossible to not come across to one or two, per week. If bumping into irresistible chocolate-chip cookies, provocative waffles and finger-licking hotdogs tempts you to the point where you want to start binging uncontrollably and ruin your diet once more; we've got a solution for you. What about instead of immediately declining the next invitation for a stroll at a food market, you accept it this time?
You will be surprised with how many healthy options of snacks and main dishes there are to choose from.
Borough Market, Southwark Street, Bankside, London
A mixed-fruit juice is an excellent choice for a refreshing snack. Melinda Theore shares her favorite combination of fruits: Apple, orange, carrot, celery, kale, and ginger. "You get the sweet taste and vitamin C from Orange and Apple; vitamin A and minerals from carrot; celery is good for digestion; kale is a super food by itself and ginger an immune boost".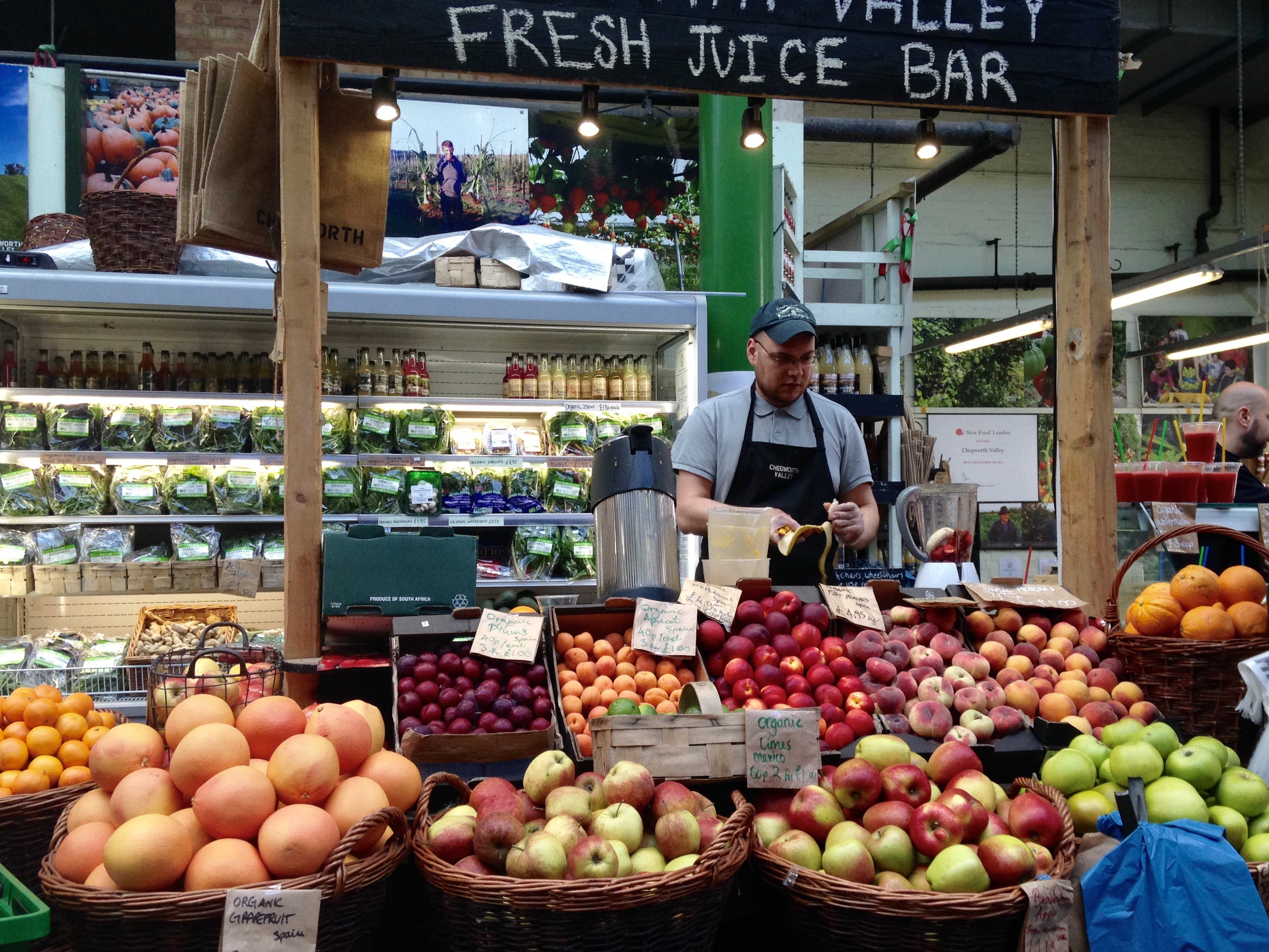 If you're not into fruity beverages, an iced tea is a good alternative. In comparison to canned iced-teas, this one is un-sweetened. "Use lemon, lime, and honey for natural sweetener or flavours", Melinda proposes.
For a more chewy option, go for gluten-free coconut pancakes. They are as delish as they sound.
Acklam Village market, 4-8 Acklam Rd, London
"Definitely go for lean meat skewers of chicken or salmon with grilled, baked or steamed vegetables for low fat low carb diets, or add a wrap if you haven't had many grains or carbs for the day", advices Melinda. Certified personal trainer from Australia, working now at Grace Belgravia, she sure knows what she's talking about.
At the popular food stall of Acklam Village market you wont only find skewers but also african-inspired quinoa and other salads.
Portobello market, 125 Portobello Rd, London
Just around the corner of Acklam Road you will find the neighbor-street food stalls of famous Portobello market. Keep your head in the right direction and go once more for the right choice: Buckwheat crepes with spinach, cheese and mushrooms.
Melinda promises buckwheat will not bloat you too much, while the combination of spinach, cheese and mushroom makes a nutrient, rich meal. Keep an eye on the added butter though.
Berwick Street market, Berwick Street, London
At Soho now, although your eye might fall at some irresistible bagels, stay strong and choose an Ethiopian style salad. You'd better go for leafy greens, capsicum, cucumber and a bit of sweet potato. "Green vegetables have less carbs than the colored ones, as a general rule, so keep that in mind if wanting to reduce calories or carbohydrates"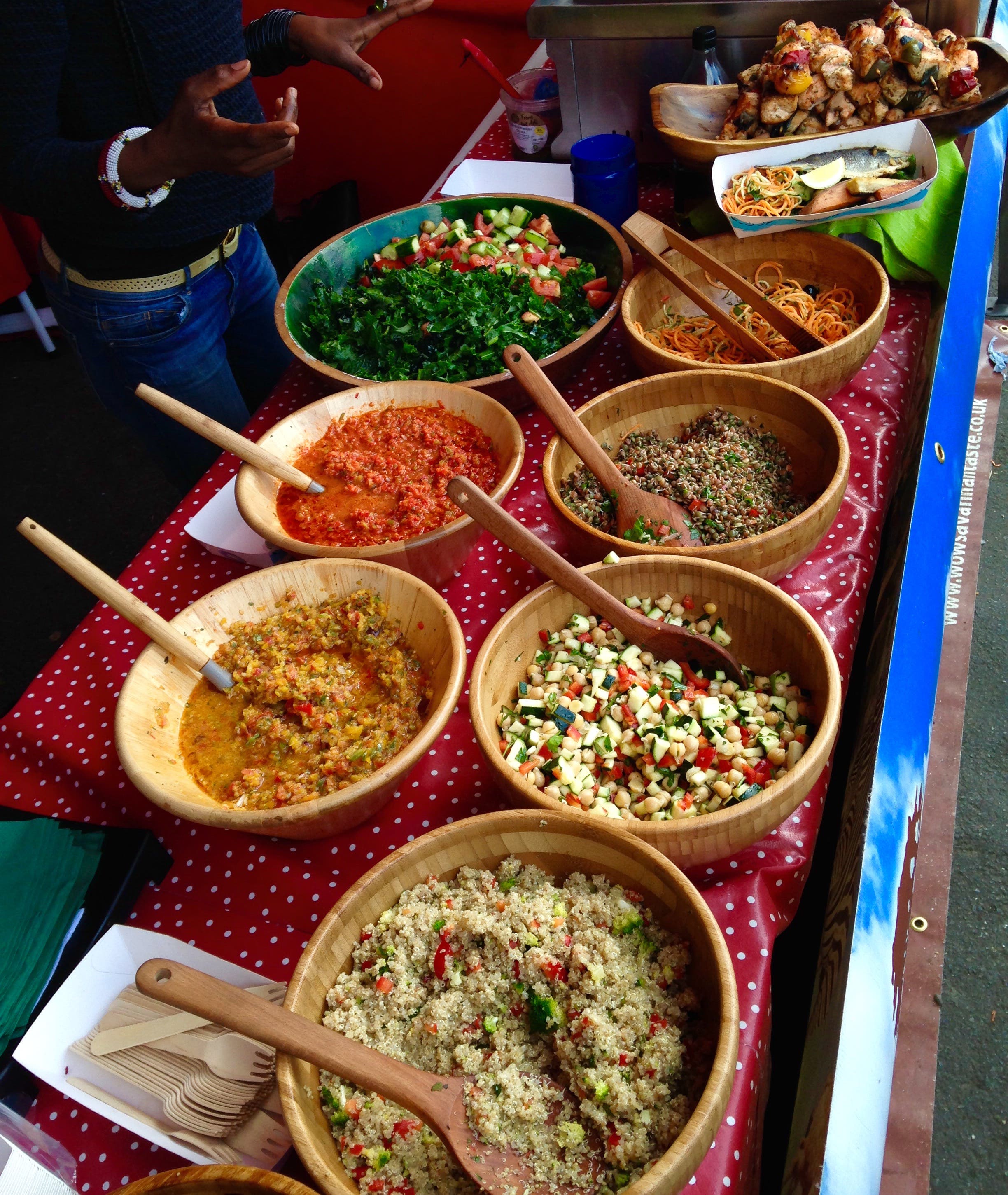 Real Food market, Kings Cross Square, Euston Road, London
This markets is all about fresh fruits.
Grab a fruit salad, just like Melinda would do, "I prefer berries for their high amount of antioxidants, vitamin c and low carbohydrates, because bananas are quite high in carbs".
Or prefer a smoothie of your choice. Our expert proposes you to tell them to blend for you "half of a banana, blueberries and 4-5 strawberries with a serve of either all plant protein powder or flavored whey protein, 1/4 avocado and 250ml of water"; they wouldn't mind.
Brick Lane Market, 91 Brick Lane, London
Going east, you'll find one of the most famous of London's' food markets, where you could actually have an Asian feast. From sushi to dim sum, you have plenty of yummy options to choose from, just try and avoid the fried options.
Sushi is Melinda's favorite! "If possible have brown/black rice as too much white rice can spike your blood sugar levels. Sushi with salmon or tuna and avocado provides a nice balance of carbs, protein and healthy fat".
Not that well-known, but certainly a lot of people's favorite, are the Chinese baked, of course, zucchini pancakes, that have about 140 calories each.
Or you could try some homemade dim sum; the vegetarian, chicken or pork steamed dumplings are testé et approuvé. Just be a bit careful with how much soya and chilli sauce you add, you don't want to take your sodium and sugar levels to too high levels.