Rainbow Street: A Jordanian oasis of culture, history, and talent
Located in downtown Amman on a buzzing one-way road, it is home to some of the capital's immensely popular attractions
One of Jordan's most famous thoroughfares, Rainbow Street is a prime spot for tourists and locals. Located near the center of downtown Amman on a buzzing one-way road, it is home to some of the capital's immensely popular attractions, including restaurants, cafes, and art shops. Rainbow Street's local charm combined with its bustling energy has made it a favorite destination for many.
Rainbow Street caters to all: there are traditional coffee houses, rooftop bars, antiques shops, craft studios, falafel joints, and premium restaurants. All attractions are tightly packed onto a narrow, semi-residential road, encouraging visitors to park their cars and stroll through its cobbled streets. It is also home to sites of Jordanian history, such as the residence of Jordan's late King Talal, as well as organizations and private schools including, the British Council and the Ahliyyah School For Girls.
Some of Rainbow Street's most favored spots include Books@cafe, Turtle Green Tea Bar, and Nabad Gallery.
Books@cafe's spectacular sunset view overlooking East Amman has garnered widespread popularity.
Opening its doors in May 1997, Books@cafe was the first Internet cafe in the Middle East, fostering a reputation for liberating the local cultures and intellects while promoting peace, equality and tolerance. It combines a cafe and bookshop in order to integrate reading and enrich knowledge in a social environment.
Amman's first tea bar, Turtle Green is another favorite spot where customers spend hours lounging around in its homey atmosphere while enjoying the many choices of locally brewed tea. At the bottom of Rainbow Street is also the Nabad art gallery, exhibiting artworks by emerging and established artists from Jordan. Nabad displays the work of many international artists as well, striving to cultivate intercultural dialogue among artists and the public.
Last August, Jordan's Queen Rania Al Abdullah participated in a walk around Rainbow Street, visiting various spots including the Rainbow Theatre and Turtle Green Tea Bar. Her Majesty posted on her Instagram account: "So many hidden jewels in Amman, all you need to do is walk down Rainbow Street to discover wonderful experiences, old and new!"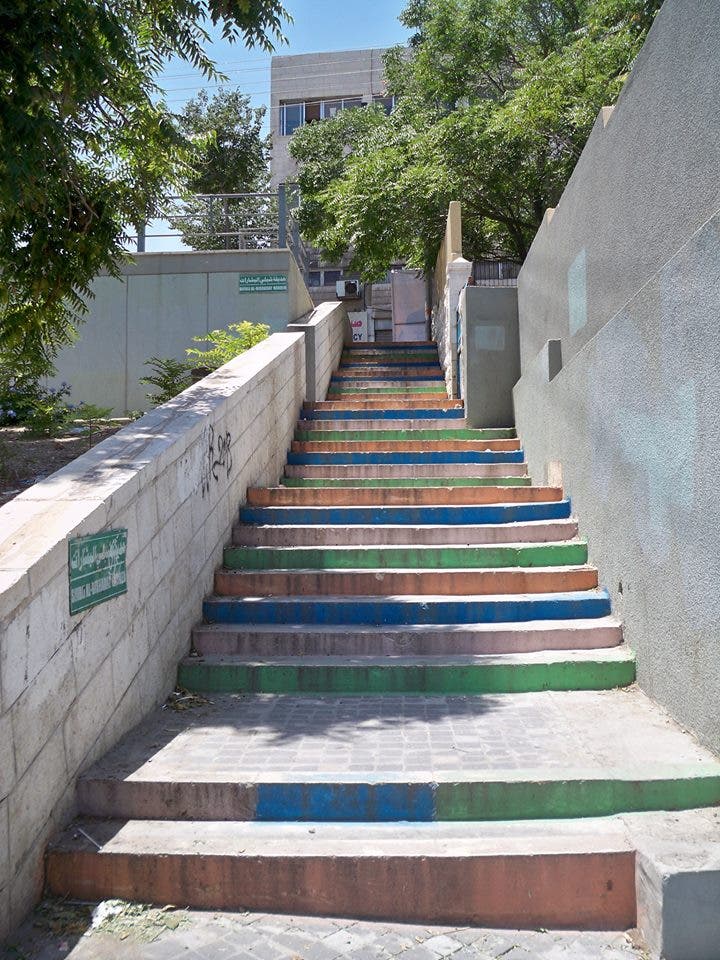 Rainbow Street's most distinguishable attraction is its yearly market, Souk Jara. Organized by the Jabal Amman Residents Association (JARA) in cooperation with the Greater Amman Municipality, the bazar hosts over 100 stalls that sell a variety of merchandise, including ceramics, woodworks, mosaics, garments, and souvenirs.
It is held every Friday from 10am to 10pm throughout the summer season. This past summer, vendors from all governorates in Jordan were featured for the first time. Jabal Amman Residents Association Vice President Khader Qawwas said: "We have worked on establishing a space specifically for unique vendors from the governorates, especially for self-employed women," according to the Jordan Times.
It is a market for the "creative ideas and initiatives of men, women and young people, as well as local charities, providing owners of small businesses and women who work from home with the opportunity to display their products at an outdoor market that attracts some 10,000 visitors every week," the Jordan Times reported.
Rainbow Street is an iconic location in Amman. Its vibrant atmosphere and local charm has not been eroded with the passage of time, for it continues to be an oasis of talent, culture, and history, bringing together people from all walks of life.