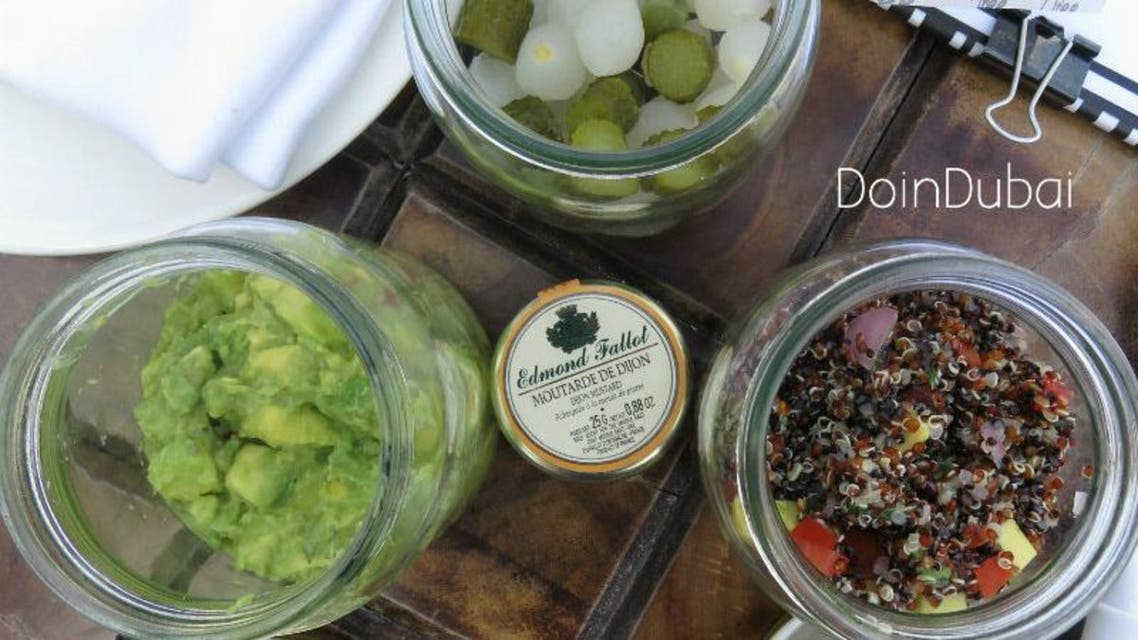 Bye bye ladies nights in Dubai, hello brunches!
More and more places seem to be shying away from this unique Dubai phenomenon, is it bye bye Ladies Nights in Dubai?
More and more places seem to be shying away from this unique Dubai phenomenon, is it bye bye Ladies Nights in Dubai?
But what's the alternative? Find out about the new, all-inclusive Italian job at Bussola in the Westin, go to the Taj downtown Treehouse for their everyday Duskers deal and learn all about where you could treat your friends to a gorgeous lunch for AED 59. Plus know where to eat traditional South Indian prawns on a banana leaf.

New terrace at Bussola at the Westin Dubai Marina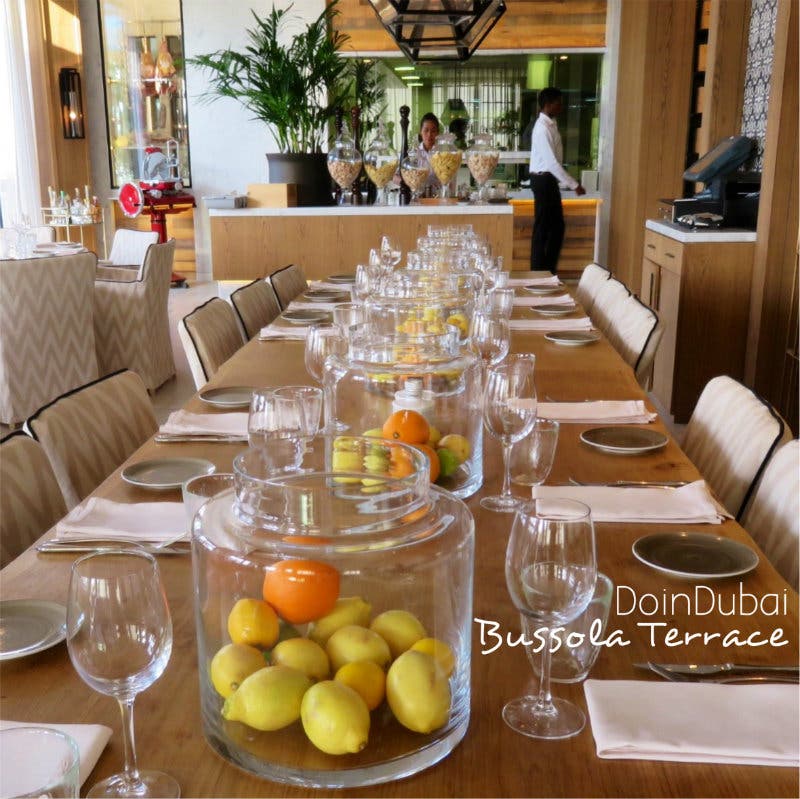 I loved the newly refurbished terrace at Bussola on the ground floor of the Westin. Very nautical themes that complemented the setting in front of the sea. A large, open plan, up market space with warm woods, orange and lemons in glass jars on the table and a seamless inside and outside with lanterns on tables designed for more than 2 or 4.
Great for a birthday or a special occasion. We had some very good snacks on the terrace at about 4.30 in the afternoon.
Ceviche, olives, good cheese and cold cuts, dips with bread and glass of something sparkling. There isn't any deal associated at that time of day but they do have a way for you to sample all this on a Wednesday for AED 275 for 2 or 3 types of Italian house beverages and unlimited Italian bites of the kind I've mentioned but that includes salads and desserts.
It's called Society and that's from 7pm till 10pm on Wednesdays. And that's not just for ladies so is it bye bye Ladies Nights? The deal applies for the guys as well.
They've also launched a continental breakfast deal for AED 65 and that's on Friday and Saturday. The setting is worth enjoying while the weather is good. Maybe after you've done some paddle boarding next door!
New Friday Brunch in the Treehouse at the Taj Dubai Downtown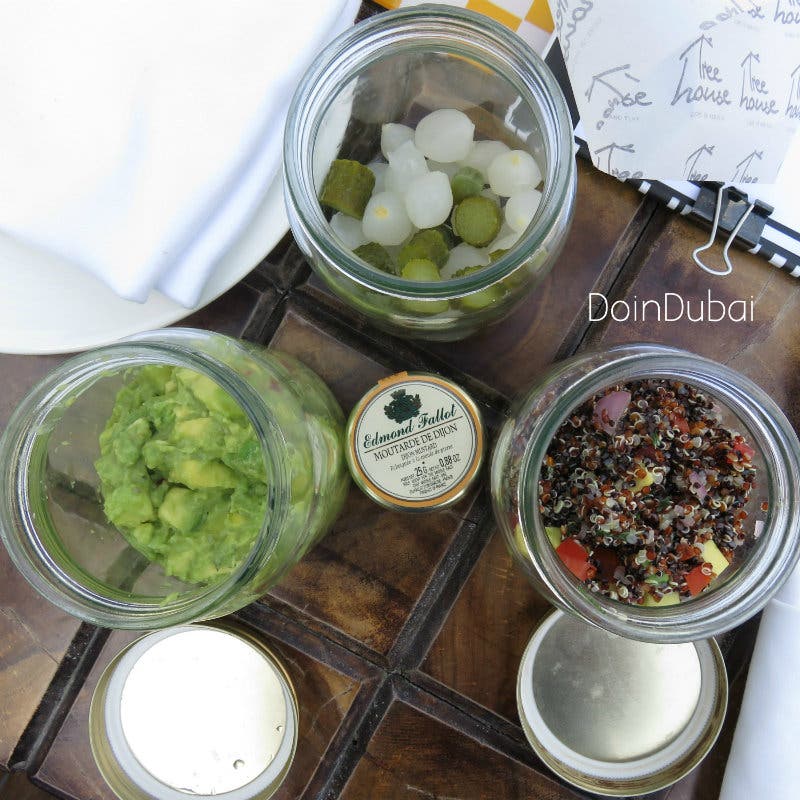 The Treehouse is only open for lunch, well brunch and late brunch at that (starts at 2pm-ish) on Fridays, the rest of the time it's open in the evening too. The venue is a very stylish; a quite large, tastefully designed open space right in front of the Burj Khalifa that never fails to impress.
What's new is the way you eat your first courses. You get your own picnic hamper with little airtight jars of quinoa salad, avocado and salmon. You also get a very good wedge of excellent cheese wrapped up in wax paper; a proper upmarket picnic brunch.
But that's just to start with. Hot food from the grill follows, I loved the crispy lobster coated with spicy, truffle cream sauce and the parcels of sea bream were very tasty.
But then you can also order some a la carte dishes if you have room! The team who run this brunch have come up with quite a unique ambience and style, Mediterranean overall. I liked the baroque style mirrors that sit alongside wooden crates that say original on them and oversized hurricane lamps on the floor, and of course all the trees that are around as well!
There are 3 different packages depending on what you'd like to drink, the most expensive is AED 545. And if you want experience the venue for less then go along any evening from 5pm to 8pm, and try their Duskers deal, a cheaper way to try what's on offer on the beverage side.
New Business Lunch at Cocktail Kitchen JLT just AED 59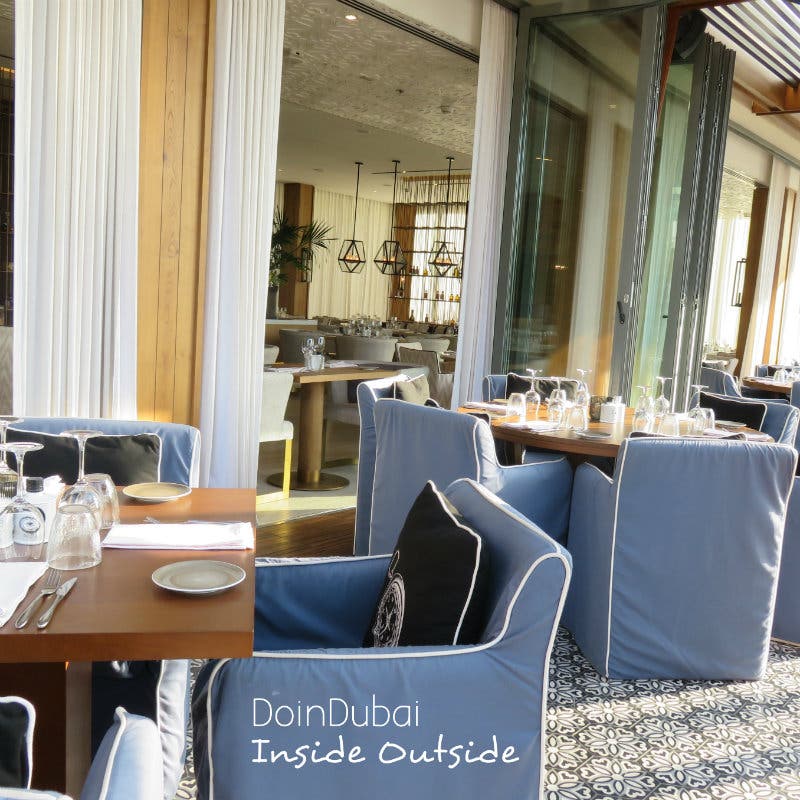 We popped in to Cocktail Kitchen on the day it opened a few weeks ago on our way to Nola! We were very impressed with their AED 59 lunch deal. 3 courses of high quality food in fresh, modern surroundings that includes a tea or coffee! The menu changes daily but on the day I visited we had homemade mushroom soup to start with then fish in a parcel that had some potatoes and crunchy veggies and a really good affogato to finish , plus a coffee! Add some padron peppers that were properly shriveled and charred and salty and I can't think of anywhere better for lunch that side of town.
In fact, book a big table and treat your friends! I'll talk another time about their Apperitivo promotion when I've tried it, but again, this could be another bye bye Ladies Nights Dubai!
Traditional Indian at Calicut Notebook at Lulu's in Al Barsha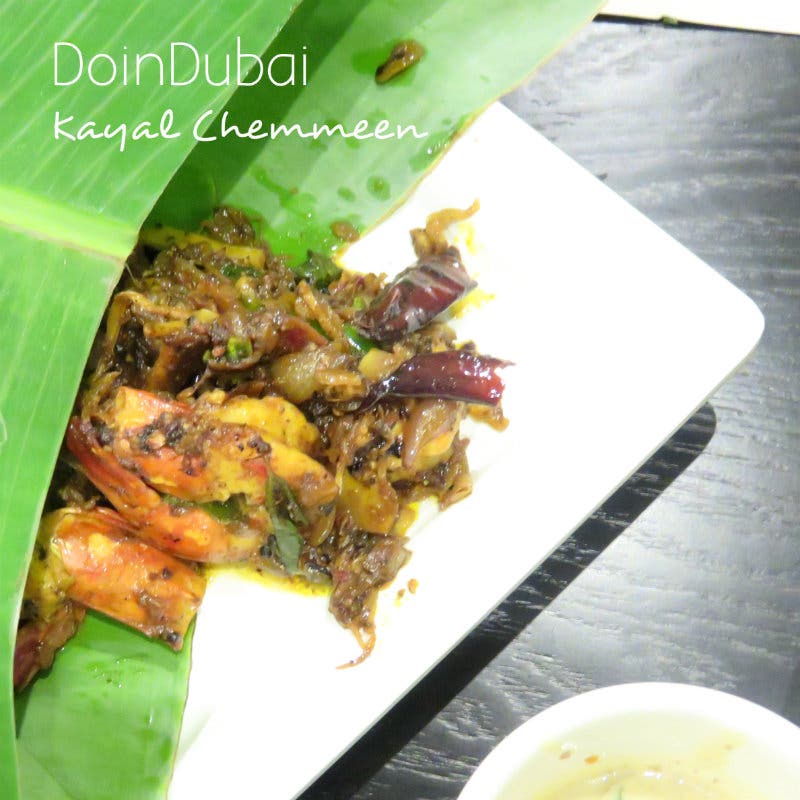 We had lunch in the slightly dark, quite lively Calicut Notebook on the level above the popular Lulu Hypermarket! Expect traditional Keralite food including fish curry meals or vegetarian meals but my suggestion is the spicy dry prawns on a banana leaf with all the pickles on the side accompanied by either their brown rice or appams if you visit in the evening.
They brought us pudding automatically, a quite sweet Seviyan dessert, that you needed after the spicy prawns and you must finish with a Kerala coffee, just called coffee on the menu. Then you may need to make time for a nap!
This article was first published in Monica Kapila's blog DoinDubai.