Meet the Jordanians who climbed Africa's highest mountain
They aimed to explore a new adventure and raise awareness for autism
Last December, Jordanian mountaineers George Sakkab, Fadi Al Atrash, and Amer Tash were determined to leave their hometown of Amman, Jordan and journey to Tanzania to climb Mount Kilimanjaro, the highest mountain in Africa.
They aimed to explore a new adventure and raise awareness for autism. After three months of training and six days of hiking, the group of climbers reached the summit of the mountain on March 15.
Soon after hearing about the group's mission, the climbers were approached by Autism Mena (AMENA) in Jordan, which is a non-profit foundation that aims to advocate the autism cause throughout the Middle East and North Africa by developing infrastructures to provide support to children with autism and their families. One of the organization's key focuses is to raise awareness about autism through campaigns, clips, workshops, conferences, and community outreach programs.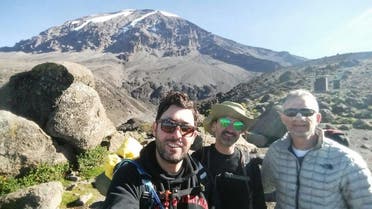 "Climbing Mount Kilimanjaro has been on my mind for many years. We wanted to pursue something that is challenging, takes you into nature, away from technology and life's daily routines. We also wanted to show people that if you are determined to accomplish something, and you put your mind and heart into it, you will succeed. More importantly, we wanted to raise awareness for autism, a cause that we deeply believe in, as well as increase the sense of purpose for our group," Sakkab said.
Grueling preparation
To prepare for the trek, the climbers trained for three months. They exercised at the gym three days a week and hiked many of Jordan's steep hills once a week. Upon arriving at Tanzania's Kilimanjaro International Airport on March 8, they were greeted by two professional Tanzanian mountaineers who assisted and guided the group's journey. Each day, the team members hiked for seven to eight hours until they reached a particular campsite, which they camped at overnight. During the evening hours, the team members enjoyed meeting other climbers from around the world, exchanging stories and laughs as they revived their bodies in preparation for the following day's hike.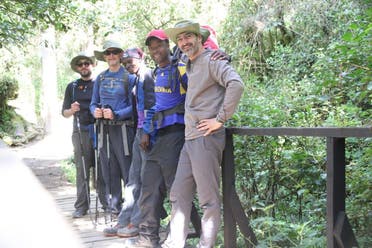 "Despite all the training and physical preparation we did, in the end, the mental strength was more important than physical fitness- our thoughts and positivity helped us to continue climbing even when we were physically worn out. There were times when I wanted to give up and climb back down because I felt exhausted, but I would repeatedly tell myself to keep going and that it will be worth it in the end, Sakkab said.
He added: The entire experience of climbing Mount Kilimanjaro was highly rewarding and self-revealing, you learn a lot about yourself during the journey. The most important thing about pursuing a challenge like this, regardless of what mountain you are climbing or what country you are in, is to make sure you choose the right people to go with.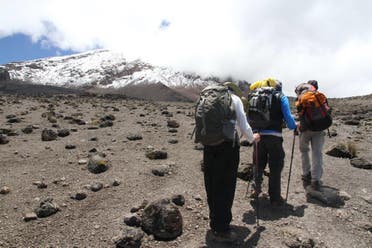 "You need to be surrounded by friends who you can truly rely on; people who can encourage you to continue climbing when you think you can't walk one more step, who can hug you when you feel lonely and homesick, and who will give up their last pair of clean trousers when yours are soaked in mud and water! Because a hike such as the one we did is mentally and physically challenging, you need a solid support system with you."
After six days of immense determination and physical and mental willpower, the Jordanian mountaineers successfully and proudly reached the summit of Mount Kilimanjaro. Despite the challenges they endured, the team members are already planning their next journey to another mountain.