Meeting the woman who famously interviewed an Indian rapist
The interview was based on the brutal gang rape of 23-year-old student, Jyoti Singh, in December 2012
It was past midnight as I sipped my coffee while sitting at the Dubai airport, waiting for the check-in counter to open. My father and I had turned up six hours early before catching a flight back home to Delhi.
So I had a lot of time to kill. But airports rarely throw up interesting moments. So I chose to occupy a corner and tried to sleep.
A few tables away from mine, I saw woman stirring a giant mug. That is a lot of coffee, I wondered. Her face seemed familiar.
I poked my father to see if he knew who she was. He wasn't sure.

A quick internet search on my phone told me the answer: she was Leslee Udwin.
Udwin, a British filmmaker and producer, hit headlines in India following the release her controversial documentary film - India's Daughter.
I decided to take a closer peek. And there she was.
"Leslee?" I enquired. She moved her gaze from her giant coffee mug. "Yes," she turned.
We shook hands and made our casual introduction.
She looked fantastic in a green kurta - an upper garment commonly worn in India - and a bright multi-coloured scarf.
"What's brought you to Dubai? " I asked.
"I was here for an education conference. And interestingly, there was a screening of India's Daughter," she replied.

"I wish I had known, I would have invited you," she sighed. "But, have you watched it at all?"

"I have. And who hasn't," we smiled at each other.
Based on the brutal gang rape of 23-year-old student, Jyoti Singh, in December 2012, Udwin's documentary included in-depth interviews with one of the men accused of the crime, who had been sentenced to death by an Indian court.
Raising eyebrows
The film had raised many eyebrows in the country, with some politicians terming Udwin's effort as a "conspiracy to defame India." Following the furore, the documentary was banned under the orders of an Indian court.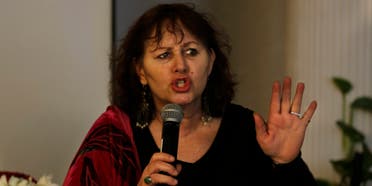 In 2015, India's home minister, Rajnath Singh who belongs to the ultra-nationalist right-wing Bharatiya Janata Party (BJP), told parliament that "under no condition should this documentary be telecast."
"I want to come back and screen the film in India but until then, I have to show it to the world because that's the only way rape is going to stop," she exclaimed.

"It is any average man's mind set and it is scary."

Udwin chose India's rape story not because of the hype but the impact it had in the country. Thousands of people marched the streets of national capital Delhi - urging tough action against the men accused of the crime.
The protests were followed by a sustained campaign which led to stronger women's safety laws being put forward for the first time.
Fighting for a cause
"I hadn't seen so many people taking to the streets, fighting for a cause like this ever before in India. It was quite a movement and that got my interest," she said animatedly.

"I was impressed with the kind of courage this country had shown, and how feminists, women, activists came out on the streets in protest. But sadly, it was those noteworthy women who thrashed my film. They were first ones to object."
Udwin is still fighting her case to have the ban on her film lifted, but she isn't very optimistic. The current BJP government, which has been promoting its own brand of nationalism, is unlikely to lift the ban.
"There is so much talk about intolerance. There has been JNU, there has been Dadri, Muzaffarnagar," I quipped, referring to a series of incidents that have taken place between Muslims and Hindus in India in recent times.
"This government needs to go," she concluded.

Her film will be screened in Australia and New Zealand soon, among other countries.

"It's amazing how this film has been received. I realised it when a young girl, who wears a hijab, stood up in such a large gathering and confessed about getting sexually harassed by her own father. She opened up for the first time ever. This film gave her the courage to do so. Now, that is my success," she said.

She has launched a global campaign for educating children about respecting women and gender discrimination. Her campaign is backed and approved by the United Nations.
"So, is India going to implement it too?" I probed.

"Well, the idea is to take it globally. I did speak with Smriti Irani (India's Human Resources Development minister) but turned out she doesn't want to talk to me. She told me I have made a lot of people angry in her country. We ended shouting at each other," she smiled.

She paused and searched for cigarettes in her Charles & Keith bag and left for a smoke. I grabbed another coffee. Two hours had gone.

As she came back, it was almost time for her flight to London.

"It's important to finish what you started and I am on my journey. I have to do this alone." We shook hands again and waved each other good bye.