The creative space as a new urban ressource activator?
Concept-Me is a brand that combines four disciplines of design, interiors, art and architecture through a creative hub
Greek philosophers like Plato did not believe in the concept of creativity but favoured the idea of discovery ;The Ancient Greeks in fact had no terms correspondingto 'to create' or 'creator' so the idea of creative spaceswas inexistant within the boundaries of the Agora. Arts in general, from Painting to Architecture and Poetrydidnt involve freedom of action but was subject to strict rules.
The concept of creativity has however evolved throughout history and today is an important component of our cities dynamic. In recent years the term 'creativity' has been applied to regeneration projects all around the globe where abandonned industrial zones have transformed into dynamic hubs through cultural strategies.
On the international scene, wheareas a few years ago'culture' was the key to urban regeneration, now'creative districts' are in vogue. Every city seems to wantto position itself at the edge of creative developpementattracting creative producers and mainly creativeconsumers weighting in the economical health of a city.
Creative spaces are often empty of a fixed idea, blankslates they are in the opposite the fuel for immagination ; spaces that are multifonctional and can be used as a white canvas to constantly generate new narratives. Suchspaces, can be designed to house a core of permanent residents such as the new Design District in DowntownDubai or in Al Serkal avenue in Al-Quoz. Those clusters can help the creative actors of a city to reach a commonaudience among the creative classes, but in the same time there is a tendency for the relatively fixed nature of thesespaces to depress creativity in the longterm.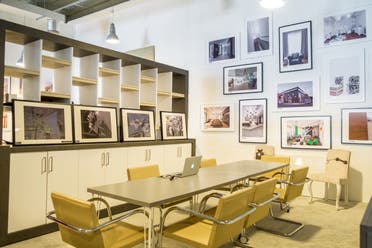 Creative spaces by nature should be constantly evolvingand in order to really have an impact on theirenvironement, its people act as a new urban ressource they must take places in un-expected paths. Creativespaces must be perceived as real activator for local dynamics impacting the global perception of a city.
Unfortunaletly our region sometimes lacks of thisspontaneous urban phenomenom and that's why we seethe creative actors regrouped within the 'creativeclusters' referred to earlier.
Wheareas some other cities facilitate and recognize the idea of hybrid spaces, constantling evolving, made of collaborations, without fixed titles, and most importantlyallowing them to take place everywhere, our region stillmakes it difficult for such spaces to pop around the corner and to become a whole neighbourhood activator. Even if a huge progress has been made the past few yearsand important initiatives are taking place, Arts and creativity recquires a must larger freedom of action.
Creative spaces should not be an exception within the city but must become a real layer of the urban fabric.
Considered as a ressource for exchange, ourmunicipalities shall encourage young entrepreneurs and creatives through more funds and support platforms to initiate creaitive hubs which will become food for the mind and soul.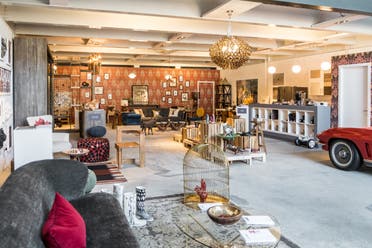 It is certainly a challenge in new cities like Dubai, whichhad an incredible urban developmement pace within the past 20 years, however creative spaces are nowindispensible to let our city shine within the international scene. and keep the community with its soul at the center of the city.
In this perspective, our company, Concept-Me has justlaunched DiaA-gram n°4, a creative hub in the middle of al-Quoz combining design, interiors arts and architecture through one unique space.
"The ethos of DiaA-gram number 4 is design but the space will interact as a real creative hub, 'un espacehabité' in French, a studio, a store, a café, a place for discussion, a venue for meetings and a place to share the flow of creative properties,
The idea behind DiaA-gram n°4 is to become a real eco-system excting for the beautiful minds while activating areal dynamic into an unforeseen paths.