How quickly is the Dead Sea 'disappearing?'
It is reportedly evaporating at a rate of nearly four feet per year, with large salt pockets left behind as the water recedes
The Dead Sea, a massive salt lake and the lowest point on Earth, has been an iconic destination for centuries, attracting locals and foreigners worldwide. However, the decline in water levels is worrying many Jordanians, and has led to state efforts to stop the lake disappearing altogether.
It is reportedly evaporating at a rate of nearly four feet per year, with large salt pockets left behind as the water recedes. Although it relies on the fresh water of the Jordan River, only about 5 percent of it currently flows into the Dead Sea.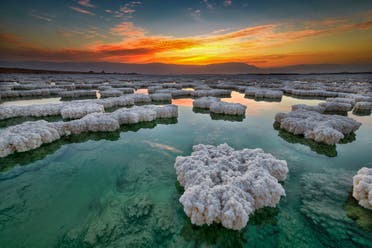 "The drastic decrease of water levels… will have a catastrophic impact on the Jordanian tourism industry, especially on the hotels in the area," former hotel manager Omar told me. "The main reason people travel to the Dead Sea is to experience and see it, so if it vanishes, locals and foreigners won't be as attracted to visit anymore, which will cause hotels to see a huge drop in clients."
State efforts
The Jordan Times reported that in Nov. 2015, the Water Ministry published a call for tenders in local and international newspapers for the implementation of the first phase of the Red Sea-Dead Sea Water Conveyance Project (Red-Dead). The project, which also involves Palestine, seeks to provide Jordan with its water needs at reasonable prices, while preventing further shrinkage of the Dead Sea.
Jordanian Water Minister Hazem Nasser said 300 million cubic meters of water would be pumped each year under the first phase of the project. The following phases entail annually transferring up to 2 billion cubic meters of water from the Red Sea to the Dead Sea.

Last week, the Water Ministry postponed the final submission date of the prequalification proposals for the first phase of the project from May 2 to May 30, the Jordan Times reported. However, time is of the essence to save this national and natural treasure.