Wedding planning: How to pick the tastiest, most beautiful cake
As simple as it may sound, there is a lot more thought that goes into choosing the perfect wedding cake
Wedding planning can be delightful, especially when choosing your cake. What better way to spend an afternoon than tasting cake samples? As simple as it may sound, there is a lot more thought that goes into choosing the perfect wedding cake, which is one of the most important aspects to the special occasion. Here are our top tips for choosing the cake of your dreams.
Daydream
Close your eyes, envision your ideal cake, and ask yourself:
- What does it look like?
- How big is it?
- What does it taste like?
- What are the colours?
- Once you have an answer to at least half of these questions, the process will be a lot easier.
Ask around
All brides should rely on recommendations. Ask friends or family for a reputable baker. Once you have a few recommendations, view their website, read about the company, view images of their work and read customer reviews. It would be ideal to find a baker local to your event, to avoid traveling costs.
Research
Consider the important aspects of the wedding, such as colors and season. Read wedding magazines and your Pinterest board to find inspiration. Once you have a few images, save or print them - this will help the baker understand your needs and expectations.
Style
Your cake needs to match the wedding theme. Use elements from the wedding on your cake, for example the colors of the bridesmaid dresses, flower arrangements or bride's dress (if you are wearing a ruffled dress you can choose a ruffled cake design).
Decoration
What would you like around your cake? Would you consider flowers? If so, choose seasonal flowers to lower the cost of the cake, or use sugar flowers. Your baker should be able to recreate anything you desire, from ribbons to butterflies.
Frosting
Fondant or buttercream? Consult your baker on what options you can have. I find buttercream more delicious, but if you want a smoother finish fondant is ideal.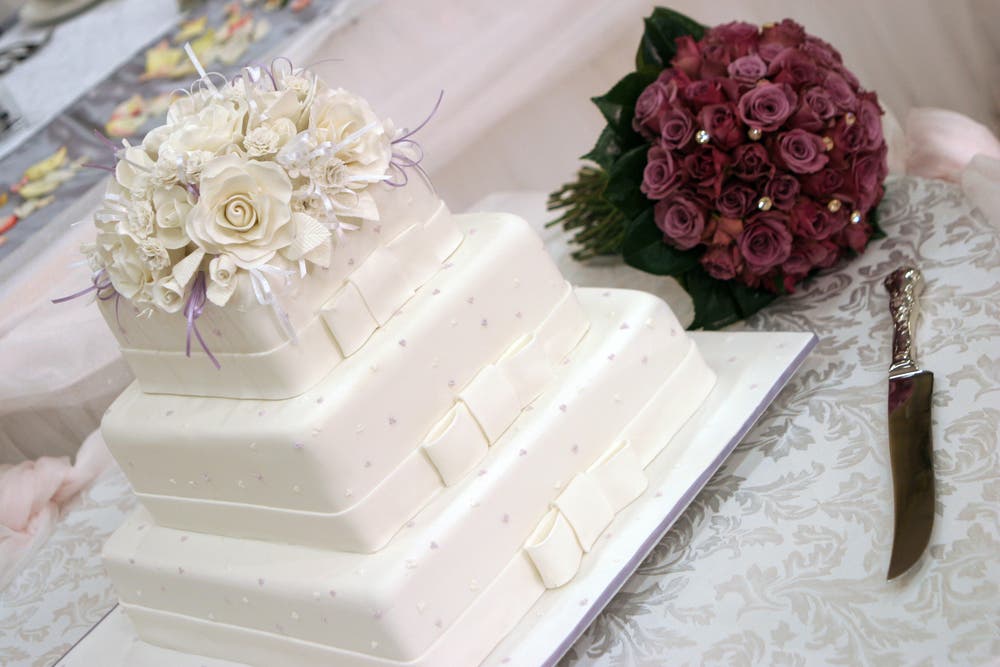 Weather
If you are having an outdoor wedding, avoid whipped cream and buttercream in hot climates as they may melt. Your baker should recommend various options for summer cakes.
Size
Ideally your cake should be big enough to serve all your guests, but if you are having other dessert options then you can lower the number by 10 percent. The size of your cake also depends on the tiers - if you have 50 - 100 guests, a four-to-five-layer tier is best. If you are hosting a wedding indoors, consider adding columns to each tier to elevate the cake and make it seem bigger.
Tasting
Have your baker prepare samples for you to taste, with different frosting and flavors. This is an excellent opportunity to ask the baker questions and review their portfolio.
Budget
Cost will vary according to size and design. Have the baker make suggestions to fit your budget. Points to consider that will help lower costs:
- Garnish with seasonal flowers or fruit.
- Order a small sample decorated cake to meet your expectations that would only feed a handful of your guests, have the baker create a regular cake with the same flavor but no design, and serve the slices to the remaining guests (no one will ever know).