Wedding planning: Your ultimate bridal shoe-shopping guide
You want to look as glamorous as you can on your wedding day, without having to sacrifice comfort
Ladies, we all know how a perfect pair of heels can change your life - Cinderella is the biggest example. When choosing your wedding shoes, some say it is important to think of function over fashion, but who are they kidding?! You want to look as glamorous as you can on your wedding day, without having to sacrifice comfort. Below are my top tips on how to choose the perfect pair of heels.
Comfort
I know what you are thinking: Comfort and heels are two words that do not go in the same sentence. However, remember that as a bride you will be wearing your shoes all day (not forgetting the pre-ceremony photos). Find a design that fits your foot perfectly. Avoid pointy shoes as they may cause discomfort. Extra padding is important - stay away from cheap shoes that lack the extra support you need.
Budget
Shoes always break the budget, especially bridal shoes. Start browsing early, if you like a pair keep them in mind, and check back when the store has a sale.
Design
You may have fallen in love with a platform shoe, but this is not ideal for brides. Consider a reasonable heel height that you can still walk in and feel glamorous in (the higher the heel, the more strain it will have on your foot throughout the night). If you are not used to wearing high heels, do not to take a chance on your wedding day. Opt for wedges or sparkly ballerina flats, whatever works best for you.
Consider the fabric - satin or silk? These are the two most popular choices for wedding shoes, but do not feel obliged to follow the trend - you may prefer more sparkle on your special day. Customize your shoes according to your wedding dress and personal taste.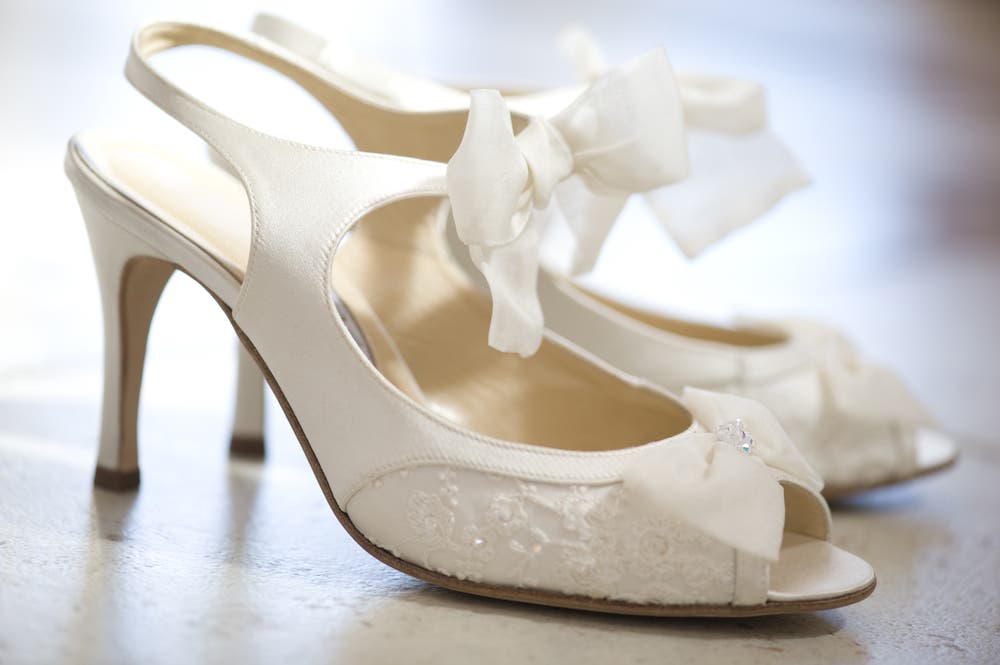 Show off
You may have a floor-length wedding dress, but guests can still see your shoes. To give them more than a little peek, have your tailor alter the length of your dress slightly so when you are seated or dancing, you can see a glimpse of the shoe.
Color chart
There is no rule as to what the shoe color should be. I know some brides who got married in blue shoes, and made them apart of the 'something blue' tradition. Your shoes should reflect your personal style, so you set the rules.
Location
Your surroundings play an important part in choosing the perfect bridal heels. If you are having a beach wedding, high heels will sink you down. Alternatively, you can have funky flip flops or a wedge. If you are hosting a garden wedding, purchase heel protectors for you and your bridal party. For winter weddings, closed shoes covering your toes are best.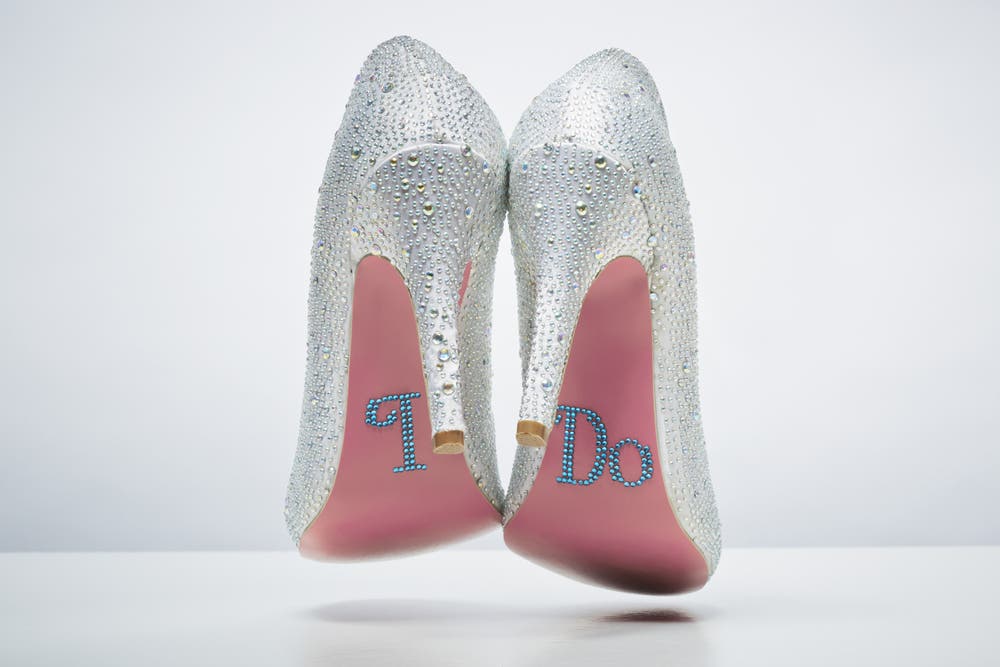 Dancing feet
You want to be able to dance the night away. If you cannot do that in heels, then mid-way through your wedding change into flats or flip flops. They do not have to be dull or boring - customize them or glam them up. No one will notice you changed.
Break them in
You do not want to be standing for hours in a new pair of shoes on your special day. In the months leading up to the wedding, wear them at home to break them in.