In Dubai for Ramadan? How to choose an Iftar that's right for you
We've checked out what's new and unique about some of Dubai's best Iftars.
Many Iftars are likely to be spent in a home setting, shared with friends and family. But it's also likely that a few will take place at a restaurant. With so much choice and every lavish Iftar buffet in town competing for Dubai's diners during the holy month of Ramadan, how can someone ensure they're selecting the best Iftar for themselves, their family and guests? I've handpicked a few that I think are definitely worth the trip.
I loved the secret location of a special Dubai pop-up Iftar this year. Serving contemporary Arabic food, Ramadan Nights by Dish Catering ticked all the boxes. For one month only, it's located in a warehouse in Dubai's industrial al-Quoz area, which is now a bona fide cultural hub.
The entrance to the warehouse is illuminated with fairy lights, and a garden path leads to a set of red double doors. Inside, there is no buffet as the focus is on people sitting down and interacting with each other. Gorgeous dishes are served at very modern but elegantly set dining tables. Expect to eat purple and orange roasted baby carrots, melt-in-the-mouth lamb and oven-baked cauliflower studded with Iranian barberries.
There are always warnings about staying healthy during Ramadan and not to break fasts with overly heavy, fried foods - and for good reason. Why not, then, try the Oberoi hotel's initiative of using camel milk for a range of its desserts as part of their Iftar offering this year?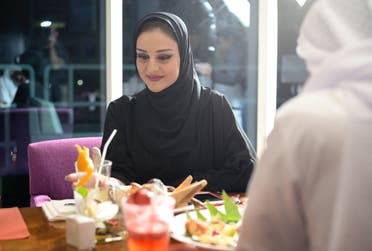 Camel milk is supposed to be lighter in composition and most like human milk, making it much easier to digest and more suitable for anyone with dairy intolerances, or those who just want to eat lighter without compromising on taste.
Expect to see some clever use of molecular gastronomy to produce the first inside out Um Ali pudding made freshly for you, certainly not what you'd normally associate with a live cooking station! I recommend the date-flavored camel milk ice cream and the camel milk mango lassi too.
The Oberoi adheres to the S.L.O.W. movement where its food is concerned: that's Sustainable, Local, Organic and Wholesome. They work with a local farm in Al Ain, a local smoke house in Dubai, and a butcher in Ras al-Khaimah from whom they source their Indian baby lamb for the classic ouzi dish.
Though there is an obvious focus on food, Ramadan is also a time for inner reflection, a time to remove yourself from the hustle and bustle of life, and especially the hectic pace of life in Dubai.
Drive to the slightly secluded Desert Palm PER AQUUM hotel and experience an Iftar overlooking the lush polo fields with the twinkling Dubai skyline in the distance. There is something very special about the atmosphere at the Desert Palm, as it's not your typical high-rise hotel; there is a real emphasis on greenery and cozy and spaces, and there's even an area replete with mature olive trees.
Take your camera and capture the moon after a traditional Iftar serving hot and cold Arabic mezzes, main courses of fish and meat, followed by a range of contemporary desserts. Soak up the atmosphere and maybe opt to stay overnight, as Ramadan special packages are offering up to 50% off stays at this luxurious hotel.
Keep healthy, happy and hydrated this Ramadan.
Details:
Ramadan Nights By Dish Catering
Warehouse 4
Al Quoz Exit 43
Tel: +971 56 128 3247
Price AED 195/per person
The Oberoi hotel
Al Majlis by Vimto
Business Bay Dubai
Tel: +971 4 444 1444
Price: AED 195/per person
Desert Palm PER AQUUM Resort and Spa
Epicure Restaurant
Tel: +971 4 323 8888
Price: AED 150/per person