The story behind Sonia Rykiel's rise as a fashion powerhouse
The fashion world has lost an icon, a pioneer, an artist
The fashion world has lost an icon, a pioneer, an artist.
Born in 1930, Sonia Rykiel was a French fashion designer and writer. At the age of 17, she was employed to dress the windows of a Parisian store, the "Grande Maison de Blanc." At the age of 23, she married Sam Rykiel, owner of a Parisian Boutique "Laura" which sold elegant clothing. The couple had two children, Nathalie and Jean-Philippe Rykiel. In 1968, the couple divorced.
Sonia Rykiel was known for the creation of her master piece "The Poor Boy Sweater," a skinny long-sleeved sweater. Her design breakthrough came soon after. The idea was actually conceived in 1960 when she was pregnant with her son and realized that the choices of sweaters available were limited and the range scarce. she deemed the available options "abominable." There were few sweaters soft and stretchy enough to wear through her pregnancy. She therefore created the Poor Boy Sweater, a knockout knitwear collection which garnered huge success and was stocked in Parisian boutique Mannes.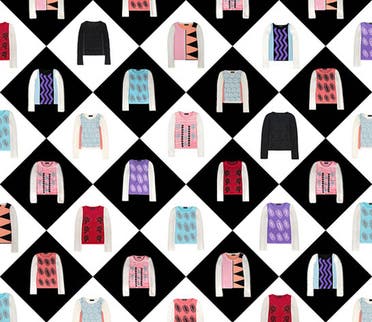 The Poor Boy Sweater was then featured on the cover of the French Elle magazine and in American Vogue. Her knitwear designs and new fashion techniques won her the title of "Queen of Knits." The Sonia Rykiel label was founded in 1968 when she opened her first boutique in Paris, selling clothing, accessories and fragrances.
Her fashion power house grew stronger and stronger. In 2014, Rykiel retired from her role as a fashion designer to concentrate on writing, interior design and music, assigning till this date Julie de Libran as the new French Art Director.
Rykiel often wore clothes from her own label and stuck to wearing dark green, brown, navy and black garments. Rykiel said, "I hate wasting time getting dressed. I like to put something on and just think: 'Yes. That's it.' When I'm tired I like to dress very simply – perhaps a black crêpe jacket and black crêpe trousers." She was also known for her dramatic smoky eyes and her distinctive flame red hairstyle – a bob with a heavy fringe.
In 2012, Rykiel revealed that she was suffering from Parkinson's. She died from complications of the disease on August 25, 2016.
Although she is no longer with us, her fashion line lives on as evidenced in these snaps of the AW16-17 collection:
Save
Sav