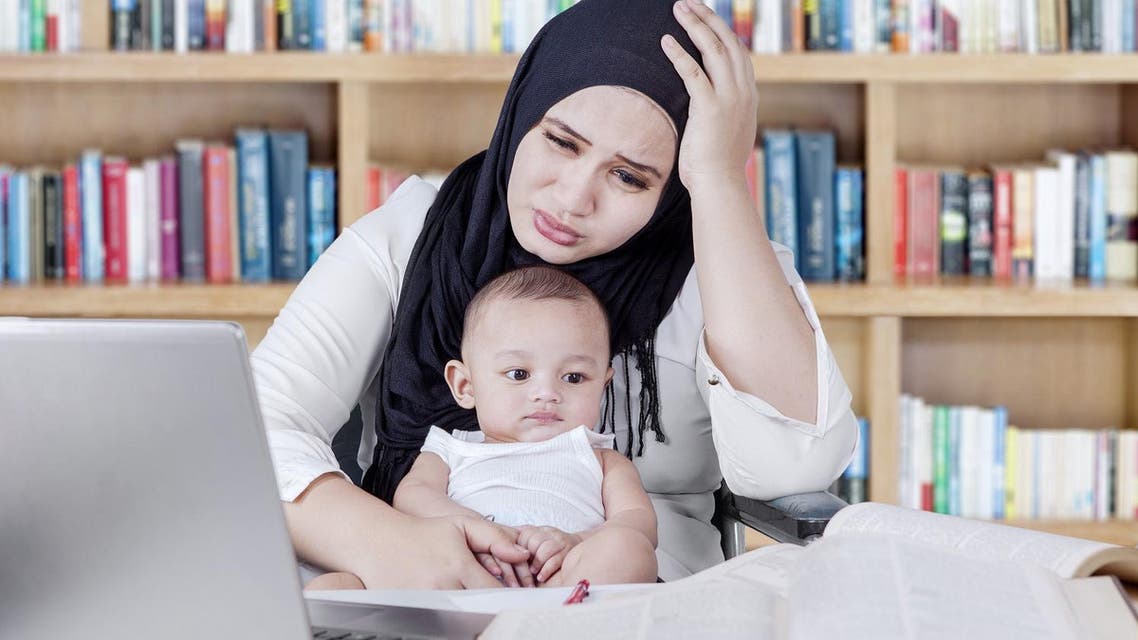 Diapers and deadlines: Why are working mothers so hard on themselves?
Western countries, including the US, have some of the worst parental leave laws in place
There I was, on stage sharing insights about juggling motherhood and a successful writing career at the Women in Leadership Forum wearing a beautiful designer dress from Maison BMore with my nails and hair done at the hot new salon in town: Blowout Bar. Picture perfect, right? Instagram says so. Rewind just twelve hours.
There I was holding a crying child hot with fever for the third night in a row. I felt helpless because there was nothing I could do to alleviate my son's pain and we both hadn't slept in days. The fatigue meant, among many things, that I wouldn't be the shiniest version of myself at the forum the next day. Still, I did what I had to do - I put on a mountain of concealer and a smile and got on with it.
I had an "Aha!" moment when a fellow panelist - a busy BCG consultant with two children who flies regularly for work - said that women tend to push themselves and suffer to make it through, as if trying to prove a point, and that this isn't right. She was right. Putting concealer on a hot mess did not make me feel like a star that others should look up to. I felt broken.
Then something magical happened. A young Saudi girl came up and told me she admired seeing an Arab woman in media with children chasing their dream. She reminded me that I am a dreamer and my work brings me immense joy and spreads positive influence. The reality is that nobody knows what they are doing on this path to finding balance. There are some days when my work makes me feel like a rock star (look mom, another byline!) and others when I feel I've let the pen drop (see what I did there?). There are days when I have a blast running around the mall playing peek-a-boo with my son and others when I am so tired I am proud I still remember his name. There is no formula to getting it right and we are each doing our best.
Case in point: two of the panelists on stage with me that day had left the corporate world and started companies, Hopscotch and Womba, to help parents find work solutions to better manage two very important aspects of their lives, kids and career. And my favorite part: one of them was a man. Parental leave is not an issue that solely affects women.
The issue of maternity leave has been a touchy subject in the region and abroad. By law, women in the UAE get 45 days of paid leave, though many companies often extend this to six months of unpaid leave as agreed between the two parties. Do you know what 45 days postpartum looks like? Let me paint you this pretty picture: it's like finals week in college every week for a month and a half that includes the added fun challenge of pacing back and forth in the middle of the night with a screaming child that weighs more than a bag of rice. Oh you need me to write that creative report for you by the end of the week? Pshh no problem. Has anyone invented coffee IV drips yet?
It's not just a regional problem. Western countries, including the US, have some of the worst parental leave laws in place. Some have aspirational ones - in Sweden, women and men get over a year that they can split between them. How wonderful is it to have that kind of job security while you make the most out of that crucial first year of your child's life? #goals.
At work the morning after the conference, some of the other working moms gathered around to ask me about what I learned. I learned that there is no right or wrong way and each mother does what is best for her family. I learned that if a woman wants to be a CEO or a stay at home mom, that each role has major challenges and major benefits. I learned that women can be really hard on themselves and we must give ourselves well-deserved breaks. Above all, I learned to take risks, which is was my main message in this #GoWithYourGut campaign hosted by Mini Clubman featuring digital influencers.
Lastly, self-care is important. So the following weekend, my husband and I went on a little staycation at the Manzil Downtown hotel: camping out by the quiet pool, eating burgers and regaining a bit of sanity along with all those calories. It's all about taking it one day - or bite, in this case - at a time.