Jordan Snapchat star teaches Arabic to international followers
Zeina Rehan has over 9,000 followers from around the world who are continuously learning Arabic
Determined to provide a more positive and comprehensive representation of her Middle Eastern culture and home county of Jordan, Zeina Rehani created a Snapchat account to achieve this goal. Rehani uses Snapchat videos to depict some Jordanian traditions and values, as well as teach Arabic to her foreign followers.
When Rehani launched her Snapchat account in August, her followers consisted merely of colleagues, friends and family members. Today, she has over 9,000 followers from around the world who are continuously learning Arabic and obtaining a new perspective of Jordan, its people and culture.
Speaking with Rehani about her Snapchat experience, she discusses the inspiration behind her endeavor and the goals she hopes to achieve through the social media platform.
Q. What do you use your Snapchat for?
I use my Snapchat channel, ZeeRehani, to show the many beautiful aspects of Jordan and how many of us in the Middle East live, contrary to what people abroad may think due to what they frequently see in the media. I also use my channel to teach Arabic to non-native speakers by sharing with them vocabulary words, terms and common phrases.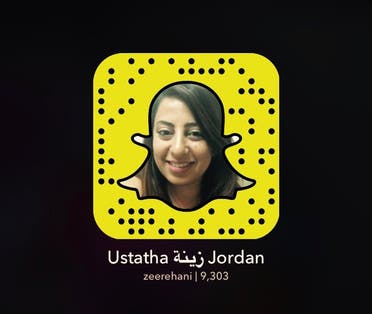 Q. How did you come up with the idea to create your Snapchat account?
I teach Arabic to non-native speakers at King's Academy, a boarding and day school in Jordan. The community at King's consists of people from around the globe and during my encounters with many of them, they asked me to help teach them Arabic. Soon after I began using it with my colleagues, their friends also began to follow my account. They began to ask me questions about Jordan and how we as Arabs live our daily lives; they were interested to see a different side of the Middle East, one that isn't war and violence that they are greatly familiar with. This inspired me to further expand my Snapchat to depict Arab culture, values, traditions and beautiful destinations in Jordan.
Q. What is your main goal for your Snapchat account?
The media depicts a tiny part of the Middle East, so my main goal is to spread awareness about the Arab world and to help improve our image from the stigmas of terrorism and extremism that is commonly represented, as well as to show how beautiful the Arabic language is!
Q. Why did you specifically choose Snapchat to accomplish this goal and not any other social media platform?
I believe that Snapchat allows messages to spread quickly, which is a huge advantage for me. Also, the fact that videos on Snapchat disappear after 24 hours provides my followers with more confidence about using the platform and making mistakes when learning new Arabic terms, and not worrying about being wrong.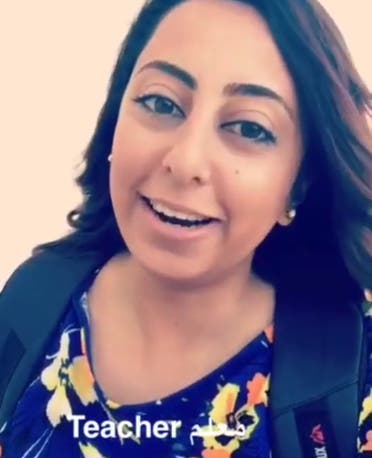 Q. What has been the response you've received since launching your account?
People had their doubts at the beginning about how effective my channel will be but I have received nothing but positive feedback. I constantly notice the improvement that many of my followers make as they memorize vocabulary words and send me back Snap videos of themselves. I've also received immense gratitude from international followers who thank me for showing them some of the positive aspects of the Middle East and teaching them about the peaceful traditions and values that exist, such as cooking popular Arabic desserts or attending a family gathering.
Q. What have been some of the challenges you've faced?
Convincing people of using Snapchat because it's mostly preferred by younger individuals, and also showing people the benefits of the platform and how effective it can be. I also have to be very careful with what I share because some may misperceive what I depict or obtain my videos without my consent.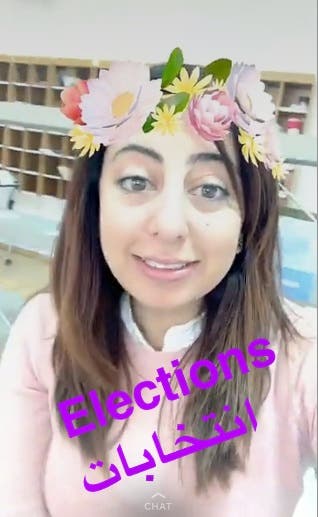 Q. What advice would you give to someone who also hopes to share positive stories of the Middle East through social media?
I would say that no matter how silly you think what you're doing is, don't, because everything you do matters if you have the right attitude, and even if you start small, believe that you will continue to grow. By raising awareness about the stunning places in Jordan and the Middle East, showing how generous Arabs are and the amazing culture that we have, sooner or later you will make a change. Spreading great energy and influencing peoples' perceptions for the better will all count. Don't wait for others to do something, you matter and you can make a difference.
Q. What would you like to see happen for your Snapchat channel?
I would like to see my Snapchat channel grow even further and reach a greater number of people from around the world to teach them Arabic and show them how beautiful Jordan is and how amazing the people are. I love my country and I believe I can make a difference to help change its image!
Save
Save