Mecca, Saudi Arabia – Five days. 31,569 transport vehicles to help pilgrims navigate the holy sites. 51701 government employees deployed across 22 services. A 157,538 work force used. This was what it took for the successful organization of this year's Hajj pilgrimage.
But it was the stories of 2,352,122 pilgrims, in addition to the thousands of Saudi employees and organizers, Al Arabiya News Channel was tasked to exhume and tell as raw as it could.
There is nothing like it, they told me before heading to Mecca from Dubai to cover my first ever Hajj pilgrimage. Nothing you plan will pan out but there will be millions of stories to tell. The sheer number of people, which is considered the largest gathering of human beings on earth each year, will astound anyone who sees the sea of white ihrams, the Islamic clothing Muslims must wear during the pilgrimage.
So it was their stories Al Arabiya English focused on this year.
It is the story of two Palestinian siblings who were torn apart 15 years ago due to the occupation of the Palestinian territories. Bushra hugged Samir with tears falling down her face as she was reunited with her brother in Mecca after he left with his children to Australia.
It is the story of an Omani elder who had saved up for years on end to afford his travel to Mecca only to suffer from a heart attack two nights before the Hajj officially began.
From his hospital bed in King Abdullah Medical City, he told Al Arabiya English, he was determined to recuperate in time to make it to mount Arafat, which is considered the penultimate point of the pilgrimage. He successfully healed in time to make it and with the assistance of the Saudi medical staff he prayed there three days later.
It is the story of Dr. Abdullah Ser el-Dar, a Pakistani man who was born and raised in Mecca and suffered for years from an identity crisis, simply because he sees himself as a Saudi when questioned. Despite that, he told us that the one thing that distinguished his father and him from all were their 30 years of voluntary work they do during Hajj for the pilgrims.
"My father has been here since the 1950s. Our family have been serving Hajj pilgrims every year since then and it feels wrong and not to work, in any capacity, during the Hajj season. This is our home and it is our sacred duty passed down from the tribes of Mecca to serve and welcome pilgrims every year," he proudly said.
It is the story of 17-year-old Abdulrahman al-Buqren, a young Saudi boy scout who noticed on the last day of Hajj how lost Al Arabiya's team were after covering the Jamaraat, where pilgrims symbolically stone the devil.
Without hesitation, Abdulrahman asked us where we wanted to go and if he could help navigate us back to our base camp.
The camp was more than six kilometers away and he led us in searing 43 degree Celsius heat helping us carrt camera equipment that only made the journey just that more arduous.
This was Mecca during the last day of the pilgrimage and millions of people were flooded on the streets. No vehicles were allowed for miles from the Jamaraat.
Abdulrahman, who carried a heavy tripod, successfully navigated us back to our camp. Al Arabiya insisted that he stay for lunch and some cold water to cool down but his immediate response was to report back to his division's leader and see if they needed help somewhere else.
Al Arabiya's correspondent Khaled Alamry who insisted he stay, decided to give Abdulrahman a shout-out during one of his live reports from Mecca. That video of Khaled mentioning Abdulrahman's help would make the latter's day.
Our team has been tasked to tell these people's stories as best as we can, but as technology evolved and people's attention span decreased, a major hurdle was in how we would tell those stories differently this year.
This was why Al Arabiya English decided that this year we would deploy the 360-degree camera and tell different stories from the perspective of their subjects.
Like the cleaners of the Jamaraat area, the barbers of Mecca to how pilgrims reacted when rain and thunder came down on them as Arafat came to a close.
Al Arabiya News Channel also deployed the state-of-the-art Inspire Drone cameras this year, giving our audience a bird's eye view of the pilgrimage. This allowed our audience and our readers to truly soak in the sheer number of people, facilities and efforts that were there throughout the Hajj this year.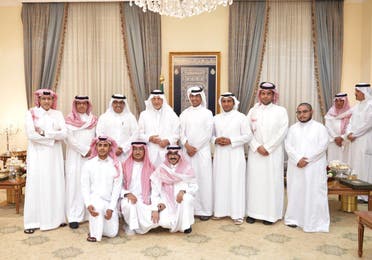 All our efforts led to the governor of Mecca, Prince Khaled Al Faisal, to grant the Al Arabiya team an audience. During the meeting, Prince Khaled told us what distinguished Al Arabiya from other broadcasters was the ability to tell the whole story without any fanfare or sugarcoating of the facts. It felt like we put the pilgrims and organizers first and it showed in the final products both on television and online, he said.
Taking heed from his words of encouragement, Al Arabiya sprung into action when news broke out that there was a major fire incident near the Al Majzara area on the last day of the Hajj pilgrimage where animals are slaughtered to celebrate Eid.
The teams had already packed up the gear and were preparing to make way from Mecca to Jeddah. News of the fire came to our correspondent Hani al-Sufayan, who covers the frontlines of the southern borders with Yemen. Hani immediately grabbed a cameraman and made his way to the site.
No deaths or injuries were reported but while everyone else thought this year's Hajj story was done, Al Arabiya had the exclusive of being on the scene only 20 minutes after the fire broke out.
Covering a religious story, especially one that happens annually, can feel repetitive. The stories feel like they have been reincarnated from years passed.
At the end of the day, each year millions submit themselves to God and make their journey to Mecca, therefore there is a sense of duty to make their stories heard.
This was their story.