Major Saudi deals with mega firms during Prince Mohammed's US visit
Deputy Crown Prince Mohammed bin Salman, has been busy meeting with major US firms in a bid to help the kingdom diversify its economy
A large contingent of Saudi Arabian officials, led by Deputy Crown Prince Mohammed bin Salman, has been busy meeting with major US firms in a bid to help the kingdom diversify its economy.
They have entered into several deals, signed memorandum of understandings (MOUs) and held talks for future investments.
Saudi Deputy Crown Prince Mohammed bin Salman, who is currently in New York, has met UN chief Ban Ki-moon after a week of Silicon Valley visits in the US west coast.
This month, Saudi Arabia has granted operational license to major US firm Dow Chemical Company and materials manufacturer 3M, with the expectation of Pfizer to follow, according to Saudi Minister of Commerce and Investment told the state-run Saudi press agency.
The Dow Chemical Company became the first foreign firm to be awarded a trading license from the Saudi government, with 100 percent ownership.
3M and pharmaceutical giant Pfizer will add "a lot of value" to the Saudi market considering their high stature, the minister said.
In a statement to Al Arabiya English, a Pfizer spokesperson said: "We're honored to be one first companies to receive fast track approval of a trading license. This is yet another step in our long term commitment to the Kingdom of Saudi Arabia, and a reflection of our shared commitment with the Government to ensure continued reliable supply of innovative and essential medicines to Saudi patients."
Apart from investment deals and MOUs, Saudi Arabia also brokered a deal with tech giant Microsoft that will see them train young Saudis and will support Saudi Arabia in its ambitious digital and knowledge-based innovation transformation under Vision 2030.
Another MOU was signed with Cisco Systems to help develop the digital infrastructure in the kingdom.
On another field, Saudi Arabia has been in talks with theme park companies in a bid to further investments in culture and entertainment in the kingdom. This included Prince Mohammed bin Salman meeting with US theme park giant Six Flags Chief Executive Officer and President John M. Duffey as well as meeting SeaWorld's CEO Joel Manby.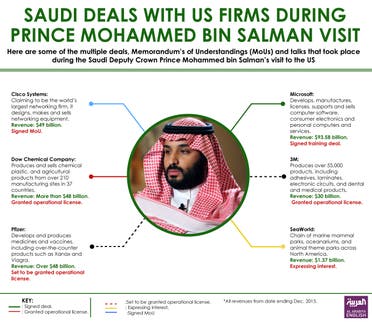 Boosting Saudi economic interests
The deals were inked during a visit to the United States by Saudi's Deputy Crown Prince Mohammed. The prince has so far met with President Barack Obama and other senior officials.
Prince Mohammed's visit to the US comes after the Saudi's April rollout of Vision 2030 and the National Transformation Program, a sweeping series of reforms designed to wean the kingdom off oil.
Patrick Ryan, a Gulf affairs analyst whose consulting firm documents developments in Saudi-US relations, called this week's deals "consistent with long-standing Saudi interests to attract foreign investments."
"Saudis are anxious for business deals that will include technology transfer and business opportunities that boost Saudi employment and opportunities for its citizens," Ryan told Al Arabiya English.
Early this month, Saudi Arabia's sovereign wealth fund, one of the cornerstone parts of its National Transformation Plan, announced it was investing $3.5 billion in US-based ride-hailing app Uber, the largest single investment ever made in a private company.
Then on Monday, US theme park giant Six Flags said it would invest in the kingdom, following a meeting between its cheif executive and the Saudi deputy crown prince.
Prince Mohammed also met with Apple's CEO Tim Cook in New York on Friday.
Prince Mohammed's meeting with the top technology company followed his visit to Facebook's headquarters on Wednesday and met with the tech giant's founder and president, Mark Zuckerberg.