The word "Shaybah" in Saudi context is synonym to oil field, one of the largest in Saudi Arabia with a proven crude reserve of nearly 14.3 billion barrels and gas reserve of nearly 25 trillion cubic feet.
But not too many people know that Shaybah's uniqueness also lies in its Wildlife Sanctuary spread in an area of 637 square kilometers, making it the largest in the region.
It is managed jointly by Saudi Aramco's Shaybah Producing Department and the Environmental Protection Department. The Shaybah Wildlife Sanctuary initiative bears testimony to the company's commitment to care for the environment wherever it operates. Located adjacent to Saudi Aramco's mega-facilities in the area, the fenced sanctuary protects dozens of native plant and animal species.
Reintroduction of historic species
Further, Saudi Aramco has reintroduced three species that historically have inhabited areas around Shaybah: Arabian oryx, Arabian sand gazelles, and ostriches. For the first time in decades, these majestic animals will once again grace the red sands of the Rub' Al-Khali. The animals had been decimated by hunters across their range.
The last wild ostrich in Arabia was killed in 1939. The numbers of Arabian sand gazelle plummeted. Similarly, by 1970 the Arabian oryx was almost extinct. Among the wild animals featured at the Shaybah Wildlife Sanctuary are Arabian oryx, which were once near extinction but have been revived over the past 45 years.
In the 1970s, the last few surviving oryx were rescued and sent to the United States for an intensive breeding program. Over subsequent years they were released back into reserves across the Arabian Peninsula. Now the deserts around Shaybah once again serve as their home.
The Shaybah Wildlife Sanctuary is further proof that oil and gas operations and environmental protection can exist hand in hand. To date, the sand gazelle population is above 70, including newborns from a breeding program.
The number of Arabian oryxes tops 40, including 13 babies. And more than 10 African ostriches have been introduced, replacing the extinct Arabian ostrich. The numbers of animals will continue to increase in coming years.
Meanwhile, a research center and operation building will be established at Shaybah to boost ecological R&D between Saudi Aramco and leading institutions, such as King Abdullah University for Science and Technology.
Also read: Saudi calls OPEC members to stick to limits, sees oil demand up
Shaybah one of world's largest oil fields
On the oil front Shaybah is one of the largest oil fields in the world. It lies in the remote Rub' Al-Khali or Empty Quarter and is a story of perseverance in the quest for energy and environmental excellence. Encompassing 650,000 square kilometers and comprising the Earth's largest continuous sand desert, the Rub' Al-Khali covers about a third of the Arabian Peninsula, an area larger than France, Belgium, and the Netherlands combined.
Given the hardship and challenge inherent in its harsh setting, the field is a testament to Saudi Aramco's unrivaled leadership in mega project management; it also highlights the company's focus on innovative solutions, new technologies and fiscal discipline.
Light crude was actually discovered in 1968 but it remained untapped for a plethora of reasons including logistics for quite some time. A team of Aramco geologists, actually first explored Shaybah in the 1930s, the company needed to customize special trucks and airplanes to withstand the extreme heat and sandstorms.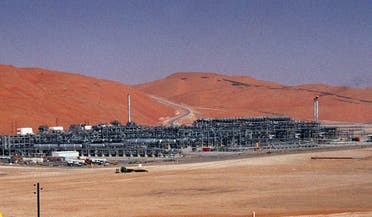 Shaybah a growing project
In similar fashion, over the decades, this unique project has consistently grown and evolved to meet energy demand and reinforce the company's position as a reliable supplier. Saudi Aramco has recently completed two major projects at Shaybah — both part of a mega project series which were inaugurated in December last year.
The first, a crude oil expansion project, increased Shaybah's production of high-value Arabian Extra Light oil by 250,000 barrels per day, and raised the field's total production capacity to 1 million barrels per day.
The expansion also increased the plant's associated gas production capacity to 4,400 million standard cubic feet per day. Shaybah gas production serves profitability by freeing up crude oil for export.
Gas also delivers environmental benefits by providing a cleaner energy for power generation. As a result of the second project, Shaybah NGL, Saudi Aramco is able to recover up to 275,000 barrels per day of natural gas liquids (NGLs) from the gas. These NGLs are the key raw material for products such as plastics, and form the basis for the Kingdom's rapidly growing petrochemicals industry.
But there's more to Shaybah's story of protecting, preserving and managing precious natural resources. As the oil field continues to strengthen Saudi Aramco's leading position in global energy, the company's protection of endangered species and their rugged habitat is a promise kept: to make energy more abundant and sustainable, to make a lighter environmental footprint, and in stewardship — as in all things — to go beyond compliance to excellence.
This article was first published in the Saudi Gazette on August 4, 2017.