Dubai's airport authority says it is confident that Emirates will fly from the city's new international air hub, which opened its doors to commercial passengers this week.
Paul Griffiths, chief executive of Dubai Airports, said plans are underway to rapidly grow capacity at the new al-Maktoum International Airport in a bid to attract the emirate's flagship carrier from the existing airport.
"As soon as we have enough capacity for the Emirates hub to move, I'm sure Emirates would want to move to the new hub," Griffiths said in an interview with Al Arabiya.
Infographic: Al Maktoum International Airport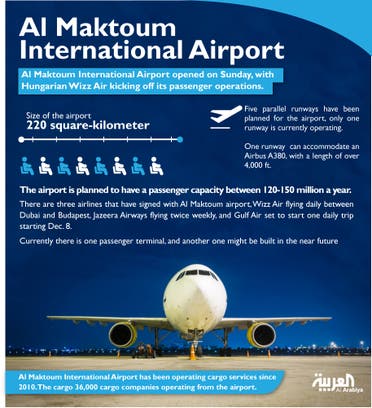 Emirates is expanding to provide new routes including a transatlantic Milan-New York service, which was announced this month and marks the airline's first non-Dubai service.
"If they are constrained where they are at Dubai International (the city's older airport and Emirates' current hub), and they will be over the next few years, their growth will be inhibited," said Griffiths.
This will continue to be the case "unless we can build enough capacity to accommodate them," he added.
However, an Emirates spokesperson told Al Arabiya News that the carrier's current base at Dubai International Airport is "sufficient for our immediate needs," and can accommodate its growth for the next 12 years.
Griffiths went on to explain that Dubai International is close to reaching its full capacity, "we probably can't go beyond the 90-plus million that we are forecasting for that airport for 2020," he stated.
Foreign carriers have expressed a more immediate interest in the new airport. Kuwait's Jazeera Airways will begin operations there on Oct. 31, while Bahrain's Gulf Air is set to hit the tarmac at al-Maktoum International Airport on Dec. 8, according to an airport official.
The 220 square-kilometer airport has been handling cargo flights since 2010, but received the green light from the General Aviation Authority to open for passenger-carrying flights last September.
The airport was scheduled to open in March 2011 but that was delayed twice.
Passenger flows through the city's main airport, Dubai International, jumped 13.2 percent last year, helping the airport overtake Hong Kong to become the world's third busiest for international passenger traffic, according to Reuters.
Passenger traffic surged to 57.68 million people in 2012 from 50.98 million during 2011, Dubai Airports said this year.