Bahrain and Qatar will resume talks on Wednesday on the long-delayed construction of a 40-km (25 miles) causeway linking the two Gulf states, Bahrain News Agency (BNA) reported.
Arif Khamis, the undersecretary of Bahrain's ministry of finance, told BNA that the engineering design phases and determining the path of the causeway between the two countries has been completed.
The causeway, referred to as the Qatar Bahrain Friendship Bridge, was approved in 2005. A formal agreement was signed in June 2006 to form an organization that would raise $4.5 billion in estimated funds needed to implement the project.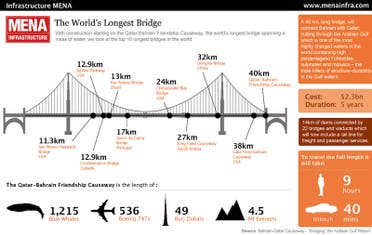 In 2008 the Qatar-Bahrain Causeway Foundation awarded a contract to U.S. engineering and construction company KBR "to provide design management, project management, and construction management services for the Qatar-Bahrain road and rail marine crossing," the company said on its website.
Media reports suggested at the time that the actual construction would start in 2011, but financing issues reportedly delayed the mega project.
The causeway is expected to be used by 4,000 cars daily on the first year and up to 5,000 cars within the following year.
The project has undergone changes since its conception including plans for two new railway tracks next to the bridge.