Branson: space tourism lift-off 'in months'
British entrepreneur says the much-delayed Virgin Galactic space mission will finally fly this year
Sir Richard Branson had a clear mission: To launch his commercial 'space tourism' company into orbit.
The project was never going to be a small step – but the reality turned out to be more of a giant leap than the billionaire British businessman thought.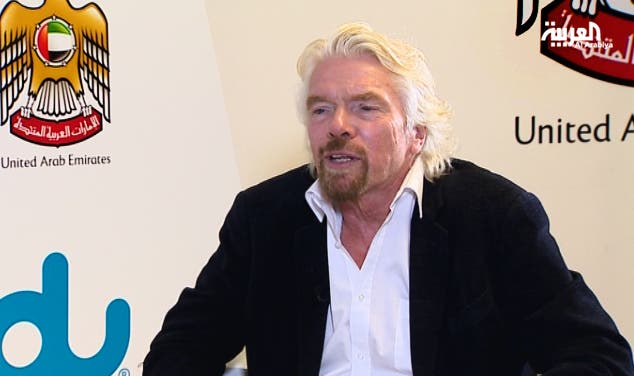 Virgin Galactic, part of Branson's vast business empire, has been selling flights to orbit – or 60 miles above the Earth – to passengers paying out more than $200,000 for the privilege.
Liftoff was first scheduled for 2007, but despite some test launches, Virgin Galactic's first passenger-carrying flight is yet to take off. Setbacks included an explosion in 2007 at Virgin's base in the Mojave Desert in Califorina.
After several delays to take-off, Branson says the final frontier is finally within his grasp.
Watch Al Arabiya's Interview with Barnson
"What I have realized is that it is rocket science," Branson said on Monday.
"We should be going into space in about three or four months' time. If myself and my family are not in space by the end of the year I'd be very very very worried," he added.
Branson took a sideways swipe at his biographer Tom Bower, who claimed in a new book that the Virgin Galactic rocket is not powerful enough to take people into space, and is yet to obtain a U.S. license to fly.
Branson hit back at such claims, saying he expects to get a commercial license to fly from American aviation authorities "in about two to three months" from now.
"We'll be flying this year and it will take about three years before we get into an annual profit," he said.
The entrepreneur added that the "ultimate end-game for Virgin Galactic" is to operate flights between London and Australia at the fraction of the current flying time.
"Obviously if we could fly to Australia in a couple of hours, that would give us a massive advantage over anybody else," Branson said. "I would say that Virgin Galactic point-to-point travel would be about 12 years away."
Aviation analyst Saj Ahmad of StrategicAeroResearch.com, cast doubt on the feasibility of Branson's plans to launch Virgin Galactic flights between London and Australia.
"The technology to do it just isn't mature, robust or reliable enough to do it - and that's before you consider the astronomical costs too. The concept, while novel, is a tad beyond the realm of reality," he said.
Ahmad was also sceptical on the likely profitability of Branson's 'space tourism' venture.

"Those with five- or six-figure sums of cash that is burning a hole in their pockets will likely be the only users - so how it could be profitable remains a mystery," he said.
"The costs involved seriously outweigh the planned or perceived revenue forecasting - the chasm has a huge disconnect so profitability is not going to happen anytime soon either."
Branson, founder of the Virgin Group, was speaking to journalists at an event organized by UK Trade & Investment, having spoken earlier today at the UAE Government Summit in Dubai.
He said Virgin Galactic is hoping to open a spaceport in Abu Dhabi in the United Arab Emirates "in a couple of years," according to The National.
Virgin Galactic is part-owned by Abu Dhabi's government-backed Aabar Investments.
In an interview with senior Al Arabiya reporter Maya Jureidini, Branson said it may one day be possible to travel between Dubai and Australia in an hour on Virgin Galactic flights.
He also spoke about how government organizations could learn from the way the private sector works.
"You've got to try to get people running the government organizations that are good listeners and genuinely care about people and get out and listen to them," he said.