Transport apps leave some Dubai residents uber-angry
Some Dubai residents making the switch from traditional city-owned taxis to ride sharing apps say they feel like they are being taken for a ride
Some Dubai residents making the switch from traditional city-owned taxis to ride sharing apps say they feel like they are being taken for a ride.

Uber - which enjoys widespread popularity in Europe in the U.S. due to lower fares and greater convenience - and Careem, a popular Dubai-based startup, have aggressively expanded in the Middle East in recent months.

But some users claim inconsistent or unreliable service, higher prices, drivers with poor communication skills and even hygiene issues.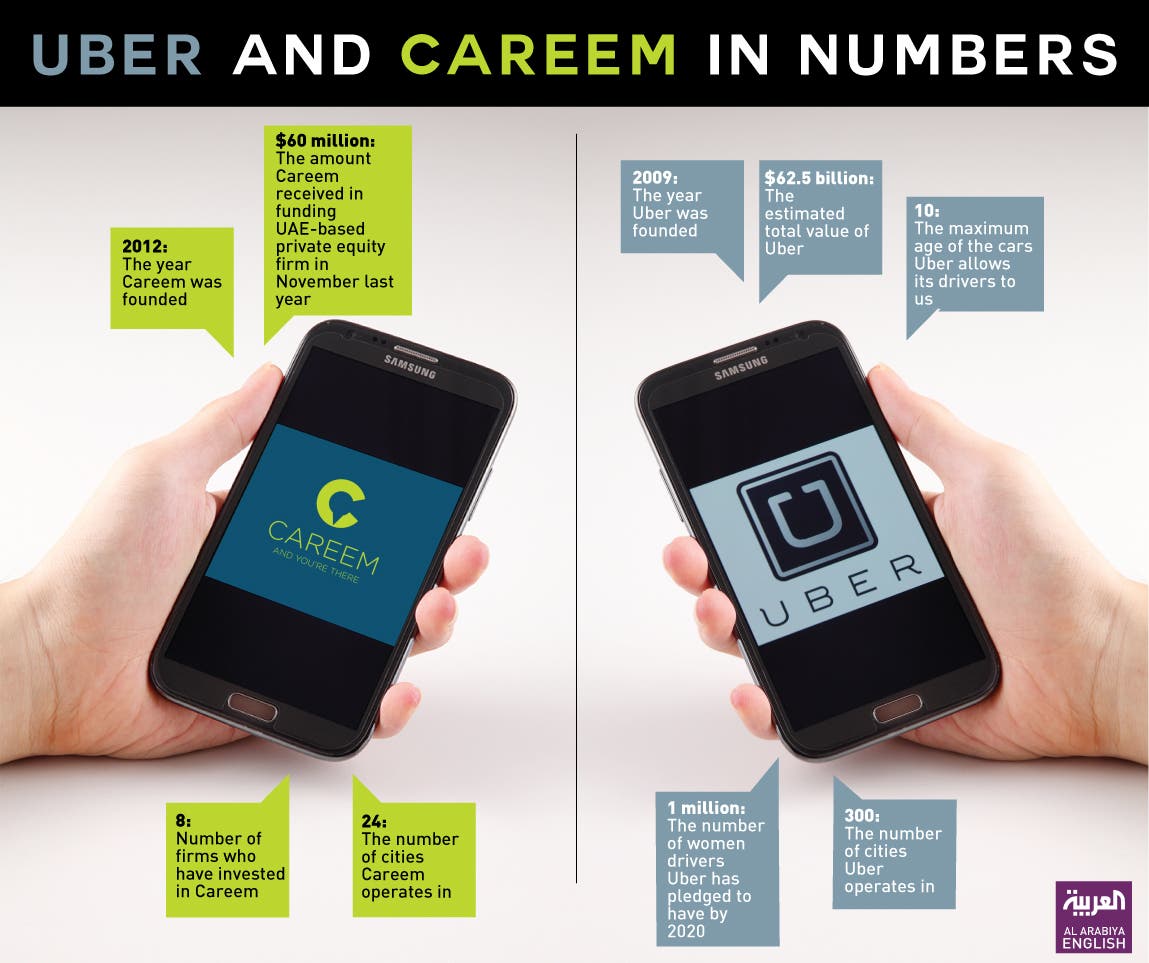 One user of both Uber and Careem said that he was equally disappointed by both providers.

"I initially opted for Careem as I wanted to support local businesses, and after severe negative experiences, I moved to Uber. However, I then I realized they both had the same issues."
The user - who preferred to speak anonymously - said that most of the issues they faced were down to unreliable drivers.

"Most drivers don't speak English or Arabic very well... That's why using Uber or Careem would have solved a real problem... As the location finding function should - technically - eliminate the need to communicate with them all together."
An Uber spokesman said in response that "every single one of our driver comes in for an interview and are screened thoroughly by our local teams before being allowed on the platform."
Wrong direction
"Most of them don't know how to find their way around if the location isn't a landmark," the user added. Despite recent initiatives both Abu Dhabi and Dubai authorities to implement an address system, many residents still give directions based on distinctive buildings or sights.
Some users report that the location finder features of Uber and Careem either do not work properly or do not enable drivers to find the right pick-up spot or drop-off point.
"Then the journey starts feeling like pulling teeth, with me having to stand in the street for ten minutes directing the driver how to get to me. Or desperately asking passersby from the backseat to find the drop off address ... What's the point of using these apps if this is the case? I can't even begin to tell you how many times I arrived late to meetings due their lousy service."
Mudassir Sheikha, one of Careem's founders, told Al Arabiya English that the company had improved its app's location accuracy by building its own maps, which allowed a greater level of precision than popular public resources such as the popular Google Maps.

Another common problem has to do with the hygiene of drivers – a problem made worse by the UAE's sweltering summers.

"This is a premium service and it charges significantly more than RTA taxis. Why doesn't Uber or Careem simply force their drivers to use air fresheners, or use an ombudsman scheme to smell the problem for themselves," another disappointed customer told Al Arabiya English.

The Careem founder said that in response, the firm had been educating its drivers and distributing car fragrances "before summer months."
Aggressive expansion
In November last year, Uber said it would invest $250 mln in the region, while in the same week Careem said it had received a $60 mln cash injection from a private equity group.

But despite the growing momentum of the two firms, Dubai's transport regulations - which do not directly refer to private app-based services - appear to be at odds with the operating methods of the tech-rooted services.

In October, the local Khaleej Times daily reported that Dubai police officers had been pulling over drivers, asking if they worked for Uber and issuing a $550 fine for breaching the emirate's laws.

A report by the Abu Dhabi-based paper The National in December suggested that the RTA was planning to issue a circular to the firms, reminding them of existing regulations.

Rules state that private hire cars must charge 30 percent more than standard taxis regulated by the city's Road and Transport Authority (RTA), and must not pick up passengers from airports and hotels.
An Uber spokesman said that there has been some "ambiguity about how we operate" and that the firm was "in talks with multiple stakeholders to clarify where we fit."

The Careem boss said that his firm was "working closely with [UAE regulators] to define the regulatory framework for companies like us."
The RTA did not yet respond to a request for comment by Al Arabiya News.
End-to-end experience
Christina, a British expat who briefly experimented with the U.S.-based ride-sharing app, said that "it will be a cold day in hell before I take an Uber car."
"I am suspicious of these companies, certainly in markets where to be a cab driver you have to have extensive tested knowledge, licenses, insurance, and background checks," she added.
The Uber spokesman said that in the Middle East, the firm "partner[s] with licensed operators – who, in turn, own fleets and employ drivers all appropriately licensed – to provide commercial transportation… our role at Uber is to give them access to our technology booking platform."
Some Dubai-based users, however, say that the despite the higher costs, the ride-sharing apps offer certain advantages.

"[It is] more expensive than a taxi but that would not prompt me to go back to taxis because Careem has really done well in creating an end-to-end customer experience," said Sameer, who uses the locally-based app for his daily commute.