The expression "the love of adventure pushes entrepreneurs to leave typical businesses and shift towards taking risks in pioneer works" best applies to 26-year old Saudi Ahmed Bukhamseen who left work at a global corporation to become an entrepreneur, and established Quant Data and Analytics – a specialized company in the field of data science, data analysis, visualization and integration in Business Intelligence platforms that transforms raw data into information to empower organizations in the decision making process.
Bukhamseen graduated from King Fahd University of Petroleum and Minerals with a Bachelor's degree in actuarial science and financial mathematics, a sub-specialization concerned with data analysis and study, and which uses mathematical and statistical methods to estimate the amount of risks in insurance and financial industries.
After graduation in 2013, Bukhamseen moved to Bahrain to work as a actuarial analyst at Lux Actuaries & Consultants, one of the leading global companies in the field of actuarial consulting services, with locations in eight countries. In late August 2015, the story of Quant Company began when Bukhamseen decided to exploit the actuarial science and turn it into the first project in Saudi Arabia that provides data analysis and presentation of the customers' businesses for their further growth and achievement of the best possible returns on investments.
Bukhamseen believed in his idea and in the need of the Saudi market, one of the largest markets in the region for such advanced sciences and services. So he began taking the project seriously and conducted feasibility studies to establish Quant. The turning point in his life was his decision to resign from his job at the end of October 2015 and return to Saudi Arabia to begin the implementation phase of his personal project.
The beginning

In early 2016, Bukhamseen joined Wa›ed entrepreneurship program, a subsidiary of Saudi Aramco in Dhahran in the Eastern Province. Over the course of four months of training and learning, he was able to gain an experience that qualifies him to launch his project in the market.
At this time, it was appropriate for the Saudi young dreamer to tell some of his school friends to join him in the actuarial science and financial mathematics project. Bukhamseen did not stop there. He persuaded some of his employed friends who were busy climbing the shining career ladder in the corporate world to resign from their posts and engage with him as partners in the project.
Bukhamseen recalls that moment, saying: "I told everyone that I left my job to follow my dream of establishing my new personal project. Many advised me to wait and not to take risks, for the job was prestigious and I have only been there for a short time. However, I insisted that most people who succeed in mega projects at our time only had their experience and education and believed that education, proper thinking and perseverance are key factors for the success of any business project."
"Many advised me to wait and not to take risks, for the job was prestigious and I have only been there for a short time. However, I insisted that most people who succeed in mega projects at our time only had their experience and education and believed that education, proper thinking and perseverance are key factors for the success of any business project"
Ahmed Bukhamseen
This view was fruitful. At the beginning of 2016, Quant was officially launched as the first company in Saudi Arabia in the field of data sciences and actuaries together and mixing between the work of actuarial analysts and data engineers.
As a start-up company, Bukhamseen realized the importance of logistical or advisory support of the government or private entities, so he decided to present his idea to Badir Program for Technology Incubator, which is one of King Abdulaziz City for Science and Technology›s programs, hoping they›d embrace this project and provide facilities that will help transforming the idea into a successful investment project.
Indeed, Badir Program clearly contributed to Quant Company's start by introducing a variety of services through the incubator itself or through its communications network. These services included required counseling, offices, laboratories, administrative and secretarial services and others to turn the idea into a promising project.
Although Bukhamseen and his colleagues believe they have come up with a wonderful idea, a few of those who knew about the project expected its success in a short period of time. The company has concluded in its first year, agreements with major Saudi companies such as Malath Insurance, Meraas Holding dealing with real estate development and Emkan as the first client in the education sector.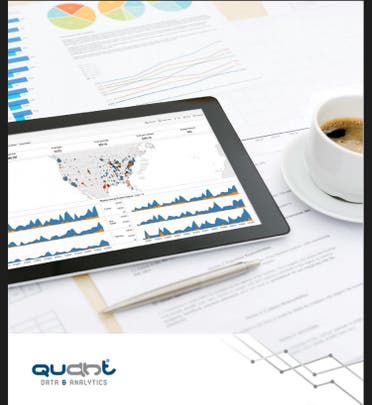 Actuarial sciences
After many Saudi companies realized the importance of actuarial sciences and financial mathematics to develop businesses and achieve the highest return, Quant began to expand its projects and conclude new contracts, the latest being the agreement with "Morni" Company to provide actuarial services and data sciences consultancies for the pricing of products and services in the "Morni" application, which works as an instantaneous interactive electronic platform based on the Internet and positioning services to connect users in need of any service related to transportation and roadside assistance with the service providers through an application for smart phones.
After that, the company signed another agreement with Foodics specialized in the restaurants› point-of-sale platforms. Then, the company started to expand abroad, especially in Dubai and Bahrain, and concluded several agreements with a number of operating companies in those markets.
Also read: Why businessman Nasif Kayed calls himself the 'Arab Culturalist'
During this short career, Ahmed Bukhamseen, Quant founder and CEO, says: "Quant faced a lot of challenges presented in the market›s acceptance, understanding and awareness of its need for these actuarial and analytical services, especially in terms of data privacy. But, like any new industry and science in this market, it needs some time to clearly and comprehensively reach all sectors."
He adds: "Quant aspires now to further expand its services to be a promising Saudi company in the Gulf market level, and engage strongly in the United Arab Emirates market at the end of 2017. The company also seeks to focus on the analysis of financial data and engage broadly in the real estate market, which severely lacks any statistical information. In this way, Quant will be the cornerstone in the first serious step to establish a database that serves this sector."
Through partnerships with leading companies and a qualified staff, Quant currently focuses on strengthening its expertise in managing data graphics across cloud platforms – a sector in which Quant believes has a promising future.
Ahmed Bukhamseen aspires, through Quant, to enhance the scientific methods and foundations used in businesses, decision-making and particularly in the Saudi financial sector, up to the utilization of entrepreneurship in achieving the Kingdom›s goal and ambition under the Saudi Vision 2030 initiative.
The Article is also available on Saudi Gazette.