Gold prices on Thursday climbed to their highest in more than a week during trading in Singapore, boosted by prospects of more central bank buying after a recent steep sell-off in the precious metal.
Central bank purchases and surging physical demand helped gold bounce from a two-year trough around $1,321 an ounce hit last week, dealers said. But daily outflows from exchange-traded funds, reflecting sagging investor confidence, capped gains.
Russia and Turkey raised their gold reserves in March, the International Monetary Fund said on Wednesday, increasing their holdings ahead of the spectacular plunge in prices this month that shocked ardent gold investors and bulls.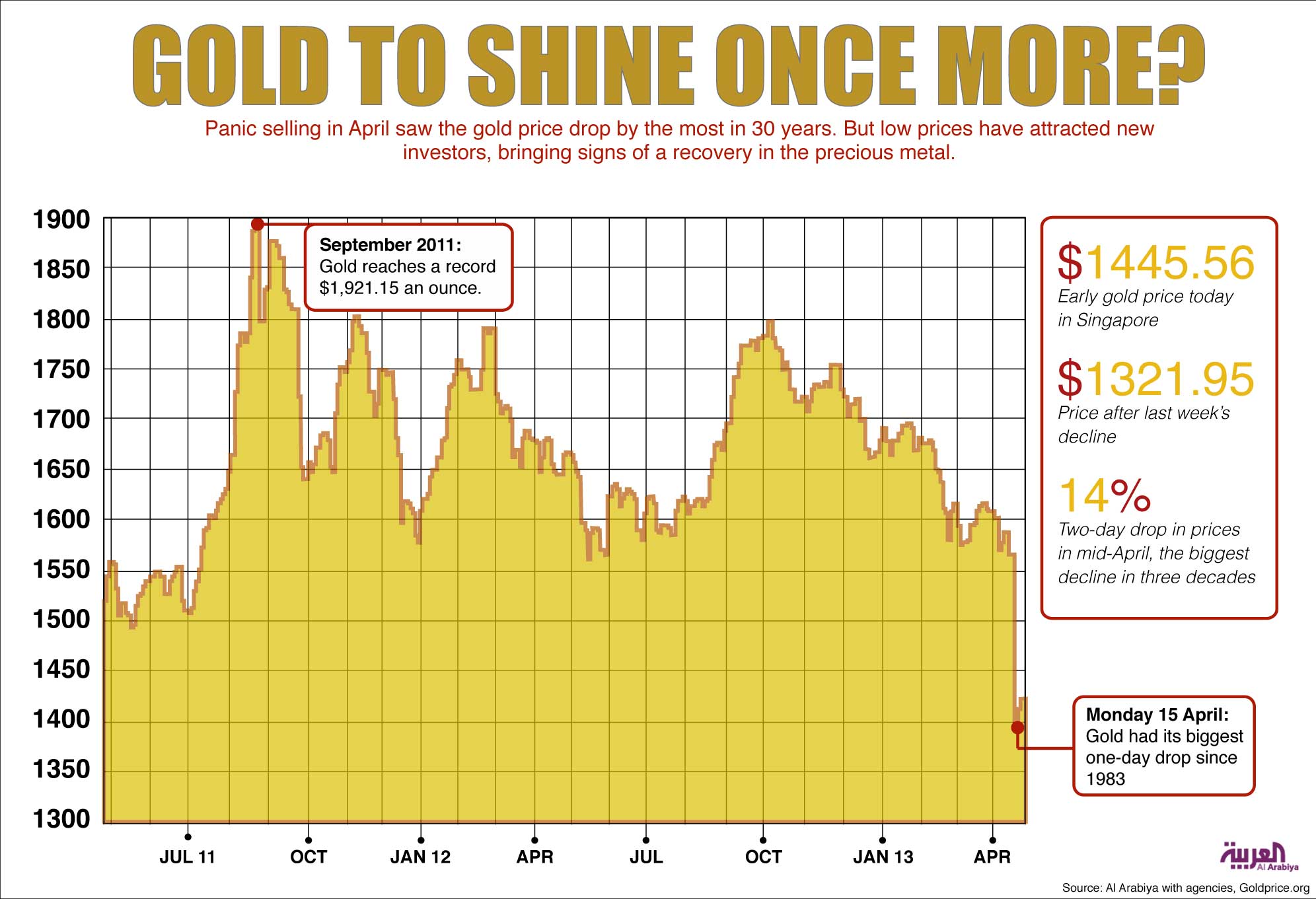 During trading in Singapore, gold reversed early losses and stood at $1,445.56 an ounce by 6.21am GMT, up $14.76. It hit a high of $1,447.66 an ounce earlier in the session, its loftiest since April 15 – the day it posted its biggest ever daily drop in dollar terms.
"If the price breaks above $1,447-$1,450 levels, there will be more upward momentum. If it doesn't, we may see a further dip in gold prices," said Joyce Liu, an investment analyst at Phillip Futures in Singapore.
Bullion is torn between a rise in demand for jewelry and coins, and investors in ETFs cutting exposure as they became increasingly convinced the U.S. Federal Reserve will look to end its bullion-friendly bond-buying program by the end of 2013 or beginning of 2014.
Premiums for gold bars soared to multi-year highs in Asia after a spate of physical buying ran down supplies, with dealers in top consumer India expecting a surge in imports this month.
Dealers also noted an increase in buying interest in second-largest consumer China, keeping premiums in Hong Kong at their highest level since October 2011 at up to $3 an ounce to spot London prices.
"Strong physical buying in China is overflowing into Hong Kong. I heard if you have gold bars now, people will buy them at $2.50 to $3.00 premiums," said a dealer in Singapore.
U.S. gold for June delivery rose more than 1 percent to as high as $1,447.50, its highest since April 15, but some dealers cautioned the current rebound in cash and gold futures was far from sustainable.
"Physical buying has been strong but the question is where are these buyers are coming from? There could be a fundamental shift from commercial buying of paper assets into physical gold. If that's the case, gold prices may continue to go up," said Liu at Phillip Futures.
"But then I suspect, it's most likely the buyers are retail investors who don't know much about gold's personality and behaviour. If that's the case, how long can this physical buying sustain?"