The GCC countries' non-oil economic growth is forecast to reach six percent in 2013 and 2014, nearly a percentage point higher than previously estimated as a result of a boost in public spending levels and improving private sector conditions, the National Bank of Kuwait (NBK) said in its latest 'GCC Economic Outlook' report.
The upward revision of the region's growth forecast was a result of growth momentum in Saudi Arabia and Qatar. Overall, nonetheless, economic growth will average four percent in 2013 and 2014, the report added.
"A combination of elevated public spending levels and improving private sector conditions will see real GCC non-oil GDP growth of close to six percent per year in 2013 and 2014, similar to 2012 and nearly one percent point higher than previously forecast," the report said.
Yet job creation and fiscal reform needed to be addressed, the report noted.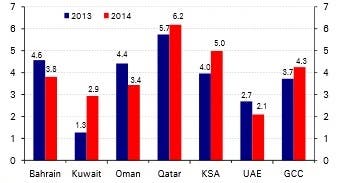 "Fiscal policy is likely to remain expansionary, with aggregate GCC government spending forecast to rise by six to seven percent per year in 2013 and 2014. This is lower than in recent years but owing to a slight dip in oil revenues, the region's aggregate fiscal surplus is set to decline from 12 percent of GDP in 2012 to five percent in 2014.
Meanwhile, monetary policy also remains accommodative, with key policy lending rates in most countries at two percent or lower. The slow return to higher interest rates in the U.S., still some way off, means that any tightening of policy in the GCC is likely to be gradual, and not occur this year," NBK said in the report.
"We maintain our forecast for oil prices at $100 per barrel, on average, for 2013 and 2014. Oil prices have dropped to around this level from $113 in Q1 2013. Some of this may have been driven by seasonal factors. But given an uncertain outlook for demand and rising non-OPEC supplies, the risks to market fundamentals in the second half of 2013 are evenly balanced."
"GCC oil production has already been cut quicker than we had expected, and real oil-sector GDP is seen declining two percent this year and unchanged in 2014. This will still leave oil output at historically elevated levels, and combined with $100 oil prices should, in the near term at least, be enough to finance rising government spending without draining financial reserves in most countries," the report said.
"A deeper-than-expected slowdown in global economic growth is the main downside risk to this forecast. Oil prices could fall well below $100 for a sustained period, pressuring regional governments to curb their spending plans, thus removing one of the main pillars of economic growth. An alternative risk is that solid consumer sector growth combined with rapid execution of the GCC's vast project pipeline ultimately leads to overheating, price and wage pressures, and challenges for monetary and exchange rate policy," the bank said.
Moreover, the report forecast that inflation in the GCC will remain low. Weighted consumer price inflation edged up from two percent in mid-2012, to 2.5 percent by March 2013, driven by rising housing rents in Qatar and rising core inflation in Saudi Arabia.
The low base, stable international food prices, and relatively strong U.S. dollar are expected to keep GCC inflation at just two to three percent in 2013 and 2014, the bank said.
This story was originally published in the Saudi Gazette.