Higher tolls 'risky' after $4bn Suez Canal expansion
Shipping firms will resist large hikes in fees, analysts say, as Egypt's historic waterway faces greater competition from the Panama Canal
Several battles have been fought over Egypt's Suez Canal, and the historic waterway is now on course for a new war – over prices paid by ship operators.
The 100-mile canal, which links the Mediterranean and Red Sea, is an invaluable shortcut in the maritime world, cutting thousands of miles – and, more importantly, dollars – off voyages.
Given the Suez Canal's status as a symbol of national pride and Egyptian independence, it was with great fanfare that the construction of an additional, parallel lane was announced this week.
The new 48-mile channel will be built at a cost of $4bn, as Egypt looks to boost earnings from the canal to $13.5bn by 2023, up from about $5bn a year now, according to a Reuters report.
High tolls
Passing through the Suez Canal does not come cheap: For the largest vessels, a two-way journey costs a reported $1.25 million. But that is still less than the extra fuel and time-related expense it would cost to sail the alternative route – thousands of miles around the Cape of Good Hope in southern Africa.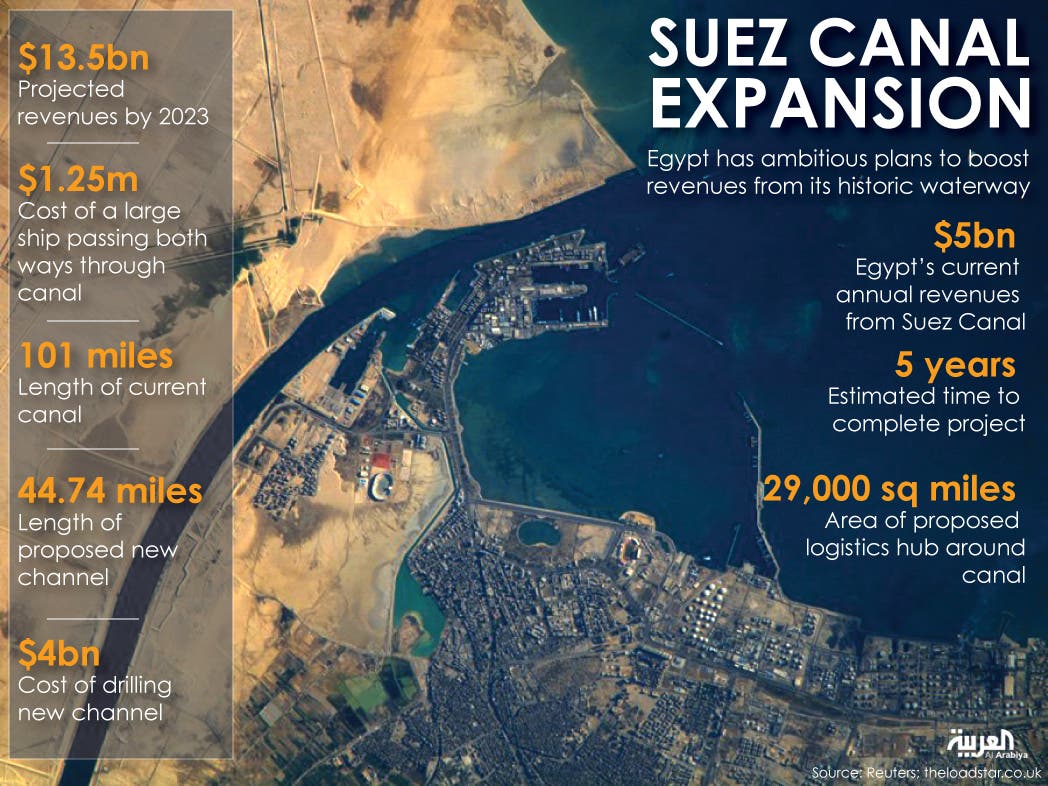 Achieving revenues of $13.5 billion may still be a tall order, analysts said, given the tight competition in the shipping industry and a similar expansion project being undertaken by Suez's rival, the Panama Canal.
Peter Sand, chief shipping analyst at Baltic and International Maritime Council (BIMCO), the largest of the international associations representing ship-owners, cast doubt that $13.5 billion in revenues could be achieved by higher tolls alone.
"I don't see that number being reached by only raising canal fees, due to the competition with the Panama Canal," he said.
"If the Suez Canal Authority was to, say, double the fees, it would be a no-brainer for shipping companies to use the Panama Canal instead."
That said, the Suez project is part of a wider redevelopment project under way in Egypt. A 29,000 square-mile logistics hub around the canal is intended to attract more ships and income to the area, taking full advantage of Egypt's geographical position between Asia and Europe.
Sand said that the increased revenue to $13.5 billion may be feasible if it was to account for the wider redevelopment of the area around the Suez Canal as a shipping "hub."
Competition 7,000 miles away
Though they are more than 7,000 miles apart, the Suez and Panama canals are competitors on key trade routes between the Far East and East Coast of the United States.
The Panama Canal expansion, set for completion next year, intends to double capacity by building a new channel and locks, and allowing the transit of much larger container ships.
The Suez Canal, by comparison, has few limitations on the size of vessel. "The only limitation for shipping in terms of the Suez Canal is on the fully laden, very large crude carriers," said Sand.
But though the Suez currently has the upper hand over the Panama Canal, Egypt's historic waterway will face "tougher competition" once the Panama expansion is completed, Sand said.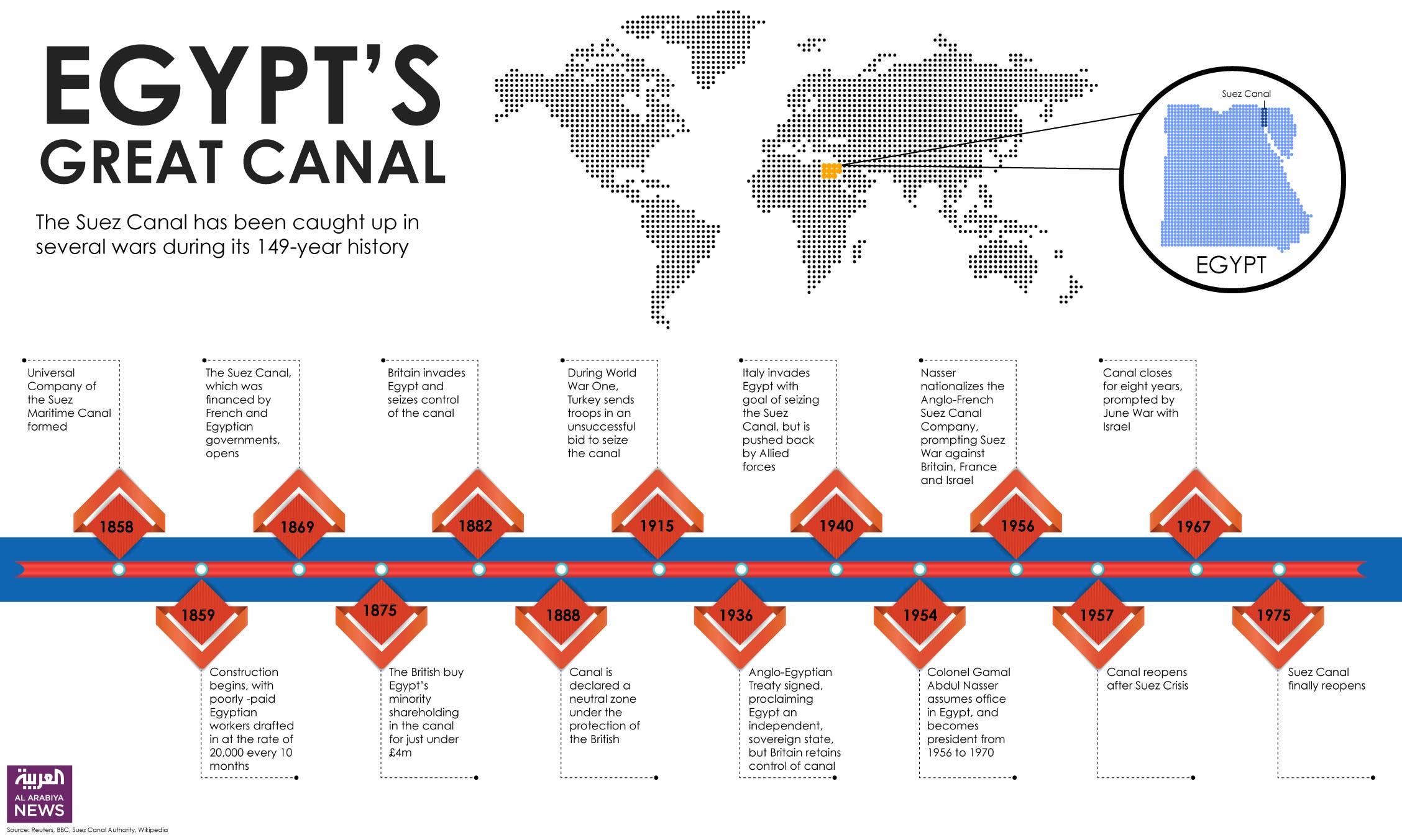 Speed through Suez
An additional lane would allow more vessels to use the Suez Canal, as well as speeding up journey times by allowing two-way traffic along half the route. Vessels currently travel through the single-lane waterway in convoy, and can only pass those travelling in the opposite direction at specific points.
Adding another lane to Suez Canal would cut waiting times from an average of 11 hours per one-way journey to just three hours, according to Sand.
"It should provide shorter waiting times and allow a steadier flow of ships through the canal," he said. "The number of ships that will be able to navigate it simultaneously will increase from 23 to 97. That should be a significant boost."
Faster transit times would "in theory" allow the Suez Canal Authority to hike tolls, Sand said. But he noted that the waterway's fees are already "very expensive." One possibility is that a tiered toll system will be introduced, with a higher price charged for a faster transit, he noted.
Richard Mallinson, analyst at the London-based consultancy Energy Aspects, said reduced travel times would not allow the Suez Canal to hike tolls too much. "There's always going to be a risk for Egypt in increasing the tolls it charges too quickly," he said.

Neil Davidson, senior adviser for ports and terminals at London-based Drewry Maritime Research, agreed that global shipping firms would be reluctant to pay more in fees to use the Suez Canal.
"The shipping lines don't want to pay more money of course, and have raised concerns in the past over the tolls," he said.

"The big strength of the canal is that it is a shortcut," he added. "The question for the Canal authorities is how far it can push prices and still be an attractive shortcut."
Big shipping lines such as Maersk of Denmark and CMA-CGM of France will be wary of possible rate increases, Davidson said: "They will be concerned and listening carefully to any news about tariffs."
Maersk Line, the world's biggest container-shipping company, said "the development of infrastructure will increase the competitiveness of the countries in the region."
"As a potential user of this kind of infrastructure, Maersk Line supports any effort to promote the expansion of industry and commerce in the world," said Søren Toft, Maersk Line chief operating officer.
But Toft said that without further information on the Suez Canal expansion it was hard to evaluate the specifics.
Mallinson said global shippers would be eager to see more "concrete information" about its timing.
The Suez Canal Authority says the new channel will be completed in five years. But Egypt's president Abdel Fatah al-Sisi is reported as saying he hopes it will be finished in just 12 months.

Sand said it was highly unlikely that the additional Suez Canal lane could be built in one year, adding that the whole project – including the wider redevelopment of the area – could stretch until 2020.
"I expect those people who think it will be done in one year to be surprised. These things take time. I could easily see this as a five-year project," he said.
Symbolic importance
Digging a new channel will mark the latest phase in the long and colorful history of the Suez Canal. The waterway was opened in 1869, after 10 years of grueling labor by low-paid Egyptian workers.
Its strategic importance saw it targeted in failed invasions by both Turkey during World War I and Italy in 1940. The waterway was later closed for eight years between 1967 and 1975, prompted by the June War with Israel.
But it is Britain's colonial involvement in Suez that has arguably been the greatest source of conflict, with Col. Gamel Abdul Nasser's nationalization of the waterway prompting the 1956 "Suez War," the failed invasion by Britain, France and Israel.

Egypt's political victory in that war – and Nasser's successful wrestling of the Canal from colonial control – is a key reason behind its symbolic importance in Egypt.

In announcing the Canal project on Tuesday, Sisi – who is sometimes compared to Nasser by his allies – said the project would receive no foreign financing.
He played on the national pride in the Suez Canal, reportedly saying that he wants "all Egyptians to hold shares in this project."
But Mallinson said questions remain about how Egypt plans to finance the project.

"Egypt has been struggling to secure foreign investment for other projects. Its own economic situation isn't very good," he said.