Analysts: Sisi reforms key to Egypt's economic upswing
Business activity in Egypt expanded at a near-record pace in September
After suffering its worst economic crisis since the 1930s, Egypt under President Abdel Fattah al-Sisi has managed to draw international attention to its reforms and recovery.
Christine la Garde, head of the International Monetary Fund, told Al Arabiya News Channel this month that she was "impressed by what the Egyptian authorities are implementing in terms of reform."
In September, business activity in Egypt expanded at a near-record pace, Reuters reported, leading the country's GDP growth rate to rise from $262.83 billion in 2013 to $271.97 billion in 2014.
Infographic: Sisi reforms key to Egypt's economic upswing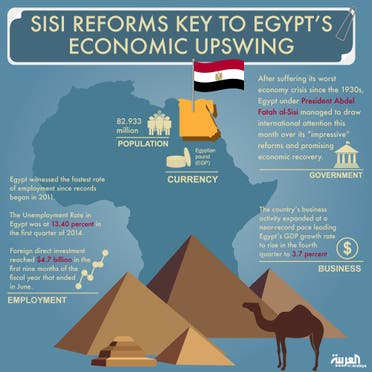 During the same month, the Arab world's most populous country witnessed the lowest rate of unemployment - 12.3% - since the 11.9% record low reached in the fourth quarter of 2011.
Analysts said economic improvements were due to reforms introduced since the election of Sisi.
"By restoring political stability and security in Egypt, Sisi has performed economic miracles in no time," said Salwa al-Antary, economic analyst and former head of the research department at the National Bank of Egypt.
Sisi "introduced many reforms that helped the economy reach spectacular numbers that haven't been seen since the beginning of the political crisis in 2011," Antary said.
She added that by setting deadlines for various projects, Sisi had helped ensure concrete economic advances.
As part of the reforms, the Egyptian government imposed this week temporary tariffs to protect domestic steel manufacturers from cheap foreign imports.
Egypt also raised taxes and slashed energy subsidies that have long weighed on state finances.
There were concerns that austerity measures could aggravate the economy, with some opponents of Sisi predicting a "revolution of the hungry."
However, people have so far shown "optimism and cooperation," Antary said. "Most of them didn't complain. They understood that it's a phase that the country needed to go through.
Ambitious projects have been announced, including an $8.5 billion plan to upgrade the Suez Canal, a symbol of national pride.
Analysts said the assistance of influential business figures has played a key role in the recovery.
Egypt's wealthiest man, Nassef Sawiris, has reportedly created a new investment company that will target growth opportunities in the country.
Foreign aid
Alia al-Mahdi, dean of the faculty of economics and political science at Cairo University, told Al Arabiya News that the Gulf states have been "vital in restarting the economy. It has helped pull Egypt's economy from the brink."
She added: "With money flowing in from Gulf states, Sisi was able to focus on other areas of the economy."
The president had enough capital to cover a large part of the country's deficit, Mahdi said.
The United Arab Emirates, Saudi Arabia and Kuwait have provided $12 billion since the ouster of Egyptian President Mohammad Mursi in July 2013.
European countries and the United States have also helped Egypt boost its economy.
Economic obstacles
Tourist arrivals in 2014 are much lower than they were a year ago, and significantly less than before the 2011 revolution that toppled President Hosni Mubarak.
More than 14.7 million tourists visited Egypt in 2010, dropping to 9.8 million in 2011. The number rose in 2012 to 11.5 million, but shrank to 9.5 million last year.
The first six months of 2014 saw a drop of 25% in tourism revenues compared to the same period in 2013.
In addition, Egypt's energy infrastructure has failed to keep up with rising consumption, resulting in regular blackouts.
Sisi's ultimate challenge is to bring back foreign investors to Egypt after three years of turmoil.
Foreign direct investment was about $8 billion annually before the 2011 uprising, but was only $4.1 billion in the fiscal year that ended in June.