First Saudi IBM healthcare exec talks female employment
Summer Nasief decided a few years ago to leave the United States for Saudi Arabia
Al Arabiya News is marking International Women's Day, and the 20th anniversary of the Beijing Declaration on gender equality, with a special series profiling leading women around the world, among them leading IBM healthcare executive Summer Nasief.
The first IBM Saudi female industry executive says she wants more Saudi women to take the lead in breaking social ceilings.
Dubai-based Summer Nasief tells Al Arabiya News of how she became head of the healthcare and life-sciences industry for the blue-chip company, where she worked for 14 years.
Nasief decided a few years ago to leave the United States for Saudi Arabia, persuading IBM that she could create a Saudi healthcare industry for them.
Her move was inspired by her desire to encourage other Saudi women to chase their dreams. "Saudi females are the most untapped resource that Saudi Arabia has," she said.
"Pursuing your dreams is hard work! My desire to come back to my roots as business woman in my field required a lot of determination, confidence in one's self and managing through a myriad of challenges.
Infographic: High unemployment among Saudi females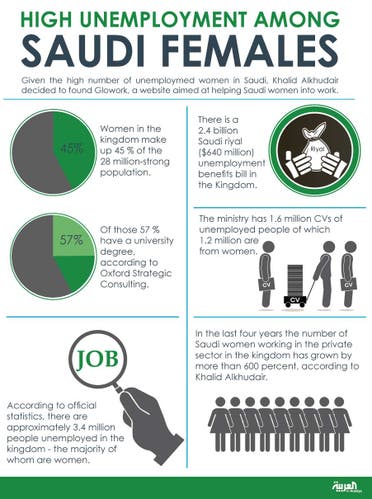 "I believe my achievements are tangible and empowering to others because it is a recipe for anyone's success and we need to see more role models in the kingdom that our youth can relate to."
Background
Nasief has a degree from the Boston University School of Management, and sits on various boards, including the Healthcare Information and Management Systems Society in Saudi Arabia since 2005.
She grew up in Saudi Bedouin communities, and went to public schools in Yanbu and Jeddah. She moved to the United States during her first year in high school.
Nasief said her father insisted that her upbringing be completely Arab and her writing was always in Arabic. That posed a challenge for her.
"When I landed in the U.S. as a freshman in high school I had little English writing skills which put me at a disadvantage with my peers.
"I learned that you had to be creative!"
Work challenges
Part of her aim in returning to Saudi Arabia was "exciting youth and getting them to understand that there's an opportunity out there for all of us."
She added that in Saudi Arabia, there are constraints that limit full female participation in the workforce.
The lack of mobility poses an obstacle in moving inside and outside of the country, she said. Another problem is the small number of campuses that enable females to work in segregated departments.
"It remains a complex environment that you have to navigate," she said. However, the presence of women is on the rise, she added.
"Women are present in fields such as healthcare and education, in addition to multinational companies and law firms."
Nasief said the kingdom's efforts to tackle unemployment through Saudization should help bring more women into the workforce.
"Nationalization is at the core of our transformation and needs to be done properly, with both men and women."

Women vs. men
The widely-held view that a woman's career is her home and family is another drawback that makes young women feel they have to choose between having a career and a family.
Nasief said women have the right to choose what they want to do, and many ask her about achieving a balance between both.
"As Saudi females, our family cell is the most important thing to us, and it's ingrained in our lives and how we develop. Your responsibility to your family is to be the best version of yourself."
Technology has enabled flexibility, and many women are now allowed to work from home in some careers, she added.
Speaking on working in a male-dominated environment, Nasief said women face stereotypes that sometimes deflect attention from their work.
"As women, we face challenges at times when we sit in front of an audience and are judged by our external appearance."
Glowork
Nasief collaborates with Glowork, a Saudi-based foundation that aims to empower women. "Saudi women represent about 15 percent of the workforce. That's a big increase from where we were" several years ago.
She said Glowork helps prepare female graduates for the workforce by coaching them for job interviews and preparing resumes.
"The foundation is growing exponentially, and is expanding its annual conference to more than one Saudi province, from Riyadh to Jeddah and Dammam."
This article is part of Al Arabiya News' special coverage on International Women's Day.