KAEC empowers Saudi female workers
The comments focused on the work environment that suits the values of the society on one side and motivates women on the other
Several Saudi female employees at a number of projects in King Abdullah Economic City talked about their rich experiences and the growing opportunities for women in the Economic City.
The comments focused on the work environment that suits the values of the society on one side and motivates women on the other.
That is in terms of the quality of jobs and the nature of the work performances that are considerate of the Saudi women's privacy, and do not deprive them of their chance to accomplish or participate in building their country since they are an essential partner in the rise and development of the Kingdom.
Infographic: High unemployment among Saudi females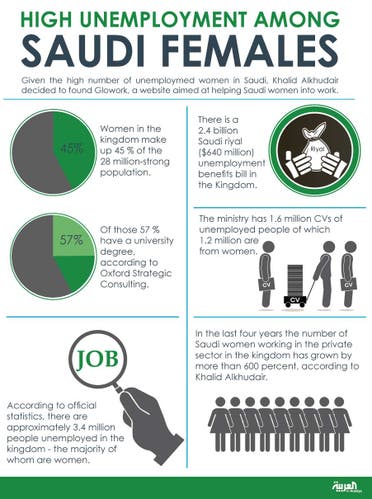 Numerous Saudi female employees at the control-room in the container terminal of King Abdullah Port (KAP) have addressed the privacy of their experience and the work environment that respects the society values, since the quality of the jobs and the extensive training create huge room for creativity.
Mashaiel Al-Nifay has assured the necessity of providing a safe work environment and of paving the way for women by developing senior managerial positions that are suitable for their work nature. Concerning her own work experience in King Abdullah Economic City, she attests to its success since the environment in a new institution like KAEC provides a perfectly safe atmosphere where each female employee makes her way to a brighter future. She also said: "I work at the Port Developing Company "PDC" as a civil engineer, and I am a graduate of that field from Pittsburgh University, Pennsylvania. I also have a master degree in civil engineering."
Noura Al-Harbi was not at all worried to speak of her experience that she is very proud of. "Working at King Abdullah Port has given me the chance to employ my skills and professional experience in such a vital project that serves the country, and is characterized by an environment that considers our values and traditions without hindering our professional growth. For me, every day spent in King Abdullah Economic City is a long-term investment in my career."
Reem Hamdan, Commercial and Industrial Manager at the Economic Cities Authority (ECA), added that King Abdullah Economic City is one of the most enabling workplaces for Saudi women, offering them job opportunities in many different fields to enable their personal development.
This article was first published on the Saudi Gazette on March 10, 2014.