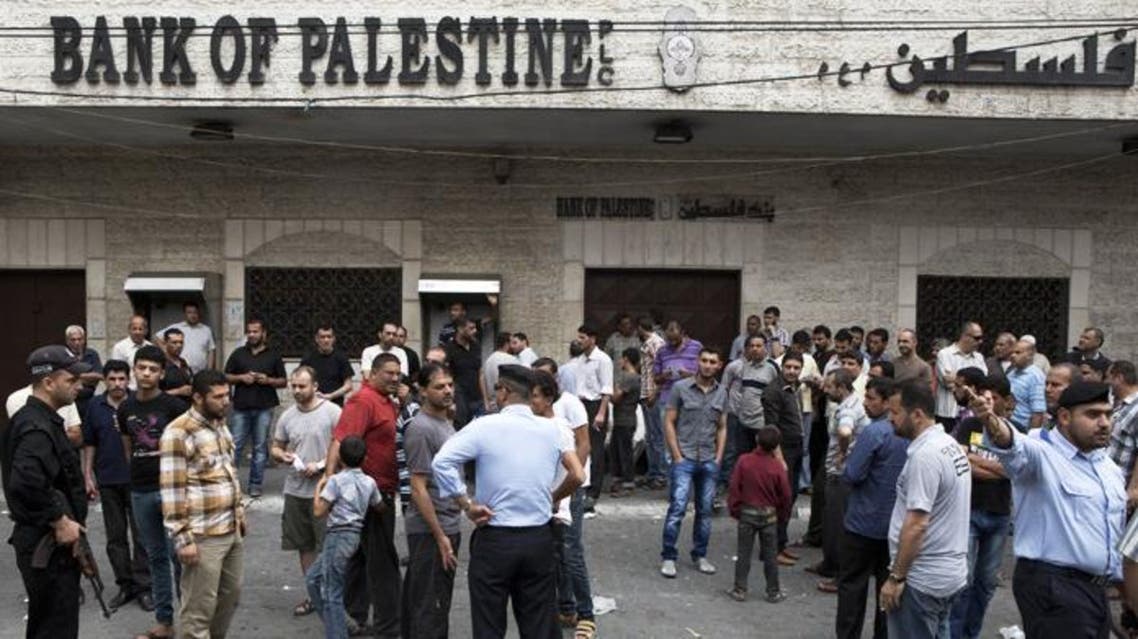 Suspended tax transfers leave Palestinian economy on the brink
Israel stopped the transfer of revenues from tax and customs duties in January
Israel's decision to withhold $130 million a month in revenue collected on behalf of the Palestinians is strangling the economy and leaving the banking system dangerously exposed, the Palestinian central bank governor said on Wednesday.

Israel stopped the transfer of revenues from tax and customs duties in January in protest at the Palestinians' move to join the International Criminal Court from April 1, when war crimes charges may be filed against Israel.

Since then, more than $500 million has been withheld from the economy, prompting the Palestinian Authority, which administers the West Bank, to cut most of its employees' salaries by 40 percent and resort to an emergency budget.

The government is also in danger of not being able to service its outstanding loans, according to the governor of the Palestinian Monetary Authority, the central bank.

"We have informed the Palestinian Authority that we have reached the limits permitted to them, or are about to get there, and that banks will not be able to continue to fund it," Governor Jihad al-Wazir told Reuters.

"The situation in general is very tough. Suspending the tax transfers is leading to a rapid economic deterioration."

It is not the first time Israel has suspended the transfers - it took similar steps in 2006, 2007 and 2008 - but the risks this time may be greater and leave the economy ever more dependent on handouts from international donors, who have not followed through on commitments in recent months.

With the deficit already at around 15 percent of GDP and the tax transfers accounting for two-thirds of income, the budget is falling into a deeper hole every month. Unemployment stands at 25 percent and output is set to contract this year, sharply increasing the threat of instability and violence.

"The situation could become untenable, with a growing risk of social unrest and strikes that could lead to political instability," the IMF said in a report at the end of January.

"These serious risks could be mitigated if Israel quickly resumed transfers of clearance revenue and donors front-loaded their aid."

The Israeli military has warned the government that the revenue withholdings are fuelling violence in the West Bank.

There is a chance Israel will resume the payments as soon as a new government is in place although it has given no indication that it will do so. Prime Minister Benjamin Netanyahu will be formally asked to form a coalition on Wednesday and is expected to have a new government ready in weeks.

But with the Palestinians showing no signs of backing away from the ICC, Netanyahu may decide to keep up the pressure. U.S. Congressional funding to the Palestinians may also be cut in the event that war crimes charges are brought against Israel.

One diplomat tracking the state of play estimated that if the Palestinian Authority does not receive any transfers by June, its finances would collapse.
"At the limit"
The situation has put ordinary Palestinians under huge financial pressure.

Nidal Sadqa is a 47-year-old father of four who works for the Palestinian economy ministry in Ramallah and for the past three months he has been paid 60 percent of his usual salary. Half of what's left each month pays bank loans and other debts.

"I haven't paid the rent for three months and I owe the supermarket for things I've already taken," he said, describing circumstances familiar to the nearly 160,000 people employed by the Palestinian Authority in Gaza and the West Bank.

The desperation has prompted more Palestinians to try to find work in Israel. Already around 130,000 cross the border each day, 30 percent of them without permits, and Israel is making plans to handle up to 200,000 Palestinian workers.


While that provides income, it is cheap labour for Israel and draws productivity out of the Palestinian economy. The work is also unpredictable, which means that any personal loans taken out against the expected salary can quickly turn sour.

Naser Abdel-Karim, an economist in the West Bank, estimates that Palestinian Authority employees have borrowed $600-$700 million from Palestinian banks, while the Palestinian Authority owes nearly $1.5 billion to the same institutions, the limit allowed by the Palestinian Monetary Authority.


"There is a fear the authority may collapse in terms of being able to function and provide services," said Abdel-Karim, adding that if Netanyahu did not release the pressure, "I am sure the entire Palestinian economy will collapse."

While some big Palestinian businesses continue to perform well - including telecoms provider PalTel and investment conglomerate Padico Holding - the lower rungs of the ladder, and especially the economy at the family level, are under strain.

And the Palestinian Monetary Authority, which tries to hold the strands together despite not having its own currency to manage, is desperate for Israel to open the taps again.


"The economy is retreating and we are facing a stage of economic shrinkage," said Wazir, a British-educated economist who has headed the bank since 2008. "We have reached or are about to reach the permitted limits for borrowing according to our internal regulations."