Growth in Saudi wages despite falling oil prices
Salaries across Saudi Arabia have increased by an average of 4.5 percent in 2015
Salaries across Saudi Arabia have increased by an average of 4.5 percent in 2015 – slightly below the rate of 5 percent which had been forecast last year, according to a report by consultancy Hay Group.
Wages grew despite the slump in oil prices, which are down almost 50 percent since June last year, the report said.
Hay Group's regional manager for Services Wendell D'Cunha said: "With inflation at 2.6 percent, the increase represents a growth of 1.9 percent in employees' real spending power."
The highest increases have been seen by lower level employees with an average of 5.7 percent.
"The difference between salaries of senior executives and entry level workers has grown more slowly than in other parts of the Middle East," said D'Cunha.
"However with the average head of department earning 7.3 times more than the average entry level staff member, Saudi Arabia is still well above the regional average in this regard," he added.
Overall, the report also found that employees in the banking sector fared better than their peers with an average 7.1 percent increase.
As a percentage of basic salary, companies in the banking and retail sectors also paid the highest bonuses.
"The banking and retail sectors are both very performance driven and as such, we expect to see a large portion of total pay being paid as a variable bonus," said D'Cunha.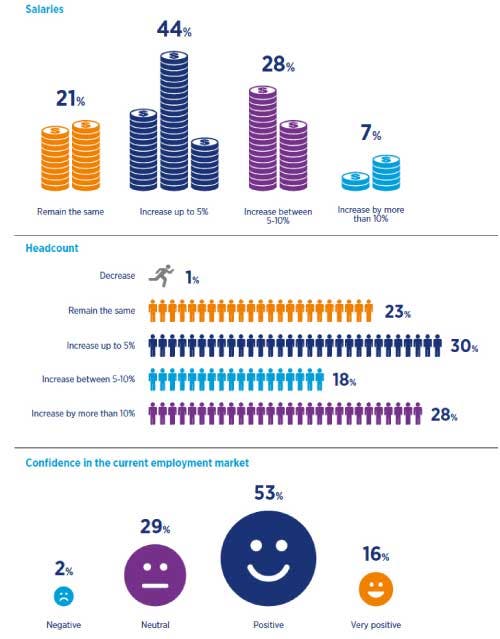 On average senior management employees were the only ones who received bonuses that were above target.
The report also found that women, who comprised 5 percent of the research, are paid an average of 10 percent more than the general industry average.
"This is because there are no women represented within the large, low-paid labor force and instead they fill mainly support positions in industries that tend to pay more," D'Cunha furher said.
"In the banking sector, which does not have a low-skilled labor force, women are paid an average of 10 percent less than their male counterparts."
While over 50 percent of the total employees surveyed have stayed with their current company for more than five years, organizations in some sectors are finding it difficult to retain their staff.
Nearly 17 percent of the workforce has spent less than a year with their organization.
In the insurance sector turnover was approximately 40 percent in 2015 while in retail the turnover was approximately 25 percent, the report noted.
Looking ahead, despite the continuing economic uncertainty caused by falling oil prices and the poor performance of global markets, businesses are forecasting that salaries will increase by approximately 5 percent again in 2016, the report found.
"In these times, businesses concentrate their compensation spend on high performing employees while below-average performing workers will receive little or no increase," said D'Cunha.
"However, a business is nothing without its people and, during periods of low growth, organizations must think creatively about how they motivate and reward their best employees."

This article was first published on the Saudi Gazette on September 13, 2015.