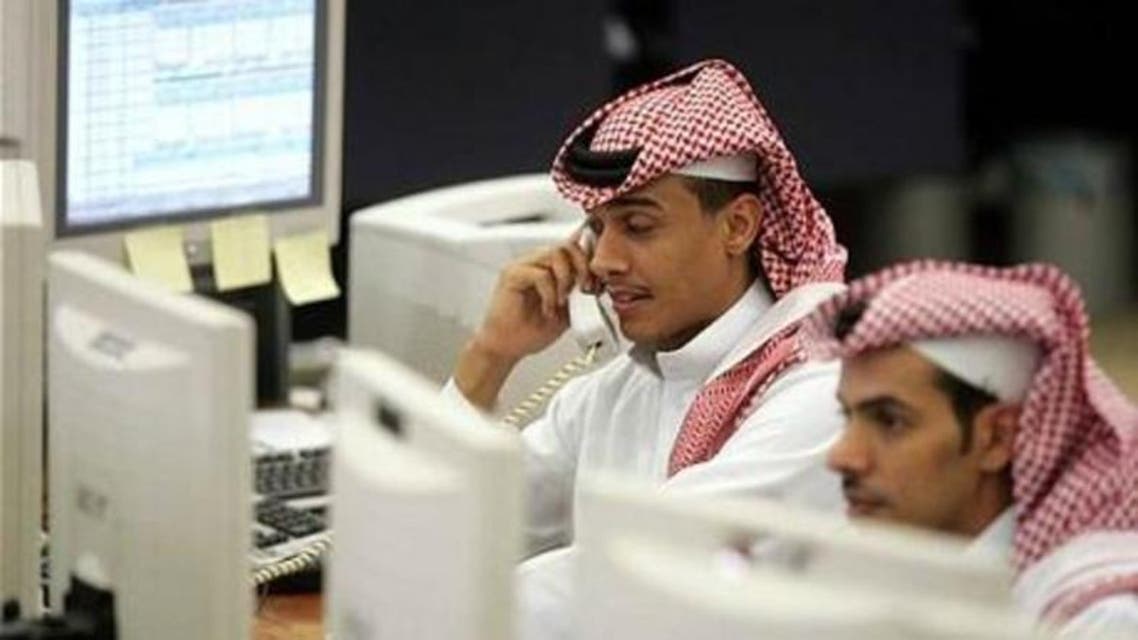 Salaries in Saudi Arabia forecasted to increase in 2016
A GCC-wide survey of 600 multinational companies and locally-owned conglomerateshas forecast that salary increases will average 5% in 2016
A GCC-wide survey of 600 multinational companies and locally-owned conglomerates - the largest study of its kind in the Gulf region - has forecast that salary increases will average 5% in 2016, down from an anticipated 6% in 2013, 5.5% in 2014, and 5.1% in 2015.
Among the participating GCC organizations, firms in Saudi Arabia forecasted a 5.1% figure for 2016 – down by 0.3% on this year's 5.4% projection. In terms of actual increases for 2015, however, Saudi Arabia recorded the highest level of actual pay rises at 5.2% for this year.
According to the latest GCC Salary Increase Survey conducted by Aon Hewitt, the global talent, retirement and health solutions business of Aon plc, GCC states have seen GDP levels drop due to weak global oil prices, with less foreign direct investment being recorded amid security concerns in the region and struggles among large economies such as Russia and China.
The situation, however, has clearly had a somewhat limited effect on firms, with most by leading employers still planning to increase the salaries of their employees by a good amount next year.
Clearly, the impact of lower oil prices can be felt across the region, with governments cutting back on subsidies, reducing spending on larger projects and thinking about introducing some form of taxation.
All these factors will have a direct or indirect effect on industry sectors, and will continue to put pressure on profit margins and operating costs for organizations.
Despite this, the GCC is faring much better than other oil producing countries in the Middle East and predicted increases in compensation will also help to ease inflationary pressures on employees while markets rebound.
Meanwhile, Kuwait-based companies gave the highest salary increase projection for 2016 at 5.2%. This is a slight decrease on 2015's 5.3% predicted raise.
Kuwait's actual salary increase figure for 2015 stands at 4.7%. Companies based in Bahrain predicted the lowest increases in the Gulf region at 4.7%, which is slightly higher than last year's predictions of 4.5%. In 2015, Bahrain-based firms reported actual salary increases at 4.7%.
Qatari and Omani firms, on the other hand, estimated 5.0% salary growth for 2016, lower than 2015 predictions which stood at 5.2% and 5.4% respectively.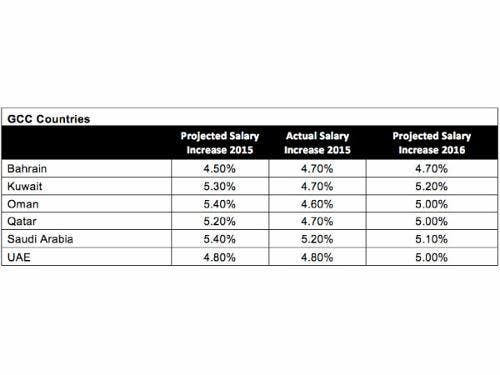 Actual salary increase figures for 2015 stand at 4.7% and 4.6% respectively. UAE companies also projected 5% growth for 2016, up from the 4.8% projection made for 2015. In terms of actual increases for 2015, however, the UAE stands at 4.8%.
Robert Richter, GCC Compensation Survey Manager, Aon Hewitt Middle East, said: "Salary increases typically take into consideration a number of other factors which go beyond the general economic climate.
These include company performance, the need to reflect promotions and the need to ensure that employees at the same grade remain within a single pay band.
Overall the outlook for 2016 may not be as positive as recent years, but the news that employers are predicting salary increases in the 5% range next year should come as a comfort to employees, suggesting that there is still optimism in the market."
Meanwhile, Most Gulf stock markets rose on Wednesday, moving in line with oil prices and global equities. Saudi Arabia's main index had also risen in line with oil initially, but gave up all gains by the end of the day and closed 0.3 percent lower to 7,525 points.
The cement sector fell 0.6 percent after local investment firm NCB Capital said in a report that cement sales could fall 5 percent next year due to government spending cuts.
Dubai's index climbed 1.8 percent and property developer DAMAC was the most traded stock, jumping 2.0 percent after its shareholders approved the firm's first cash dividend since it listed in Dubai in January.
Abu Dhabi's index rose 0.7 percent with most stocks positive. Qatar's bourse added 0.5 percent and leading lender Qatar National Bank (QNB) was the main support, rising 1.8 percent to 190.00 riyals. QNB this week became the first Qatari lender to secure a license from Saudi Arabia allowing it to open a branch in the kingdom.

This article was first pulished in the Saudi Gazette on September 16, 2015.