Christine Lagarde's success tips? Re-invent yourself and keep fit
'Life is not about corridor thinking. It's about developing the ability to change'
She may be the "rock star" head of the International Monetary Fund (IMF), but Christine Lagarde has dished out advice on all aspects of life – including her very own secrets to success.
Speaking to an audience of students and academics at Zayed University in Dubai on Wednesday, Lagarde discussed youth empowerment in the Arab world, a manifold topic covering access to education, employment and entrepreneurship.
Asked by students how best to progress in their postgraduate lives, Lagarde urged them to broaden their horizons – in more ways than one.

"Life is not about corridor thinking. It's about developing the ability to change," Lagarde said, explaining how she began her career as a lawyer with the constant feeling of needing to prove herself.
She was then snapped up by the French government to become trade minister in 2005. She held that position for two years.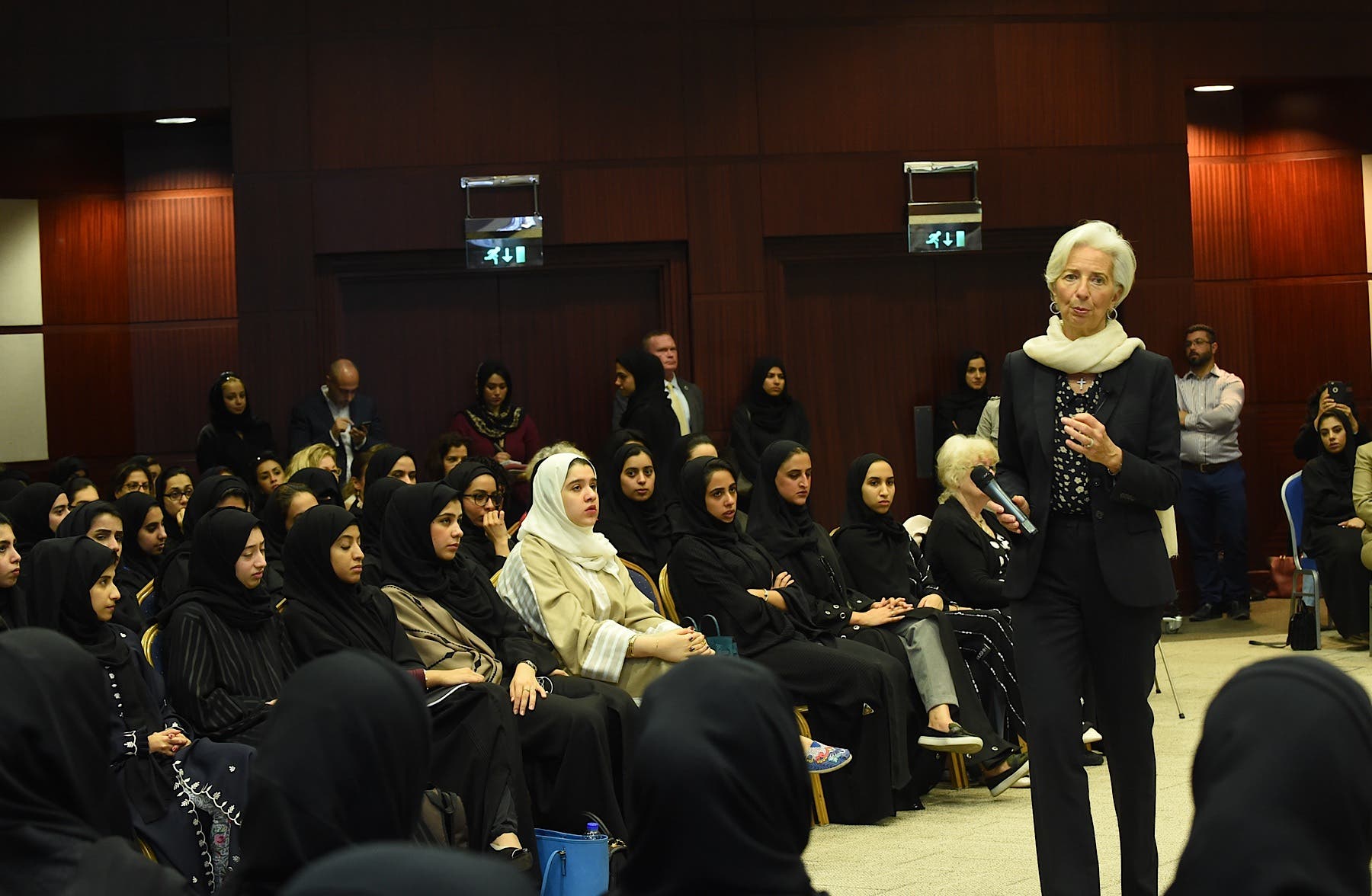 "I am a product of the private sector. But I knew that one should not remain stuck in their professional life. There is no 'one way or no way,' life should be about change.
"The importance of constantly re-inventing yourself, opening your mind and motivating your coworkers are traits of character you should articulate," Lagarde told the students.
Last week, Lagarde was appointed for a second term as IMF chief, winning praise from developing countries and backed by the UK, Germany, China, and her home country, France, to stay on for another five years.
'Be yourself, look after yourself'
The IMF chief, now in the UAE on a short trip to also take part in Dubai's Women Forum 2016 and an economic forum in Abu Dhabi, recognized that her tips would also require an extra push from women in the workforce.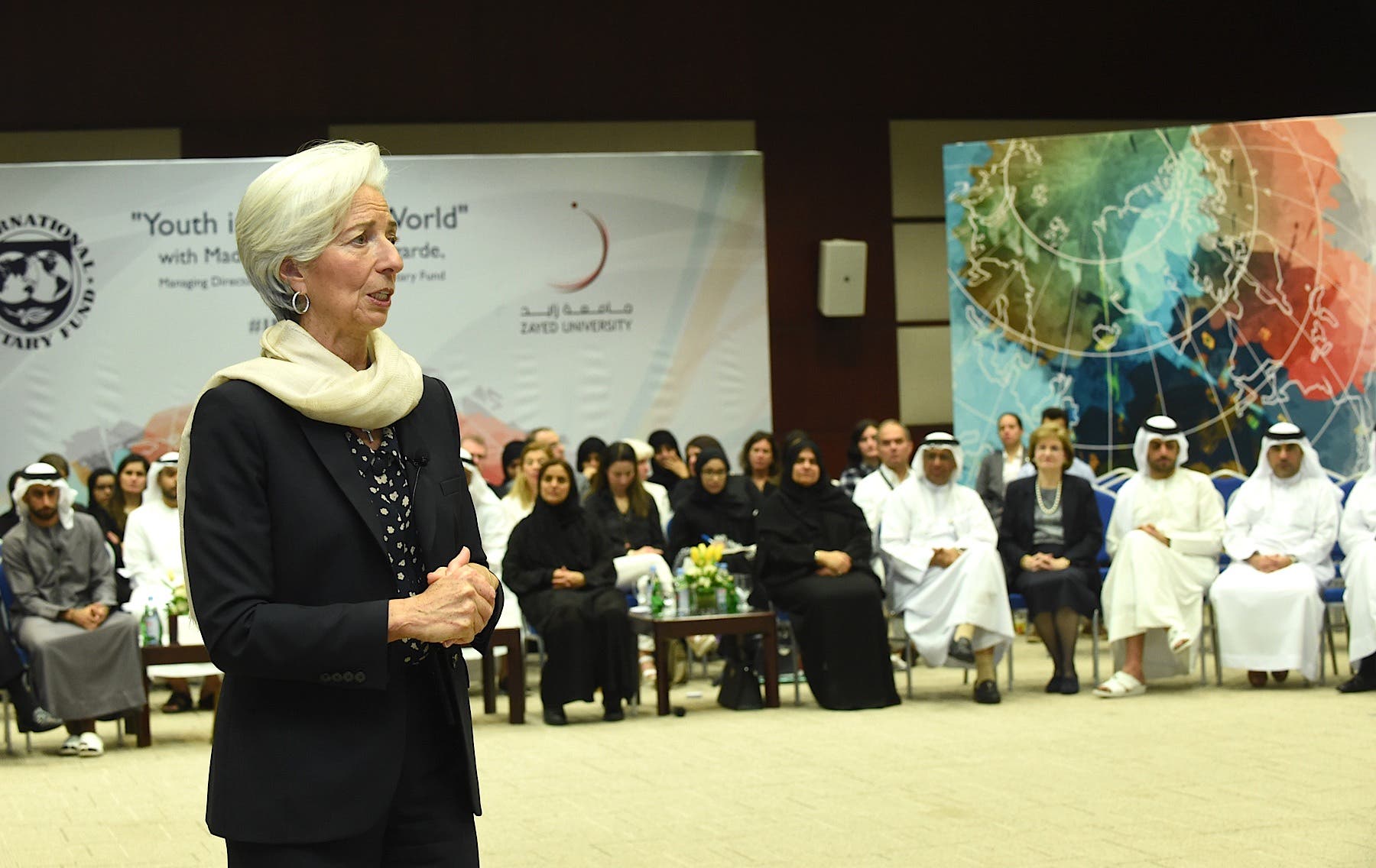 Speaking to a mostly female audience, Lagarde admitted that she still finds it a struggle to prove herself as a woman.
"This may be self-inflicted because we internalize clichés that abound about women. We then underestimate ourselves, so we over-prepare. We may prepare more than men who are doing the same tasks."
Lagarde then offered up more advice.
"As a former athlete, the development of the brain, heart, soul and body are essential on your journey. It is a combination that comes together. Be driven by yourself and look after yourself and your spirituality, I still do yoga!"
'Phenomenal UAE'
An IMF report released last year found that many Middle East countries, particularly those who endured the Arab Spring of 2011, are stuck in economic quicksand.
"Unemployment in these countries remained among the highest in the world, particularly for women and young people, of whom one in four was jobless," the IMF's Adnan Mazarei and Tokhir Mirzoev wrote.
Lagarde expanded on the dismal findings on the region, citing a new study that found that more than 90% of countries worldwide have some kind of legal restrictions that keep women from working, getting loans or owning property.
She discussed two stumbling blocks that women in particular often meet on their path to educational and professional success.
"The first is access to good or equal education for women. The second is for women who wish to go it alone and aim to become an entrepreneur as access to finance is more restrictive for women than for men.
"This may not be an issue here in the UAE, but in many parts of the Arab world," she added, saying she was "extremely impressed" by the presence of women during her short visit to Dubai and Abu Dhabi.
"The UAE ruler [Sheikh Khalifa bin Zayed Al Nahyan] has made it a gender parity at all levels. This is phenomenal, not just when compared to other Arab countries. This is phenomenal full stop."