Saudi mega-builder Binladin 'should declare bankruptcy'
But the firm's woes began last September, when one of its cranes in Makkah's Grand Mosque compound collapsed
Saudi's stricken mega-builder Binladin, which has been behind many of the kingdom's largest projects but is now struggling to pay tens of thousands of workers, should declare bankruptcy among other options, a report stated.
The report, from the Dubai-based CNBC Arabic channel, suggested that the Saudi Binladin conglomerate had three other options to stave off collapse.
The options suggested were for the Saudi government to acquire a 60 percent stake in the firm. Another option was for it to sell off its existing real estate projects and dispense with contracts that the company has already won.
The Binladin Group is one of the world's largest construction firms. Since its formation over eight decades ago, the firm has been behind some of Saudi Arabia's most important projects, including roads, tunnels, airports, universities and hotels.
But the firm's woes began last September, when one of its cranes in Makkah's Grand Mosque compound collapsed during the annual Hajj pilgrimage season, killing 107 people.
In response to the incident, reported to be the deadliest crane collapse in modern history, the Saudi government refused to grant it additional contracts, causing the firm to lose billions.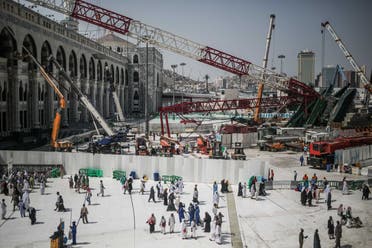 Adding to its problems, sunken oil prices since late 2014 have strained national budgets. By November, sources said the firm was looking to lay off 15,000 workers.
Black hole
The firm is reportedly unable to pay workers in Makkah and Jeddah, where the company is based, with 77,000 layoffs reportedly taking place, according to reports by Arab News and local media outlets.
A Reuters report said that Binladin was around $30 billion in debt.
A Binladin spokesman told AFP that some staff had been let go, but did not give numbers.
An Indian national worker for Binladin told the local Saudi Gazette daily that he not been paid his monthly salary of around $1070 since December last year.
"Things changed after last year's hajj season," he said.
Earlier this week, pictures showed at least 10 Binladin buses that had been burned and vandalized, reportedly by disgruntled employees.
At least seven protesters were arrested following the arson attack.
Saudi's labor ministry vowed on Tuesday to ensure the Binladin Group keeps a promise to resolve wage issues.
Before, there were around 217,000 employees working for the Binladin Group - 200,000 of them foreign.
Despite its main competitor weakening, Saudi Oger, another of the kingdom's construction giants hit by the slowdown, is reportedly struggling too.
In March, the kingdom's labor ministry reportedly took steps to punish Saudi Oger for delayed salaries.
Saudi's Deputy Crown Prince Mohammed bin Salman told Bloomberg in an April interview that the firm has debt "in and out of Saudi."
"Saudi Oger can't cover their own labor costs. That's not our problem, that's Saudi Oger's."