Gulf investors buy $2.4 billion stake in Kuwaiti franchise giant Americana
The Kuwait Food Company made the announcement in a stock exchange filing Saturday
A consortium of Gulf Arab investors has agreed to purchase a majority stake in the Kuwait Food Company, better known as Americana, which operates nearly 1,700 outlets for the Mideast franchises of Pizza Hut, KFC, Krispy Kreme and other Western brands.
The investor group Adeptio, led by Dubai-based Emaar Properties chairman Mohamed Alabbar, make a legally-binding agree to buy the stake for the equivalent of $8.78 per share from al-Khair National for Stocks and Real Estate Co. The acquisition is estimated to be worth around $2.4 billion.
The Kuwait Food Company made the announcement in a stock exchange filing Saturday, reversing a decision to call off the deal three weeks earlier after the parties had failed to reach an agreement.
But this deal was "good for both parties," an unnamed source who had been involved in the talks told the London-based paper Financial Times.
The news has excited investors in Kuwait's stock exchange.
"The traders cannot keep up with the rising stock market in Kuwait after the Americana deal was signed," Adnam Al-Dulaimi, a financial analyst for Reuters, said on Sunday.
An economist told Kuwaiti news agency KUNA on Sunday that the market was "thirsty" for billion-dollar deals.
The deal appears to end one of the region's longest running acquisition sagas. The stake had been up for sale since early 2014. Adeptio originally agreed in February to buy the stake, but that agreement collapsed at the end of May. Reuters reported last week that talks had restarted.

After Adeptio completes the purchase of the stake from the Kharafis, it will launch a mandatory takeover offer to remaining Americana shareholders at the same price under Kuwaiti securities rules, Adeptio said.

"We look forward to building on Americana's success and taking advantage of the growth potential of the business going forward," Alabbar, also chairman of Emaar Properties, Dubai's top real estate firm, said in a statement.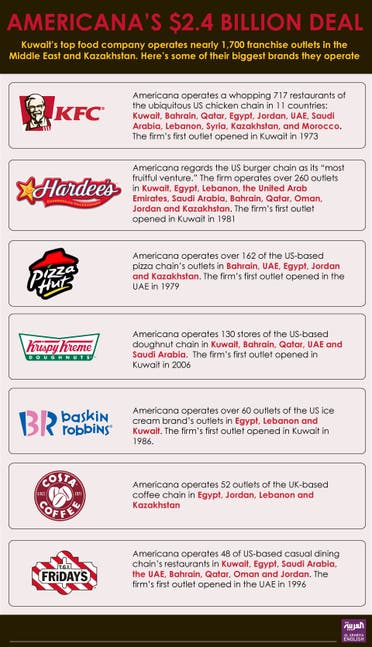 To help finance its initial deal, Adeptio aimed to secure a $1.5 billion bridge loan from a group of banks including Standard Chartered, Credit Suisse, Emirates NBD and First Gulf Bank. Sources familiar with the agreement said the same banks would be involved in financing any new deal.
The Americana Group was founded in 1964, and has since grown into one of the region's largest firms. It operates in 13 countries in the region, as well as Kazakhstan, and has over 63,000 employees. In addition to its fast food franchises, the firm also produces household food products, including frozen meat.
The company reported sales of $3.2 billion in profits of $146 million last year.
(With AFP and the Associated Press)