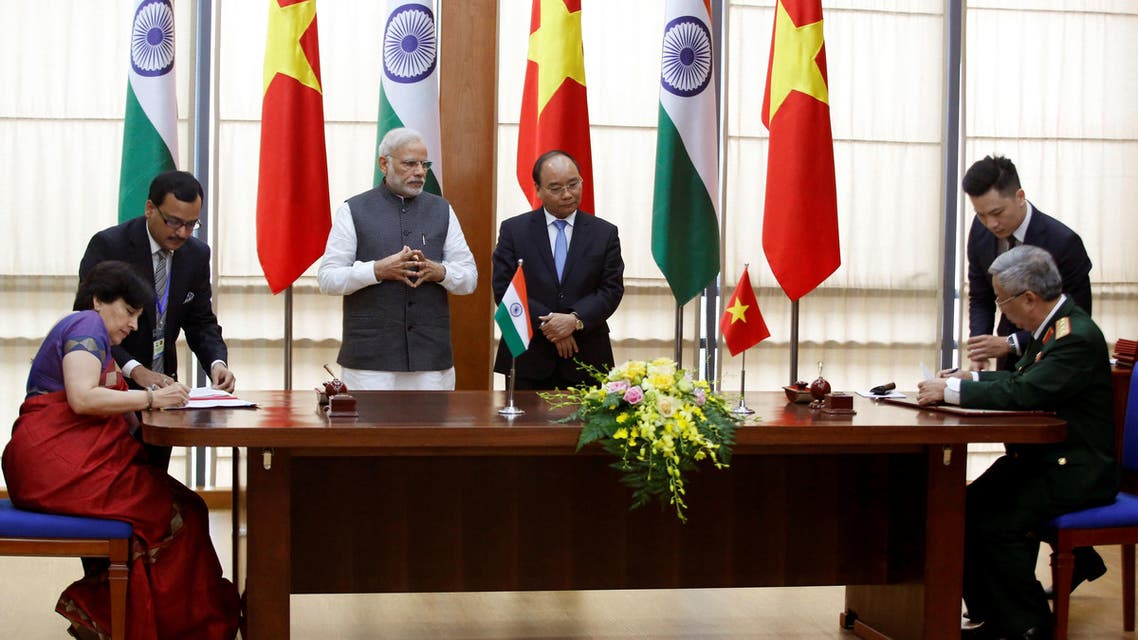 Indian premier offers $500 mln credit line, defense cooperation in Vietnam
Bilateral trade to be almost doubled to $15 billion in four years and ties to be upgraded to level of 'comprehensive strategic relationship'
Indian Prime Minister Narendra Modi has offered Vietnam a loan of $500 million to strengthen its defense capacity amid China's intensifying presence in the disputed South China Sea.
The so-called "Line of Credit" was announced after Modi's talk with Vietnamese Prime Minister Nguyen Xuan Phuc during his official visit to Hanoi, a day before he is scheduled to travel to China to attend the G-20 summit.
Military cooperation tops the discussions between Modi and Phuc.
A dozen agreements were signed, on the first visit to the country by an Indian prime minister in 15 years, including one on cooperation of Indian and Vietnamese navies and a contract between an Indian shipbuilder and Vietnam's coast guard.
Disputes with China
India and Vietnam share borders and large trade volumes with China and have repeatedly locked horns with Beijing, over the territorial disputes in the Himalayas and the South China Sea, respectively.

Both are also beefing-up of their defenses and in India's case, its defense industry, promoting heavily its supersonic BrahMos missile. India is keen to sell the missile to Vietnam and four other countries, according to a government note in June.

It was unclear if the latest loan included the $100 million India had previously made available to Vietnam for four yet-to-be-built patrol vessels in a deal agreed in late 2014.

In an address to media, Modi said the credit was for "facilitating mutual defence cooperation" and the relationship between the two countries would "contribute to stability, securities and prosperity in this region".

Modi, who was en-route to a G20 Summit in China, made no mention of the patrol vessels, nor BrahMos missiles, and did not elaborate on what Vietnam would use the $500 million credit for.
Arms procurements surge
The offer comes after a surge of almost 700 per cent in Vietnam's defense procurements as of 2015, according to the Stockholm International Peace Research Institute think-tank, which tracks the arm trade over five-year periods.

Vietnam is in the midst of a quiet military buildup analysts say is designed as a deterrent, to secure its 200 nautical mile Exclusive Economic Zone as China grows more assertive in staking its claims in the South China Sea.

Experts say Vietnam is in the market for fighter jets and more advanced missile systems, in addition to its six kilo-class submarines it has bought from Russia, the last of which it will receive late this year.

The 12 agreements signed on Saturday covered areas like health, cyber security, ship-building, UN peace-keeping operations and naval information sharing.

Both leaders said ties would be upgraded to the level of "comprehensive strategic relationship" and bilateral trade would be almost doubled to $15 billion by 2020.