As uncertainty looms over Britain's economic stability post-Brexit, leaders of the former colonial empire are looking to secure trade ties with its Gulf allies.
Political and economic experts in the UK state that cultivating a perception that Britain is a global player with strong links outside the EU will be a substantial political strategy for the British Prime Minister Theresa May.
The British government has said it is keen to start preparatory work so deals could be reached quickly after it leaves the EU. Britain is looking to strike new trade deals after May formally activated Article 50 of the Lisbon Treaty in March, starting a two-year countdown for quitting the European Union.
GCC geopolitical expert, Dr. Mohamed Ramady told al Arabiya English that the UK is trying to obtain as many bilateral trade and investment agreements with major trading partners "to bolster its hand in both its negotiations with the EU over Brexit terms and provide it with a new platform of global trade cooperation."
One of the first agreements could be with the six-nation Gulf Cooperation Council (GCC), which includes the two biggest Arab economies, Saudi Arabia and the United Arab Emirates. Trade between Britain and the GCC totals about $37.5 billion annually.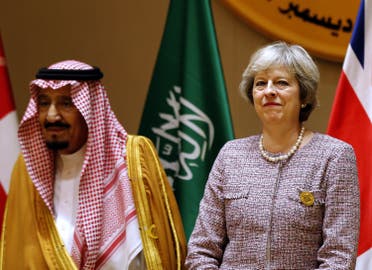 'Trade efforts'
Last week, Prime Minister Theresa May landed in Saudi Arabia on a two-day visit that focused on security and post-Brexit trade efforts. During her visit, talks focused on security and investment as Britain begins the process of leaving the European Union.
Scott Lavery, Research fellow at Sheffield Political Economy Research Institute, explained that May, like many UK Prime Minister's before her, has sought to cultivate good relations with Saudi Arabia and other Middle Eastern states for economic and geopolitical reasons.
However, Lavery states that these visits have taken on a "new salience in the aftermath of the vote for 'Brexit'." "A core element of the "leave" campaign's narrative was that Brexit would allow for a 'Global Britain' to emerge – one where the UK could enhance trading links with states outside the EU," he said.
Before leaving Britain, May said that it was in the UK's security and prosperity interests to support Saudi Arabia. She stated that there is "immense potential for Saudi investment to provide a boost to the British economy."
Saudi Arabia is also looking to boost its foreign investments as part of a long-term plan to diversify its economy and reduce its dependence on oil revenues.
Last year, May attended a Gulf Arab summit in December in Bahrain, where she became the first woman and first British leader to address a summit of the six-nation GCC.
"Saudi Arabia is certainly one of the most important trading partners with the UK both in terms of goods and services as well as being a major defense partner," Ramady said, adding that the same applied to other Gulf countries such as the UAE, Kuwait and Qatar.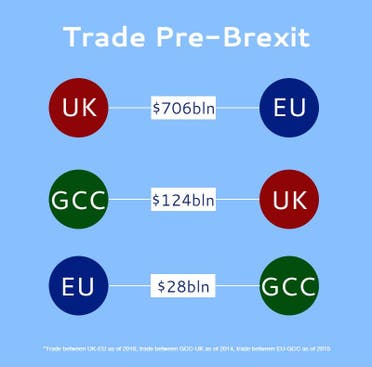 Meanwhile, Britain's Chancellor of the Exchequer Philip Hammond met Qatari finance minister Ali Sherif al-Emadi in December to discuss a partial draft of a free trade deal, a Qatari official said.
Qatar recently announced plans to invest $6.23 billion in Britain within five years. It currently has investments totaling billions in the UK in sectors including construction, retail, banking, energy, and transport.
Late last month, the UK hosted a business delegation from Qatar. The two-day joint Qatar-UK Business and Investment Forum. Reuters recently reported Gulf States are currently looking to sign a free trade agreement with the UK to secure preferential deals once Brexit comes into place.
Opportunities
The Gulf could provide an opportunity for the UK to deepen its economic ties with the oil rich region once they have officially left the EU.
Once Britain leaves the EU, it would mean that GCC proposals to trade with Britain are no longer subject to the approval of a 28-country trading bloc. Gulf countries' attempt to negotiate Free Trade Agreements with the EU since the late 1980s and formal negotiations since 1990 may finally gain traction with the UK on a bilateral basis.
There is significant room for growth, as the GCC's trade with the UK accounted for just 2.7 per cent of the region's global trade last year, according to ratings agency Moody's.
Secretary of State for Brexit, David Davis, said the UK should move toward an export-based economy that leverages trade agreements with long-time allies including the UAE.
New research by Dubai Multi Commodities Centre (DMCC) showed that 42 percent of UK businesses have more appetite for overseas expansion in the Brexit era. Out of the UK businesses open to expanding into overseas markets, 40 percent would consider the Middle East and 75 percent would consider Dubai as a location to expand into.
Potential struggle
There are those who believe that this move could be a struggle for Britain. Political economy fellow Lavery explained that the UK is "deeply integrated into EU supply chains," meaning trade with emerging economies such as BRICS (Brazil, Russia, India, China and South Africa) is far lower than with other EU member states.
"It is possible that a "transitional arrangement" whereby the UK retains a close relationship with the EU after Brexit could be put in place. This could constrain the UK's capacity to make trade deals with third countries in the medium term," Lavery says. On the other hand, he states that maintaining links with Saudi Arabia remains important to UK policymakers for security and political reasons.
However, the UK appears to look beyond the Gulf for trade ties. British Finance Minister Philip Hammond flew in to India for talks with Indian counterpart Arun Jaitley to promote British business.
Hammond's trade mission is part of an effort to build a partnership with India as it tries to forge a future as a global manufacturing powerhouse.
GCC geopolitical expert Ramady explains that developing economies, especially those in the Commonwealth bloc, offer Britain post exit with some competitive advantages given the historical political and economic links and familiarity with the UK's business environment.