King Salman attended a reception ceremony held by the citizens of Madinah Region and inaugurated a number of development projects during the ceremony, Saudi Press Agency reported.
Then Minister of State for Foreign Affairs Dr. Nizar Obeid Madani delivered a speech on behalf of the people of Madinah, and Sheikh Saleh Bin Awwad Al-Maghamsi, imam and khateeb of Quba mosque too spoke and welcomed the King to the Prophet's City.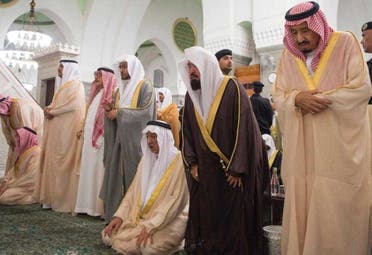 The Monarch and the guests watched a presentation on the projects of Madinah Development Authority.
The King then launched the Madinah Province projects. He expressed honor to inaugurate the projects. The Monarch said: "We and our people are always honored to serve the two holy mosques. Thanks to Allah, our country enjoys security. The Haj and Umrah pilgrim and visitor perform Haj and visit Madinah. They travel on long journeys in this vast country and feel secure and have peace of mind. We ought to thank Allah Almighty for this bounty and blessing."
The King and the attendees watched a visual presentation of the projects that were launched. They included 21 projects in the sectors of electricity, agriculture, water, education and transportation at a total cost exceeding SR7 billion. After that, Madinah citizens greeted the Monarch.
Then, King Salman graced the banquet hosted by Prince Faisal Bin Salman, emir of Madinah region on behalf of the citizens of the region in honor of the King.
Then the King visited Quba Mosque in Madinah and prayed in it.
ALSO:
Saudi King Salman inaugurates New Taif projects
King Salman inaugurates $42.7 bln projects by Saudi Aramco
Saudi King Salman inaugurates industrial projects in al-Jubail